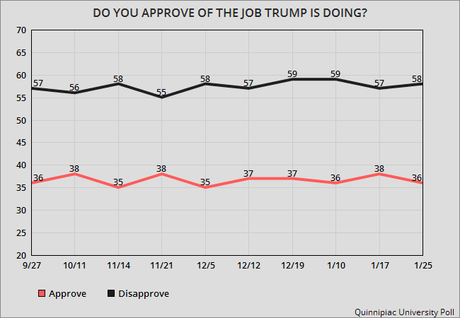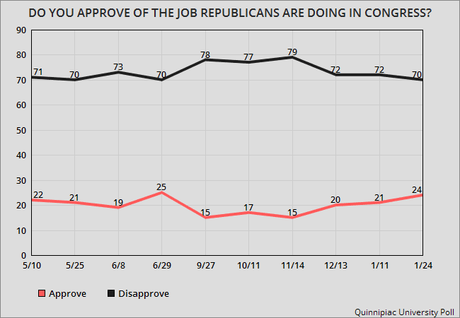 These charts are from a new Quinnipiac University Poll -- done between January 19th and 23rd of a random national sample of 1,245 voters, with a margin of error of 3.3 points. They show the job approval numbers of Donald Trump and the Republicans in Congress.
Trump's numbers are upside down, and have been since he was sworn in -- and they don't seem to be improving any at all. He currently has a negative approval gap of 22 points. But Trump's numbers, as bad as they are, actually look good when compared to the job approval of the congressional Republicans. They have a whopping negative approval gap of 46 points!
It is normal for the party of a sitting president to lose some seats in Congress in a mid-year election like the one coming this November. But that, combined with the terrible job approval numbers of both Trump and the congressional Republicans, could combine to make this a wave election -- an election that flips control of Congress.
A Blue Wave is coming -- and the seeds of that growing wave have been sown by Trump and the Republicans. Americans are not happy with them, and they could boot the GOP out and replace them with Democrats (in the hope that Dems will rein in the excesses of Donald Trump).