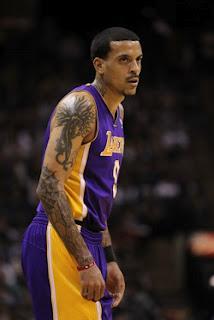 Photo: Zimbio.com
- Troy Ballard 


Does anyone else ever get the feeling when watching the Los Angeles Lakers that Kobe Bryant is the only player on the court that is trying to win games?
The rest of the team just kind of just.. doesn't play.
This is very much the case in the Lakers' latest playoff series against the Denver Nuggets. LA has had multiple chances to close the door and advance past this rocky first-round, and each time, the team blows it.
In the latest game, Bryant dropped a staggering Carmelo-LeBron-Durant-esque 43 points. That's nearly half of the Lakers' 99 total points. That's more than most players score in a full week of games. That's more points that any player should need to score to win -- or lose.
We all know that the Mamba is going to dominate, that's just a given -- the guy lives for playoff basketball -- but he can't be the only one. This one superstar thing only gets teams so far, and eventually, the reliance on one player will come back and kill the team in a deep playoff series.
It's just the facts. So, which Laker wants to step up and help out Kobe?
It's obvious now, Metta World Peace (Ron-Ron), plays a much larger role in that Lakers starting lineup than most ever imagined. His below-average offensive game is actually being missed, and his defensive presence is a huge loss.
Devin Ebanks and Matt Barnes have filled in abysmally in World Peace's place, and LA is feeling the sting at the small forward positon. One of these two are going to have to start playing real basketball, and even when Metta is back from his suspension, the Lakers still need these guys off the bench.
Andrew Bynum is doing his best Dwight Howard impersonation, posting that raucous triple-double in game one of the series, and since then, averaging a double-double a game. But beyond Bynum, Jordan Hill has been awful.
Terrible. Horrendous.
In the Lakers last loss, Hill played 20 minutes, scored no points on 0-4 shooting, and snagged five rebounds with one block. This stat-line is just painful to look at, and this is the exact reason LA is flirting with game seven against Denver.
Hill was never brought in to post starter-like numbers, but he is failing to contribute given the minutes he is playing.
Ramon Sessions -- don't even get me started. I'll give you one number, and you'll likely want to throw up like I did -- 3-12 shooting.
Enough said.
I have no complaints towards Steve Blake, whom I think personally has played better than Sessions in this series. He is playing on par with his ability, making the right passes, playing decent defense and has had a good shooting stroke.
Listen, this Lakers team has talent. Bryant is obviously the center-piece and to win games, he is going to have to be hot. But, the Mamba taking over a playoff game is something that we as fans have come to expect. Meaning that the left-over slack, which isn't much, is going to have to fall on LA's role players.
It's time for these guys to step up and stop riding Bryant's coattails praying that he does enough to sneak out a victory. This sort of mediocre effort may get the Lakers past the Nuggets, but don't expect any favors against the Spurs or Thunder.