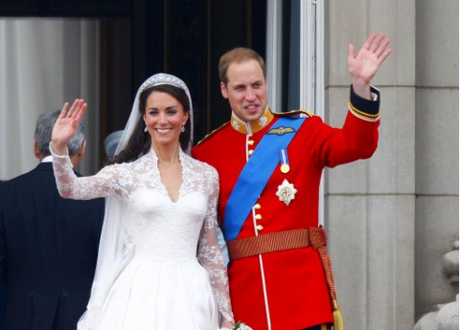 Prince William and Catherine, now the Duke and Duchess of Cambridge, on the balcony at Buckingham Palace.
Speculation is mounting that Kate Middleton is pregnant after a flurry of bets had bookies cutting the odds on a Royal baby in 2012. But Royal-watchers should try to contain their excitement: this isn't exactly the first time K-Middy's impending motherhood has been predicted, only to be proved wrong. And there seems to be confusion over exactly what stage the Duke and Duchess of Cambridge have reached in their baby plans, with some sources claiming Wills and Kate have only just started trying.
Brace yourself, Kate. The Royal pair are planning to commence Operation Baby now that William has returned form a six-week tour of duty in the Falklands, reported The Sunday Mirror. This would mean the Duke and Duchess of Cambridge are right on schedule: "Kate would be following tradition if she started a family now – most Royal couples have a child within a year of marrying." An unnamed source told the paper that William and Kate are keen to being up their child at their cottage in Wales.
Romantic conception. William and Kate are currently skiing in Switzerland – and Now Magazine speculated that their "romantic mini-break" may be the scene of the Royal conception. However, Richard Kay was keen to correct this misapprehension in The Daily Mail: "Contrary to ill-informed reports that Prince William had booked a surprise romantic break for his wife in Verbier, Switzerland, this week, I discover that he has done no such thing." The couple, it seems, are skiing in France. And baby-making may be on the back burner: "Romantic canoodling may have to wait since the couple are accompanied by the Duchess of Cambridge's parents, Carole and Michael, plus her younger brother, James."
K-Middy already pregnant? Forget trying for a baby – "the smart money says there may already be a bun in the oven", wrote Tom Sykes at The Daily Beast, pointing to the recent odds cut. Alex Donohue of bookies Ladbrokes told the site: "The odds have changed by about 15%. It's not a fortune being staked, but the amounts are enough to raise eyebrows in a market like this." Sykes tutted at the British obsession with Kate's fertility: "Kate has proved herself to be a patient woman. It's just a pity the same cannot be said of the British public."