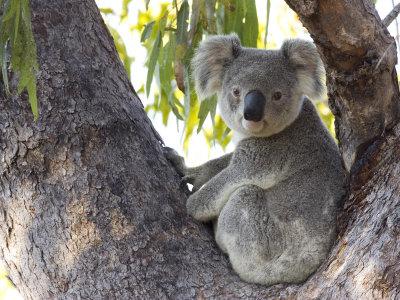 Perhaps only eclipsed by kangaroos and drop-bears the koala is a symbol of Australia's vast and sometimes bizarre wildlife. From plush toys to posters you can find them everywhere flying the flag for their homeland. However, according to scientists the number of koalas in the wild is deteriorating and a senate committee has been organised to determine whether or not they should be treated as an endangered species.
According to Alistair Melzer from the University of Queensland there may be 50,000 to 100,000 left. "It is hard to say with any certainty, the funds are not available to carry out extensive research." The population of koalas on the Gold Coast is believed to have plummeted by 80% in the last 20 years.
Urban development and farming is a huge factor in the drop in koala populous with the marsupials requiring large areas of eucalyptus forest for both food and shelter. With their habitat encroached on by humans the koalas continuously run the risk of being hit by cars or attacked by dogs.
Climate change is also causing the koalas a lot of issues with the animals suffering from heatwaves and drought which destroys the trees which provide the moisture that they require to survive. "If the climate changes these animals don't migrate, so population groups won't move south where it's cooler. They'll die." Said Melzer.
Thirdly, an endemic strain of the STD Chlamydia is also severely affecting koala numbers. Campaigners are rallying for a national endangered classification on koalas in order to save their habitats across the country, currently the classification is defined by state governments.
If you want to get involved with wildlife conservation then why not get in touch and find out which one of our projects suits you best.
This little guy needs some help: