Taste of Beirut is indeed an interesting initiative, held in partnership with the Beirut Digital District and in collaboration with the Lebanese Syndicate of Restaurants. I had the chance to meet a great deal of interesting people behind various food and beverage concepts in Lebanon, tasted some of their finest preparations, discovered unique dishes taking my taste buds on an international journey around the world of taste and flavor (food and drink), as well as indulged in some unique pastry pieces…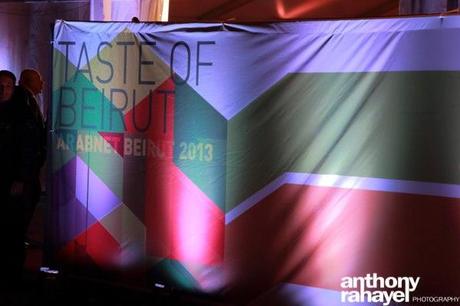 As part of Arabnet, Taste of Beirut, was held at Beirut Digital District (BDD), launched in September 2012 in the historical Bachoura district of Beirut as a Private‐Public partnership between two companies encouraging them to connect with each other, exchange ideas, and grow, and The Ministry of Telecommunications; acting as a facilitator and providing broadband internet and telephone infrastructure at preferential rates.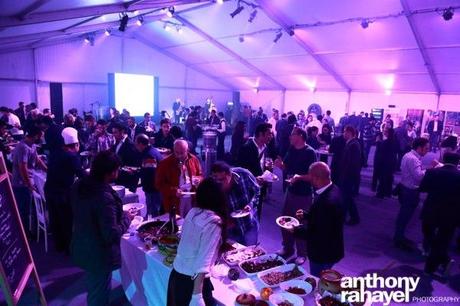 Tonight 14 establishments joined forces: 8 restaurants, 1 pastry shop, 3 wine makers and 2 beer producers, all with one aim and that is to introduce and provide invited guests with the taste of Beirut's finest.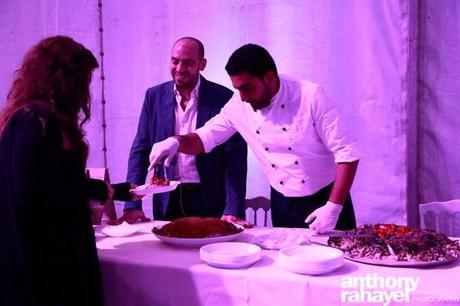 Jai: Open in February 2013, Jai is a chef-owned, run delivery and catering kitchen serving authentic Asian favorites. Located in the Mexico street Kantari, facing Haigazian university, Chef Wael Ladkani introduced his guests to a new approach to Southeaster Asian specialties never seen before in Lebanon. India, Thailand, China, Vietnam and India were all on the menu.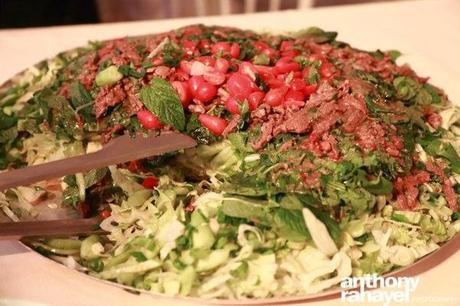 Tonight's Propositions: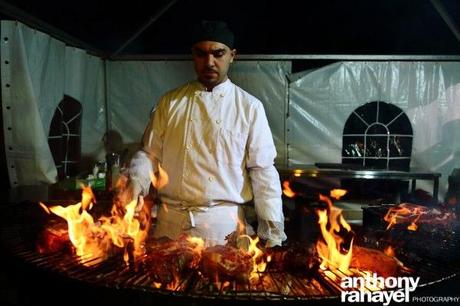 Couqley: Couqley is a French bistro located down "The Alleyway" in Beirut's trendy Gemmayze district. Couqley offers traditional bistro meals prepared by Executive Chef Alexis Couquelet. Open for lunch & dinner, diners can choose from an extensive selection of wines, all sold at retail prices and not regular restaurant prices. In addition to wines by the bottle, special selections of wines are also available by the glass or carafe. Couqley was converted from an artisan's workshop and now features a traditional hand-cut mosaic stone floor, zinc bar and a charming outdoor seating area.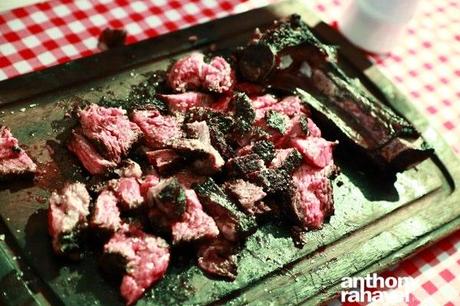 Tonight's Propositions:
Couqley was one of the few to grill live their signature "Cote De Boeuf". A piece of premium prime rib meat imported by Couqley, for their loyal clientele. Flames jumped high creating musical tunes that enchanted every attendee at this event. More than 200kgs of meat were distributed after being marinated and seasoned by Chef Alexis himself.
Sitting with Chef Alexis, I had the chance to get to know him better, after passing by his unique restaurants – Couqley and Amarres – several times. Couqley has been around for nine years now, and after working with many restaurant owners, he decided to partner with Ziad Kamel – whom I enjoyed meeting earlier at Arabnet – the man behind the Alleyway group of restaurants.
Chef Alexis brought to Lebanon the French bistros gaining grounds in Lebanon nowadays and becoming a trend. More than 15 other bistros have opened since he first put foot in this country with a dream of opening a real "Bistro de Quartier", the simple French way. This year, expect to see the birth of Couqley at the Blueberry Square Dbayeh, followed by Couqley pastry shops and later Couqley cafe.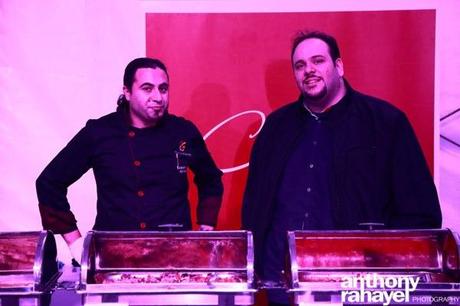 Crave: A West Coast Canadian inspired concept, Crave comes to Beirut as the first true fusion restaurant, with a palette of tastes, vibrant with colors and cultures. Our culinary team brings years of international experience to combine flavors from the cuisines of the world in the most sumptuously creative ways for a mouth-watering result that will tempt you and leave you craving for more.
The Crave experience is a delight for all your senses, and a voyage through the capitals of flavor making it a truly international fusion escape.The rich menu is served with a side of exceptional service and unrivaled quality- the best recipe to create the most memorable Crave experience with every meal. By taking your taste buds on a trip around the diversity of flavors, Crave inspires your cravings, reinterprets your tastes, and indulges your urges.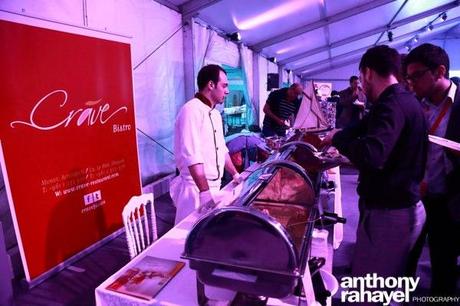 Tonight's Propositions:
Hamour fish with coconut ginger and almond sauce
Chicken Halloumi cheese marinated in curry with onion sauce
Goat cheese beef medallion with soya angel hair pasta
Tonight I met Michel Choucair, the funny owner and person behind the concept who enlightened me about the idea. Crave has two branches, one on Monot and the other in Le Mall Dbayeh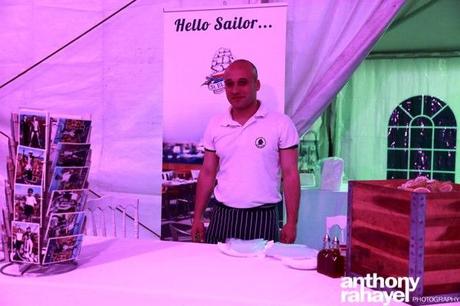 St Elmos: An escape from the dreary restaurant grind, St. Elmo's is a New England Brasserie that serves elevated pub grub in a retro-urban seaside setting. Located on Beirut's Zaitunay Bay, the restaurant owes it's name to St. Erasmus of Formiae, the patron saint of sailors who is affectionately known as St. Elmo's. Designed by interior architect Aal Chamaa Batal and Enfant Terrible, Joey Ghazal, the space is slavishly decorated with the kind of carefully distressed nautical vintage stuff that Joey and his friends scavenged at back alley garage sales and flee markets.
The cure for the common meal, St. Elmo's serves round-the-clock comfort food accompanied by a slim, unpretentious wine list at very reasonable prices.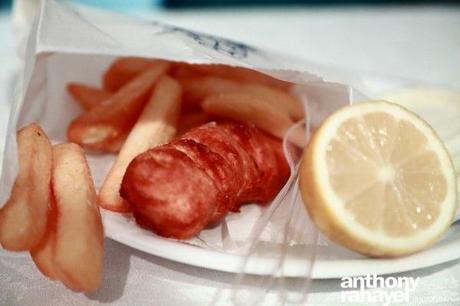 Tonight's Propositions:
The signature St. Elmo's Fish and chips served with tartar sauce, lemon juice and apple vinegar. Beer-battered Mediterranean bass served with mushy peas. To accompany the fish is the restaurants thick french fries all served in a paper bag on a plastic plate.
On the table is a wood box of sliced lemons, a little wood boat and St. Elmo's post cards. A limited edition post cards, designed by Alfred Tarazi. A collector's pack of six, not to be missed.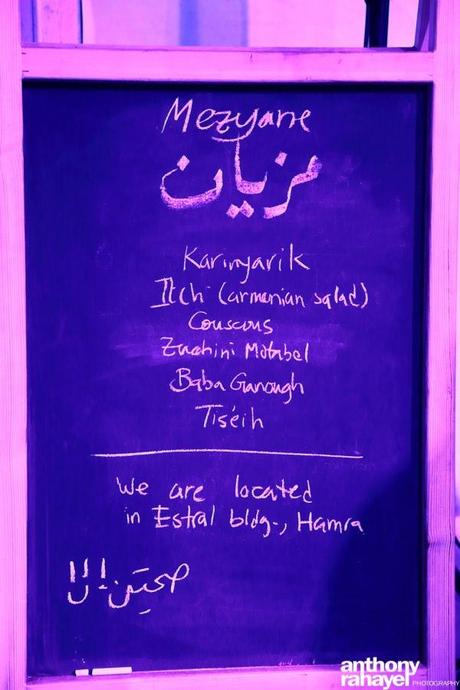 Mezyane: Mezyan is a family-run Mediterranean eatery and pub located in the heart of Hamra's historical Cinema Estral, serving a range of foods including Moroccan tajin, Spanish tapas, and a variety of brick oven dishes.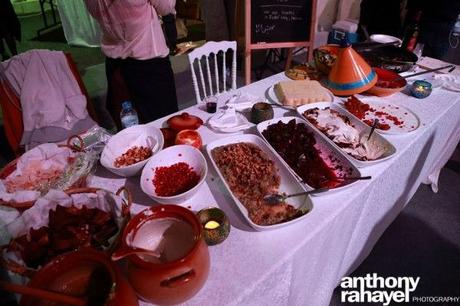 Tonight's Propositions:
Karen Yarak (fried batenjen with meat, vegetables, grilled in a wood oven with pomegranate)
Lamb and Vegetarian Couscous
Itch (berghol, spring onions, pomegranate…) A known Armenian specialty
Koussa Moutabbal
Beet Salad
Baba Ghannouj
Tes2iye (fatteh with a different taste)
Dima Hachicho, chef at Mezyane took the time to explain about all the preparations and the concept behind this restaurant which has been open for  two years now.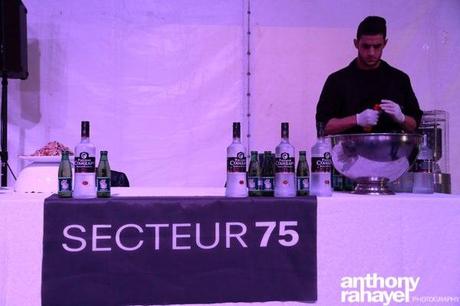 Secteur 75: A recent addition to the ever growing and sought after Mar Mikhael street, Secteur 75 has fulfilled it's role in providing Beirut with a bar nonpareil to any other establishment. Specializing in cocktails, wines, fine cuisine and classic service, Secteur will never cease to inspire those tempted by the finest qualities in life.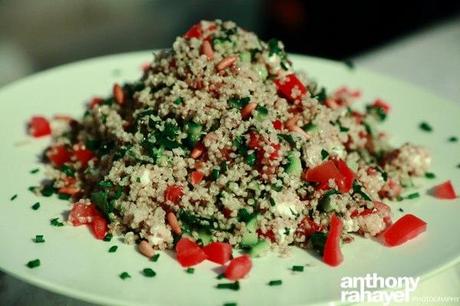 Tonight's Propositions:
Inchaladas
Quinoa Salad
Mushroom Caprice des Dieux
Chef Roy Wazen and owner Nadim Chikhani were there welcoming the guests, while explaining about their concept that perfectly integrates fine food into a drinking pub. Secteur 75 is the only restaurants tonight displaying Vodka bottles reminding us about its original concept.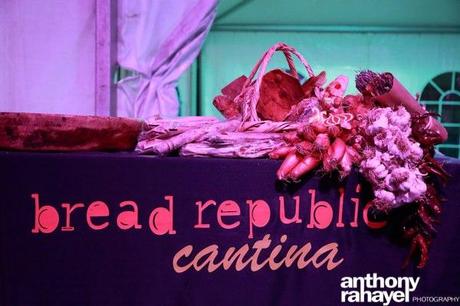 Bread Republic Cantina: Bringing together the experiences gained throughout Bread Republic's 10 years of existence as an artisan bakery with its specialty old-fashioned sourdough breads, subsequently as a café, pizzeria, restaurant and wine bar and its partnership with Slow Food, the Earth Markets and a large local and international community of producers, to create Bread Republic's Cantina.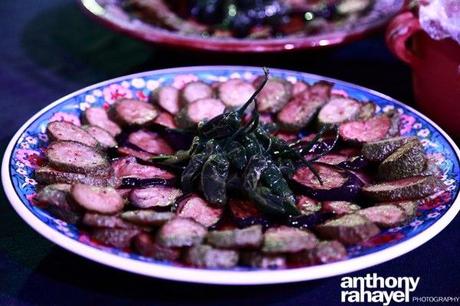 Tonight's Propositions:
Frike with seafood: A dish Bread Republic has been known for for the last 10 years
Pumpkin Kebbe
Goat meat taro, curry and spices
Mousakhan Djej and Makanek , Chorizo, sausages stuffed in french baguettes
Sautéed Koussa
Riz Bihalib with Laban
Six kinds of Markouk bread with no 'khamire'
Bread with Lavender and Loukoum
Walid Ataya, owner and man behind the concept explains: This cantina is aimed to be a convivial and a casual space where the freshest, most innovative and genuine Mediterranean & Terroire food, will be shared and enjoyed. Furthermore, La Cantina is marrying a daily after-work aperitif menu to the excellent selection of wines and cocktails.
Bread Republic which started as a bakery and a Pizzeria in Achrafieh expanded and opened a cafe in hamra followed by the restaurant more known as the Cantina. A wine room followed later on in Hamra
Today this one of kind restaurant offers a choice of three plats du jour between 16,000L.L and 22,000L.L where water a salad and dessert are offered. The food is all from our land revisited with a twist.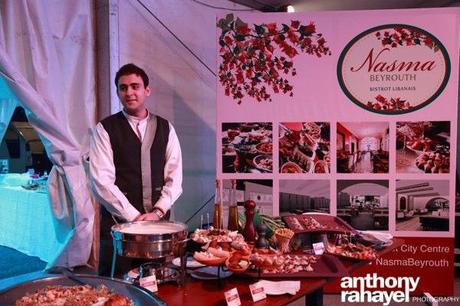 Nasma: Nasma is the Arabic translation of the word "breeze". This poetic label has been chosen for a genuine bistro that offers an exquisite taste of Lebanese hospitality. Located in the heart of Ashrafieh, in an old renovated house from the Lebanese heritage, Nasma uses the highest quality ingredients and traditional products hand-picked from the best local suppliers, from all Lebanese villages. While preserving the original taste and flavors that take you back in time to your tender childhood, Nasma adopts new cooking techniques and offers a modern vision of these products. Nasma offers an exceptional service to its clientele, in a cozy and welcoming ambiance, where tradition is once again refreshed with a contemporary twist.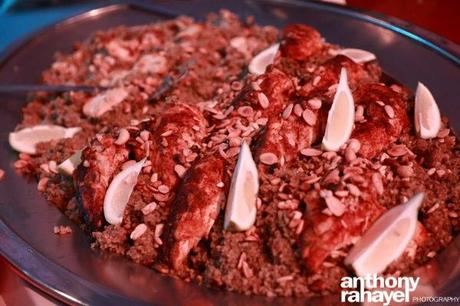 Tonight's Propositions:
Djej Mhammar bel Frike with cooked Laban
Mama Ghannouj (baba ghannouj with mhammara and caramelized walnuts)
Znoud el Sett with Chicken
Kebbet Arayess
Layali el Ghazal (layali lebnan with hazel el banet)
Riz b7alib bel Wared
Sorry guys, I couldn't taste all of your preparations as they contain garlic and onions. Yes, I know, they look very tasty and people really enjoyed them, specially your eggplant with mhammara and the chicken znoud el sett. I'll make sure to pass by the restaurant soon.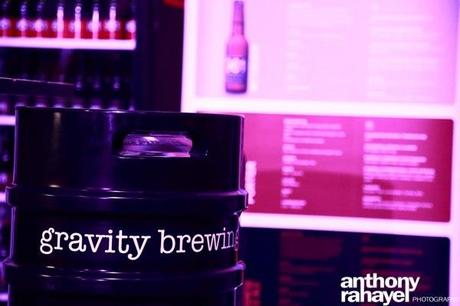 +961 beer: 961 Beer began during the dark days of the July 2006 siege on Lebanon. Tired with the lack of quality beer in Lebanon, Mazen Hajjar and his friends started to brew beer in his very own kitchen.The first batches were brewed in 20 liter kettles. Granted that war and blockades are not the ideal conditions to start a company, alongside everyone telling them they were mad to even consider it, they went ahead with it anyway. They decided that brewing a good beer for a great country was what they wanted to do the most.
When 961 Beer officially began brewing they were one of the smallest breweries in the world, and the only microbrewery in the Middle East (and still are). Although 961 Beer now brews nearly 2 million liters per year, they still insist upon making beer using the very same principles: traditional techniques, quality ingredients and love.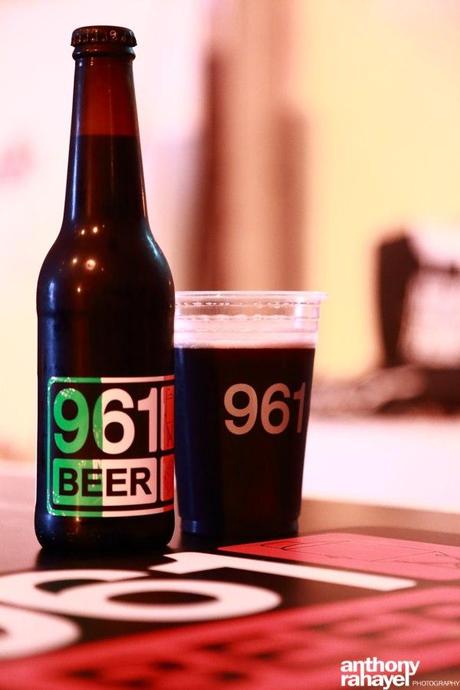 Tonight's Propositions:
Red ale
Lager
Wither
Porter
Lebanese Pale ale
Had the opportunity to drink the Irish special edition that I'll write about soon. It's special indeed.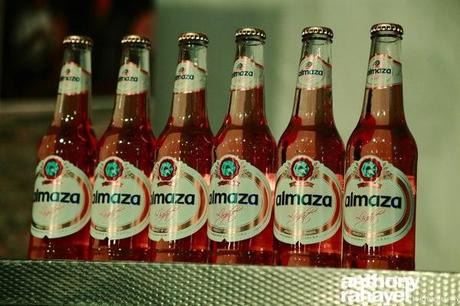 Almaza: Beer that offers a memorable taste of Lebanon, unfolding seven decades of heritage. The recipe's secret lies in the ideal balance between hops, malted barely and maize.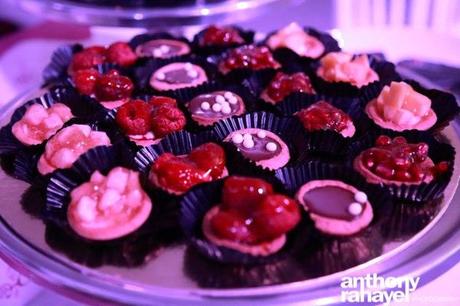 Gustav: Inspired by the tree of life and blossoming colors, the team behind bakery Gustav have traveled the world to bring back some of the finest essences that make up its flavor. Gustav has also benefited from young patrons who are willing to try something new, like Gustav's cake balls, which have a very dense and moist texture and are available in fun colors and interesting flavors such as red velvet with white chocolate, raspberry, mango and passion fruit, Belgian chocolate, chocolate with peanut butter, chocolate with caramel, carrot cake and blue velvet with blueberries.
Speaking with the man behind the brand, Wael Kara, he explains: "The market had been stagnant for a long, long time, offering the same products for God knows how long. Most pastry shops have been presenting the same cakes for the past 30 years. It is good to hold on to certain products that are more traditional, however, the world hasn't stopped there."
Tonight's Propositions:
Pomme grenade tart (The signature and a must try)
Raspberry tart
Dark chocolate tart
Apple tart with cinnamon
Mango tart
Strawberry tart
Gustav's special chocolate balls.
Tonight was the first time I taste Gustav's mouthwatering wonders and promised Khaled that I'll be passing by their kitchens really soon. Talking about all the creations they have down in Hamra, Mr. Kara activated all my senses. More articles about Gustav will be landing around soon.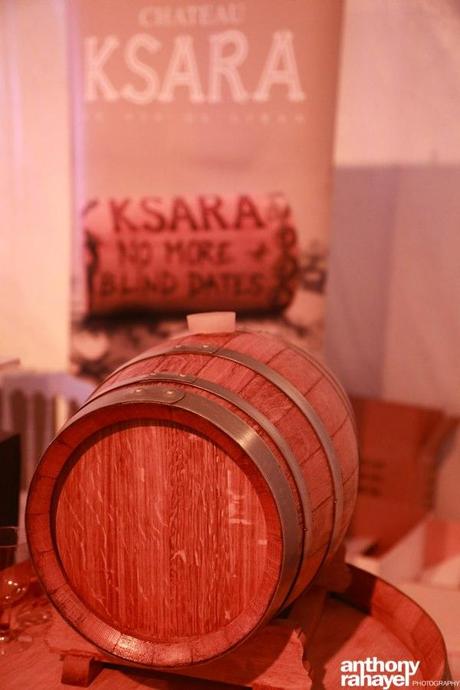 Château Ksara: With more than 156 years of rich wine-making heritage, Château Ksara is a fascinating union of old world history and new world technology.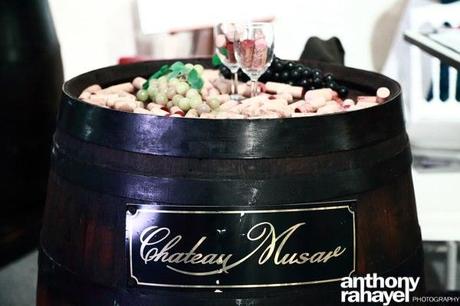 Château Musar: Created in 1930 in the cellar of an old 17th century castle, Château Musar makes every effort to produce totally natural wines, letting each one develop its own character.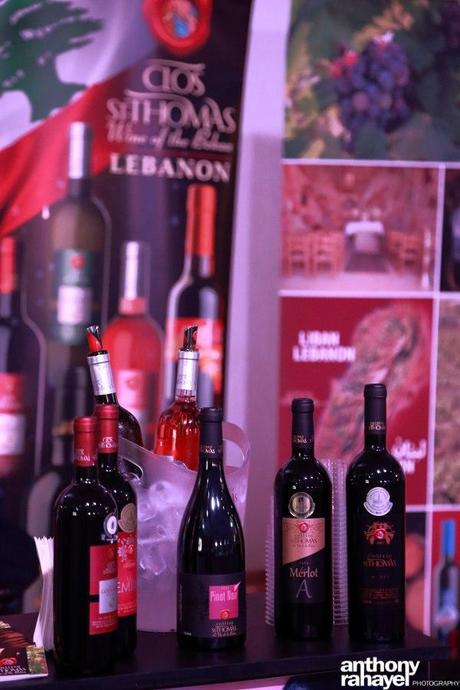 Clos St Thomas: Founded by Said Touma in 1990, Château Thomas is the pride of the wine industry in Lebanon, winning more than 55 gold and silver medals in prestigious international competitions.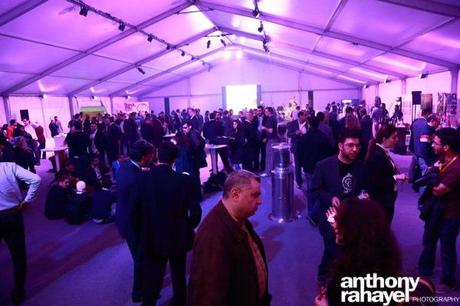 The things I liked tonight:
I loved the professional plastic plates and forks that look like porcelain ones used by Nasma
The Couqley stand was nice and welcoming
Couqley, Mezyane and St. Elmo's were the only ones cooking live tonight
Musar stand is professional and welcoming. Wooden barrels and corks decorated their space.
I enjoyed and savored every bite Gustav had to offer. A unique new discovery
Beautiful Jazz tunes accompanied us tonight adding a charm to the general ambiance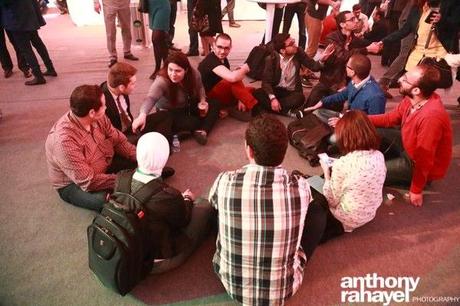 The minuses:
We all expected to have a program, details of the night program and sequence of events

Why didn't the restaurants distribute menus of the nights preparations and explanations of their dishes
Some of the stands were really bad. Clos St. Thoma's simple table is pathetic, far from being up to the standard of the brand
Flaming grills of Couqley created too much smoke which reeked our clothes and nostrils. Next time, please let the cooking be far outside
We ended up sitting on the floor. Chairs please! The minimum
I enjoyed my night, listened to good music, mingled with the industry professionals, tasting some of the country's refined food while discovering restaurants that have not been reviewed yet. I tried various cuisines including Armenian, Lebanese, French and British… but I would have expected to see some burgers grilling tonight. Pizzas and Burgers would have fit in perfectly, maybe next time.
See you next year…