Most of the real estate market reports focus on the difference between this year and last year, but that is such as apples to oranges comparison given the end of the tax credit at this time last year... of course our numbers should be lower this year. I prefer looking at current trends, comparing monthly data to see what direction we are headed now.
What jumps out at me in looking at last month's Twin Cities housing market data is how the total number of homes for sale has been holding so steady rather than following an upward curve typical for this time of year... very similar to 2009, only at slightly lower levels.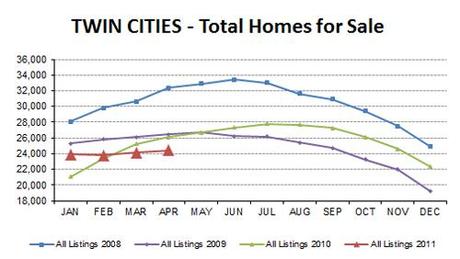 This seems to indicate that there is a balance between properties coming on the market and those going off the market. Townhome inventory has decreased the most, perhaps because their prices are typically more affordable than houses and financing is easier than with condos.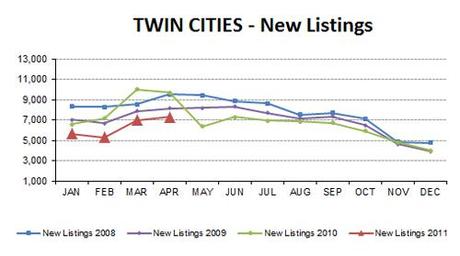 After a healthy jump in March, new listings showed a modest increase in April... again this year's numbers closely following those from 2009, only slightly lower. It is interesting to note that the number of price reductions on existing listings has been close to that of new listings. In fact, Minnesota leads the nation in being the quickest to slash prices.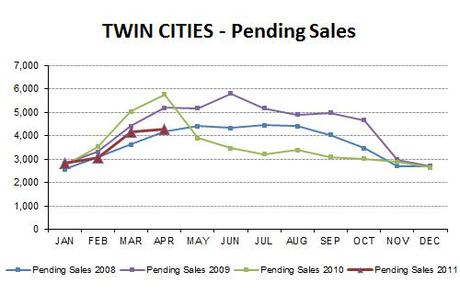 Pending sales (what predicts future closed sales) also took a healthy jump in March paralleling 2009 but held steady  in April rather than continuing to increase as it did in 2009. Keep in mind that the effects of the tax credit were kicking in at this time in 2009 and just ending at this time in 2010. We have also had an unusually cold spring this year, including snow in April, which also puts a damper on house hunting.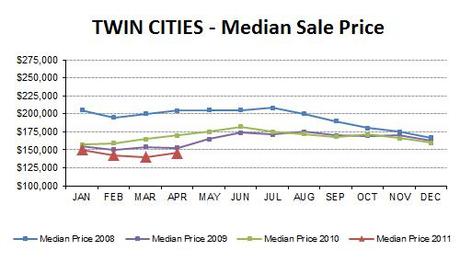 Median price, while still significantly below last year at this time, did go up a bit last month to $145,000 after steadily declining for almost a year. A lower supply of homes for sale means less competition for sellers which could mean less downward pressure on prices, although the high percentage of foreclosure sales has had the biggest impact on lower median price. 
It will be interesting to see what happens as the rest of the year unfolds. It would seem the market has been over-correcting itself. In fact, Lending Tree named Minnesota the second healthiest housing market by state when comparing the following factors: debt-to-income ratio, unemployment, home ownership, negative equity and the average loan-to-value.
The figures above are based on statistics for the combined 13-county Twin Cities metropolitan area released by the Minneapolis Area Association of Realtors. Click here for local reports on 200+ metro area communities. Click here for current interactive market analytics by MLS area, city or zip code.
Sharlene Hensrud, RE/MAX Results - Email - Minneapolis - St. Paul Real Estate Market Information
RELATED POSTS
Price reductions by zip code
Why are condos harder to sell than houses or townhomes?
Minnesota has second healthiest housing market by state
March Market Update... pending sales up
Interactive Market Data... for condos, houses, townhomes, foreclosures, and more...