Another month, another Favorites post! It's been a crazy month…again…but I managed to wear a bit more makeup this time around. My skin has been so red and blotchy that I couldn't not!

J

I actually don't think I have any skin care, hair care or body care this month, which is rare for me!

J

It's not that I don't have favorites, just nothing new that stands out. So, without further ado, I bring you my April Favorites!

J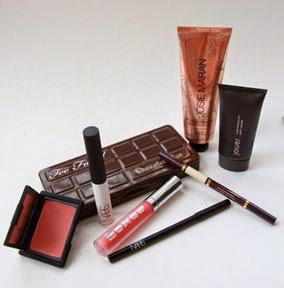 For starters, I would have been totally lost without the Jouer Matte Moisture Tint. I've mentioned this before, but I hadn't been using it recently…until April rolled around! I'm not sure that there's been a day that I've been out where I haven't worn this wonder product. This has such amazing coverage for a tinted moisturizer – even if it were a light-medium foundation – and it has such a natural finish. It's not too matte, but it doesn't look at all greasy on my combo skin like most tinted moisturizers tend to. It also helps keep me from getting super shiny all day and is such an easy throw-on-and-rush-out-the-door kinda product. The Jouer Matte Moisture Tint is truly wonderful!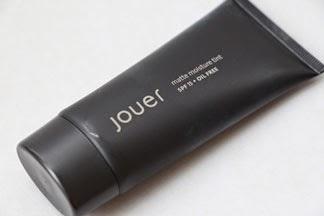 I picked up a new blush during the Sephora VIB sale in April and instantly fell in love with it! I've been using it pretty much every day since! It's the NARS Blush in "Torrid." I can't really explain why I love it so much; it just looks so pretty! It's described as a coral with shimmer, which seems pretty accurate to me. The shimmer is very subtle and on the cheeks it creates more of a beautiful glow than a shimmer. I have a few other NARS blushes, and I don't find myself reaching for them all that often, but "Torrid" is gorgeous!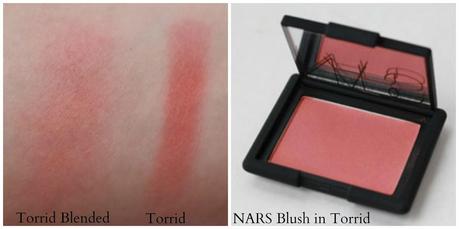 Another item from NARS that I've been pleasantly surprised by is the Larger Than Life Long-Wear Eyeliner in "Via Veneto." It's just a standard black eyeliner, but it is seriously the best black eyeliner I have ever tried! I won't say much more since I just reviewed it here. Definitely couldn't live without the NARS Larger Than Life Eyeliner in April!



An oldie, but a goodie that I've been using is also from NARS. It's their Smudge Proof Eye Shadow Base. This is definitely the best eye shadow primer I've used in terms of preventing creasing. I usually don't have much trouble on one eye, but the other eye creases like crazy no matter what I use. Strange, I know!

J

Fortunately there's the NARS Base because it definitely keeps my shadows looking fresher longer. I may get an occasional crease on the one eye, but it's a dramatic improvement from every other shadow primer I've used. Yea for the NARS Smudge Proof Eye Shadow Base!

J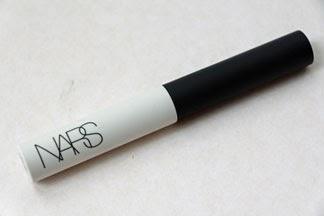 I also fell back in love with my Tarte Brow Architect Pencil in April. It makes filling in your brows so quick and easy! I find that the Light/Medium shade is just about right for my skin tone as well as my hair color. I reviewed this quite a while ago, so if you'd like to learn more, check out that post here. It has seriously made getting out the door with the appearance of actual eyebrows on my face so easy that I don't feel compelled to skip it! And the Tarte Brow Architect is finally available by itself as well!

J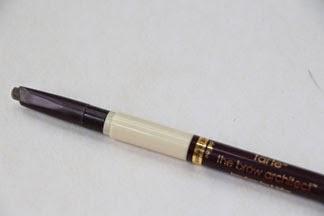 For eye shadow in April, I could not stop reaching for the Too Faced Chocolate Bar Palette. I really tried to resist this bad boy, but it's just so beautiful! It's yet another thing I need like a hole in the head, but it's an incredible neutral palette with a bit of punch thrown in. I feel like everyone and her brother has been talking about this palette, so I won't get into too much detail. It's just an amazing all around palette with ridiculously adorable packaging, and yes, it does smell like chocolate. That's actually one aspect I could live without, but don't mind it either. The shadows seem to last better than most on my eyes too, so make more palettes like the Chocolate Bar Palette, Too Faced! It's absolutely superb!

J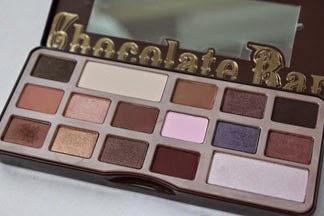 Not wanting to abandon the lip products, I've been totally addicted to the Buxom Full On Lip Cream in "Mai Tai." It's what I would call the perfect lip gloss – and I don't even like lip gloss much! It's a beautiful deep peachy shade. It actually kinda reminds me of the NARS Blush in "Torrid" if it were a lip gloss. If you'd like to know more about the Buxom Full On Lip Creams, check out my recent review here.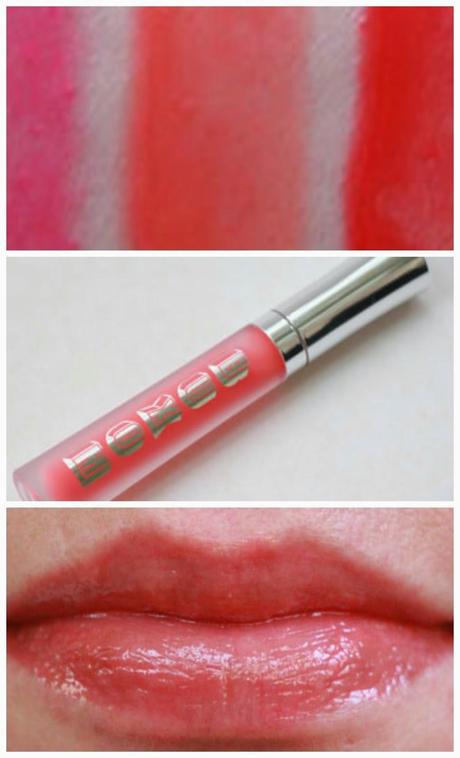 And finally, I lied. There's one body product I've been addicted to in April. It's the Josie Maran Whipped Argan Oil Intensive Hand Cream. I have it in the Warm Vanilla Fig scent, which I believe is only available in a set from QVC – plus it's massive!

J

It's a great hand cream because it really seems to penetrate my skin. I found my other hand creams were just sitting on top of my skin, leaving my hands still thirsting for moisture. The Josie Maran seemed to fix the dehydrated feeling right away, although if I don't use it somewhat regularly it sometimes returns. It's not at all heavy, but if you use a huge quantity, it can feel a bit greasy. I haven't had any trouble with it, but I know when I first tested it at Sephora, a ton came out and I thought it was quite greasy. After testing it a second time and not squeezing too hard, I found that it's been just perfect! The warm vanilla fig scent is quite nice as well. It's warm and comforting, yet still quite light and not at all overpowering. You don't smell your hand cream all day, so I think the Josie Maran Hand Cream has the perfect balance of a pleasant, but subtle scent (the vanilla apricot is a beautiful scent too). Again I must say well done Josie Maran!

J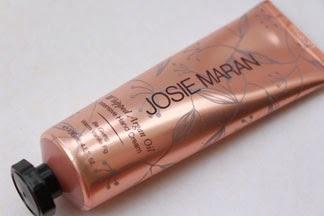 I feel like this was quite an unusual Favorites for me since it was predominately makeup items. I hope it was still enjoyable!

 

J

I should add that I've still been obsessed with the Too Faced Better Than Sex Mascara too, but I know I've mentioned it recently, but it's so good, that it needed another brief mention (see my review here)! That pretty much fills out my go-to face in April. Let me know what you've been loving in the comments because a girl can never have too many suggestions!

J

 If you're looking for any of these products, I will have them all listed in my April Favorites Luvocracy Collection, which you can find here. I hope you've all had a fantastic month and I will see you for another favorites next month!!!