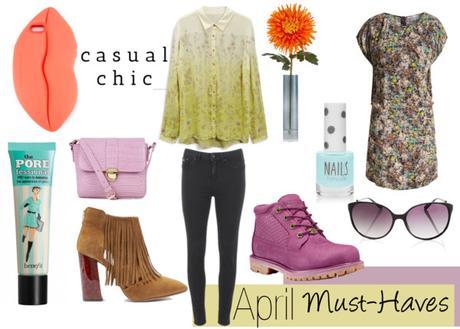 How are we in April already? Feels like only five minutes ago it was Christmas and only ten minutes since I got married in July! Obviously it really is April and we really are in 2016 so instead of feeling constantly gobsmacked how quick the months are flying by, I have created my monthly must-haves for April to inspire us!
April is the month where the sun teases us but the wind still delivers a chill, and of course the classic April showers are often soon to follow. I did debate whether to suggest some kind of umbrella or coat, but let's be honest if you live in the UK then you'll have something already. Today sees a mixture of diverse brands off the high street and online, with Esprit, Benefit and Timberland... plus a bunch of other goodies too!

\The April Must-Have Items
// Phone Case - Stella McCartney Lips CaseAbsolutely adore that Stella McCartney phone cover! My days of 'I can't find my phone' would be over because I just wouldn't be able miss it. I seem to forever misplace my black phone and getting a bright phone cover could be the answer.
// Shirt - Next Soft Lime Viscose Printed Shirt  This shirt from Next has been a big plus point to my wardrobe and I've been wearing it with blue jeans and those tan boots. It is a bit see-through though so wasn't sure if it would be appropriate for work, but drinks and cocktails with the girls - hello!
// Primer - Benefit PorePressional I've tried this in tester form for the first time and always meant to pick some up. It is truly amazing primer and this is a bit of a reminder to me to go and grab some more! Loving Benefit at the moment. 
// Bag - Accessorise Mini Croc Pushlock Cross Over BagLilac is becoming my favorite color this month, it's making me feel ready for spring and having a colourful small crossover bag is a great addition to a wardrobe. Not going too crazy with pastels as it is only April but a little can't hurt!
// Boots - Next Tan Suede Fringe Cut Out Boots Spotted these beauties at a Next press day and had to have them. I do feel a little like I should be in a Western movie walking in them because of the fringing, but once you get used to that it's fine! They go really well with jeans and that Next shirt... just saying!
// Jeans - M and M Direct Superdry Hi Waisted Black Skinny JeansDecided a pair of classic black was still strong move in April. They're still good for spring, not quite ready for colourful or white so keeping them relatively classic is smart move. I wasn't totally sure on hi-waisted jeans in general but loved the look of these Superdry ones and for my curvy figure maybe they could work. 
// Boots - Timberland Nellie Chukka Double Waterproof Magenta Boots On a more casual and practical note I have these Timberland boots in a gorgeous magenta shade. If you follow my social media and or YouTube you'll have seen these join me on my ski trips.  They actually were the best thing for walking on snow and ice! Timberland boots are first and foremost a well established walking brand as well as being fashionable - now I have the best of both. These will be amazing for spring Sunday walks with the dog! Each time I wear them I find my eyes gravitating towards them - so pretty!
// Nail polish - Topshop Nails In Boys Next DoorI've not actually used Topshop nail polish before - so not quite sure how good it is? Anyone? Regardless loving this shade of blue right now, I seem to slowly be putting away my deep, rich shades for light tones! Check out some of the new shades from Next though as their 'frozen' shade (think Elsa blue) is beaut. 
// Sunglasses -  Esprit Mixed Material SunglassesI always go for a safe option with sunnies and so saw these from Esprit and really liked the design. They are boho hippy style meets early 90's. What's not to like?! The best part for me is the fact they're only £25. I am notorious for breaking sunglasses so getting a really expensive pair is stupid! For example I bought a pair of Vivienne Westwood sunnies and broke the arm 2 hours after we got home. £25 from Esprit gets a thumbs up from me!
// Dress - Espirt Flowing Floral Print DressAnother find from Esprit is this beautiful dress. Esprit have been one of those brands I sometimes discover a little gem, and this month it's their flowing floral print dress. I tend to buy good quality casual bits from there but I stumbled across this dress whilst hunting for some new additions to my wardrobe. This kind of dress is perfect for any occasion and it's not too summery either... which I know we're all trying to hold back on buying lots of. Dress it up with heels or dress it down with white converse and your hippy glasses!
// Flower -  Next Orange Dahlia in Grey VaseFake flowers are my best friends. They cost a bit to start with but in the long run they are a better option than real flowers - because they last! Wasn't 100% sold on orange and if you're not sure either , head over to Dunelm to create your own with their single false flowers to buy. 
We have a good selection above but my main thing this month is about introducing those bright shades back into my wardrobe. Slowly teasing fabrics with beautiful floral prints is the way I'm headed but as it's still blowing a gale outside and raining as and when it wants, I'm holding back slightly... but come see me in May for some summer vibes and plenty of floral loving! What do you like and more importantly what have you been buying?