It wouldn't be fall without an apple dessert,  and the old-fashioned Brown Betty is perfect.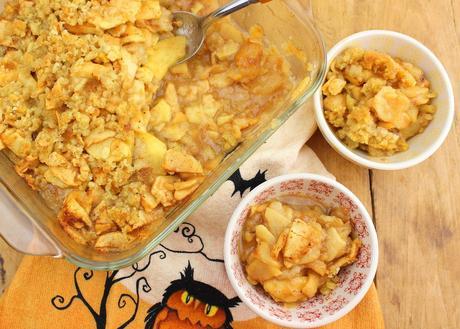 Apple Brown Betty
By Sue Lau | Palatable Pastime
Today is the last day for recipes in #AppleWeek.  I've had so  much fun! And the theme for today is "Anything Apple Goes!!!"
It had just been 3-4 weeks ago that Bill was asking me about a Brown Betty, so this one was really the first I decided on for #AppleWeek.
It really is an  older recipe which dates back to the late 19th century, and is also referred to as scalloped apples, although many people relate it to the apple crisp, which is made with  flour or flour and sometimes oats.  This is also said to be a favorite recipe of Ronald and Nancy Reagan (according to Wiki), but in the White House  Family Cookbook,  Henry Haller explains that is was a favorite dessert of Nancy. This jibes with what I knew from back when the Reagans were in the White House, and a friend of mine passed along a recipe for persimmon pudding that was said to be the favorite of Ronald. Both very traditional recipes for a very traditional family.
I did refer to the oldest recipe I could find for the Brown Betty so it would be as authentic as it could be, which turned out to be in the Fannie Farmer cookbook. That book dates back to 1896. In that book,  it is said to be served with either cream or a  Maryland Sauce, which is slightly similar to a sabayon sauce, except it is made with brandy. You can refer to that volume if you want to make it, but I will skip that part today.
The apples  I decided to use are an heirloom variety called Roxbury Russet, but you can use any type of baking apple. The Roxbury Russets are the oldest apple cultivar known to be grown  in the United States, widely grown throughout the 17th century,  especially in Massachusetts. It seemed right for this recipe.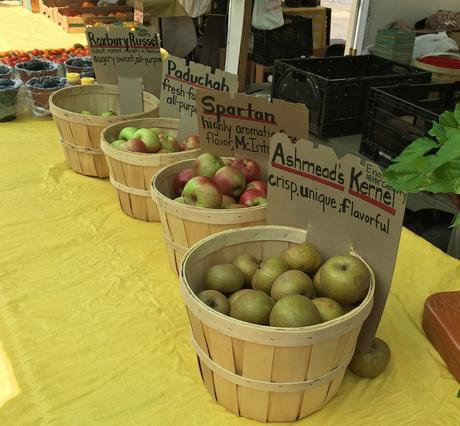 They are not very attractive though, with a rough skin and most are small, with a brown and gold mottled appearance. Quite different from the apple I spied at the market today with  beautiful reddish gold skin and was as big as a softball. I've never seen an apple so big! But just use what you can find- I feel blessed being in Ohio with so many orchards nearby- you know Ohio is the land of Johnny Appleseed.
And about him: he wasn't some generous  man who went about willy nilly scattering apple seeds throughout the state just to be nice. Back in those days, if someone homesteaded property, they needed to get  fruit trees growing as part of the deal. And many European apples didn't do so well here. But Johnny, being a savvy businessman, went about scooping up property early on, planting the trees and getting them going, and reselling  them for profit. The original home flipper, right? And apples back then weren't the lovelies we have today, but ones that were mostly used to make hard cider. Apparently city water  wasn't so good if you were pioneering out in the woods. And making cider was a natural way to made beverage that was not contaminated.
But anyway. I hope you enjoy this as either a nice breakfast or dessert. And don't forget to see the remaining recipes that posted today in the list below. I have one more apple recipe I am hoping  to post  tomorrow- but it is not technically part of apple week. Then on to Sunday Supper and my last Oktoberfest  recipe. And next week is #PumpkinWeek, so brace yourselves! C'ya-
~Sue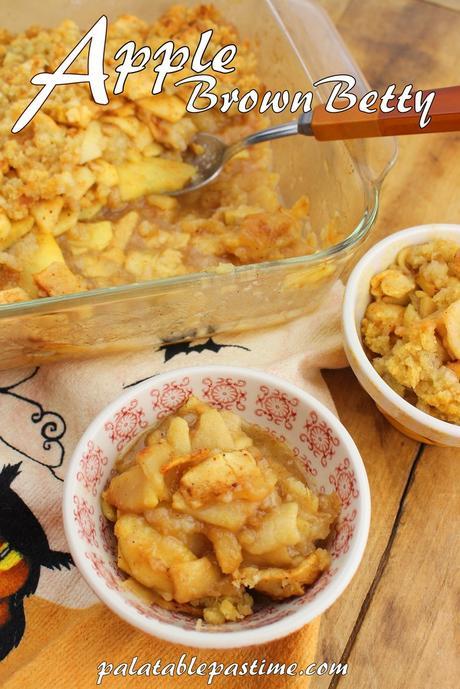 Apple Brown Betty
Servings: 6
Time: 1hr 20min
Difficulty: easy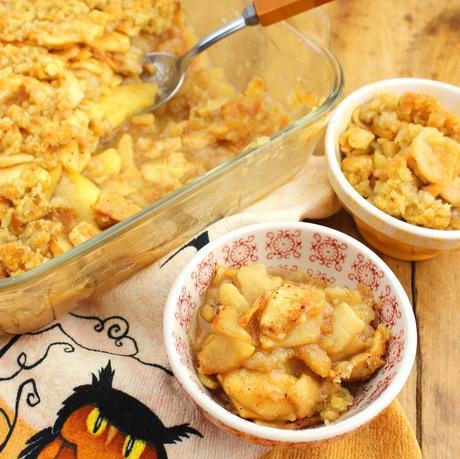 Ingredients:
6 slices sandwich bread (3 cups)
6 tablespoons butter, melted
1 quart sliced fresh apples (baking apples, no peel, no core)
juice of 1/2 lemon
1/2 cup granulated sugar
1 teaspoon cinnamon
pinch nutmeg
1/2 cup hot apple cider
Method:
Preheat oven to 350ºF.
Butter a square glass baking dish.
Pulse bread slices in a food processor to make soft crumbs and toss with the melted butter.
Toss apples with the lemon juice, sugar, cinnamon and nutmeg.
Place 1/3 the bread crumbs in the bottom of the baking dish.
Top the bottom layer of crumbs with half the apples, then add 1/3 more bread crumbs, the remaining apples, then the last of the bread crumbs.
Cover pan with foil and bake 30 minutes.
Uncover pan and bake 35-40 minutes more; serve warm.
From the kitchen of palatablepastime.com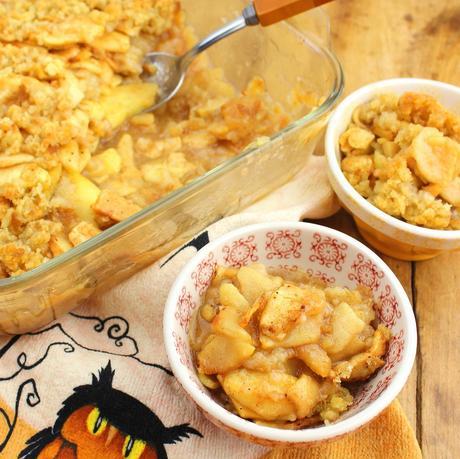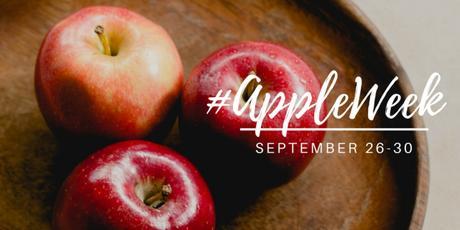 Monday: Appetizers and Drinks
Apple Brie Roll Up  by Family Around the Table
Apple Cider Margaritas by A Palatable Pastime
Apple Cheddar Pinwheels by Cooking With Carlee
Apple Pie Martini by Amy's Cooking Adventures
Apple Pie Smoothie by Feeding Big
Caramel Apple Float by Jolene's Recipe Journal
Caramel Apple Martini by A Day in the Life on the Farm
Caramel Appletini by The Speckled Palate
Hot and Boozy Caramel Apple Cider by Love My Messy Messy Mess
Hot Fireball Apple Cider by Grumpy's Honeybunch
Mulled Apple Shrub Mule by A Kitchen Hoor's Adventures
Pumpkin Spice Crockpot Apple Sauce by I Say Nomato
Red Hot Apple Cider by New South Charm
Roasted Apple and Acorn Squash Soup by Caroline's Cooking
Slow Cooker Caramel Apple Cider by Hezzi-D's Books and Cooks
Tuesday: Main Dishes and Sides

Apple Cheddar Grilled Cheese by A Kitchen Hoor's Adventures
Apple Cider Bread by I Say Nomato
Apple-Glazed Pork Chops with Raisins by Love My Messy Messy Mess
Apple Streusel Muffins by Family Around The Table
Chicken Salad with Apples and Cranberries by Feeding Big
Chopped Apple Salad by A Day in the Life on the Farm
Fall Apples Become Yummy Applesauce for the Year by Crafty Mama in ME
Harvest Brats with Apple Slaw by Corn, Beans, Pigs and Kids
Sausage Stuffed Apples by A Palatable Pastime
Sage Pork Chops with Apple Pan Gravy by Amy's Cooking Adventures
Scalloped Apples Casserole by Red Cottage Chronicles
Slow Cooker Apple Cider Pulled Pork by Cooking With Carlee
Southern Style Fried Apples by New South Charm
Wednesday: Sweet Treats
Apple and Nut Drop Cookies by A Day in the Life on the Farm
Apple Brown Betty by Corn, Beans, Pigs and Kids
Apple Cider Caramel Sauce by Cooking With Carlee
Apple Cinnamon Oatmeal Bread by Feeding Big
Apple Dumplings by A Palatable Pastime
Apple Oatmeal Cookies by Jolene's Recipe Journal
Apple Pie & Cinnamon Things by Crafty Mama in ME
Apple Pie in a Jar by Grumpy's Honeybunch
Baked Apples with Chocolate and Caramel by Hezzi-D's Books and Cooks
Brown Butter Apples by Cricket's Confections
Mini Apple Pie with Cheddar Crust by Amy's Cooking Adventures
Nana's Apple Pie by The Crumby Cupcake
Sparkling Cider Pound Cake by Family Around The Table
Thursday: Apple Projects
Apple Bacon Jam by Caroline's Cooking
Apple Cinnamon Pancake Mix in a Jar by A Palatable Pastime
Apple Cinnamon Stovetop Potpourri by Amy's Cooking Adventures
Apple Suncatchers by Crafty Mama in ME<
Caramel Apple in a Jar by Family Around The Table
Homemade Apple Cinnamon Oatmeal Packets by A Kitchen Hoor's Adventures
Knit Apple Hat by Jolene's Recipe Journal
Friday: Anything Apple Goes
1 Minute Caramel Apple Dip by Corn, Beans, Pigs and Kids
Apple Brown Betty by A Palatable Pastime
Apple Bundt Cake With Cider Caramel by Cooking With Carlee
Apple Cinnamon Shortcakes by Jolene's Recipe Journal
Apple Crisp Shortbread Bars by Hezzi-D's Books and Cooks
Apple Fritters by Grumpy's Honeybunch
Apple Pie Skillet by A Day in the Life on the Farm
Caramelized Apple and Bacon Jam Crostini by Caroline's Cooking
Creamy Peanut Butter Apple Dip by New South Charm
Grilled Cheese Sandwich with Apple and Peppered Bacon by Feeding Big
Individual Apple Crisp by Family Around The Table
Smoky Apple Pulled Pork by Amy's Cooking Adventures
Slow Cooker Apple Butter by The Crumby Cupcake
You might also like:
Apple Spice Dump Cake
Splenda Dutch Apple Pie
Blackberry-Pear Crisp
Can't Find a Recipe? | Help
Recipe Index A-M | Recipe Index N-Z | Home