Apartments system prevails everywhere and gone are the days of independent houses/bungalows with lawns and landscaping!
I have lived most of my life in apartments except for early school days where we were in rented houses with a water well and a small lawn for a green patch!
Last weekend, we bumped on to this beautiful garden furniture shop and I realized how I missed decorating the home or having a plush garden! All the stuff were beautiful vintage designs with that grungy Victorian look - perfect to go with any house!
The gardener in me ebbs and tides with my mood - practically based on availability of time to concentrate and cater to the plants!
Though most of the furniture the shop had to offer were for decently spacious lawns and gardens in the open, I could sense how well we could fit these into our small/decent size apartment patios, balconies and corridors!
Here is my interpretation of how well we can fit in these lawn/garden decor props into our compact apartment balconies and patios....
TIERED BIRD WATER FEEDER FOUNTAIN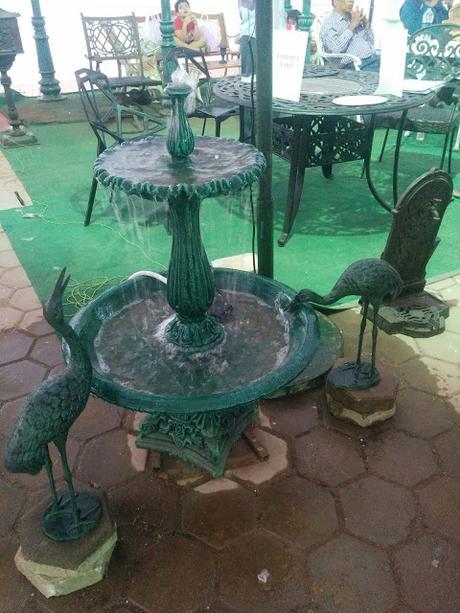 A gorgeous, moss green vintage bird water feeder-cum-fountain for the corner of your patio/balcony. These are great for long balconies actually - packing in beauty and purpose into one! Ideal outdoor decor if you stay in a penthouse or villa with a cut-out terrace from the top floor!
The gurgling water sound adds to the positivity around and the cranes are just so perfect a prop to go with this tiered fountain!
WINDING STAIRS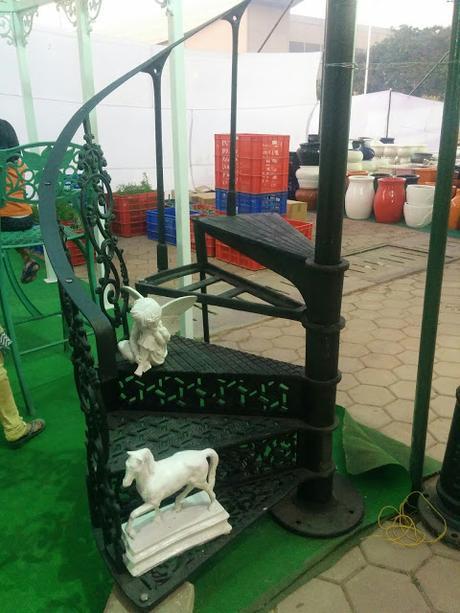 These wrought iron winding stairs are so perfect for the balcony according to me!
Just curl up some Devil's ivy (money plant) climbers on the stand and aisle - and you get a great outdoor couple adda sitting in the stairs sipping some coffee over chit-chat!
Get the most out of your space otherwise, by placing potted plants in each of the stairs - goes easy on space, convenient to water all of them and amazing looking stair garden!
THE BALCONY BENCH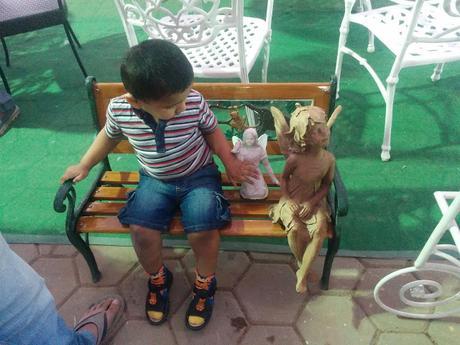 This miniature wooden bench would look pretty wherever you place it in - more so when surrounded by greenery.
Place this park bench in your balcony or even kids room with some faux green grass carpet, flanked by some potted poinsettias  - its cuteness overload!
That's my boy sitting on the bench - he immediately took to it owing to its cuteness and those pretty fairies!
MINIATURE CYCLE POTTER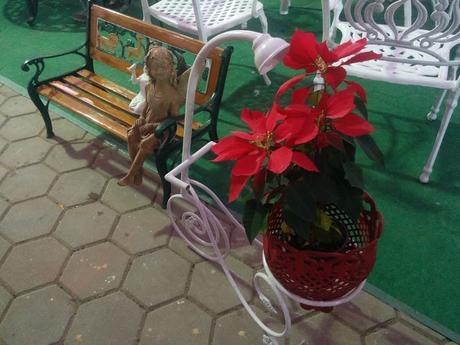 This miniature cycle plant potter makes for a perfect English country setting in the patio. Throw in some vintage iron chairs and enjoy perfect evenings with family over tea!
Poinsettia is all the rage in India now - particularly for patio and indoor decors, since its easy to maintain and adds oomph to any corner of the house!
You can also check out a simple DIY home decor idea I did with Poinsettia

HERE


This grungy cycle is great for indoor decoration as well. Can also be accommodated near the entrance of your main door, since it doesn't take much place! Your guests will love this decor idea and leave you with praises for the choice!
PALATIAL VASES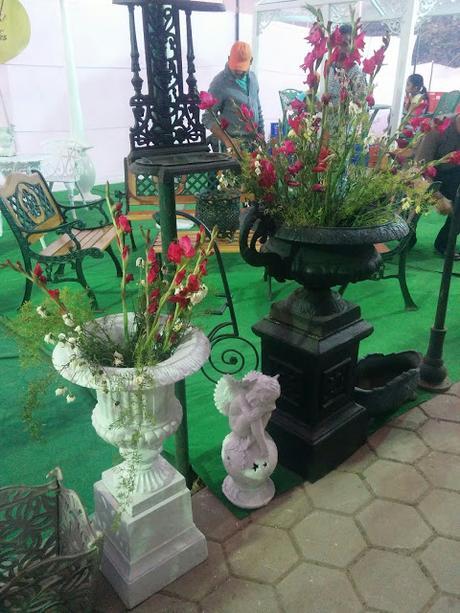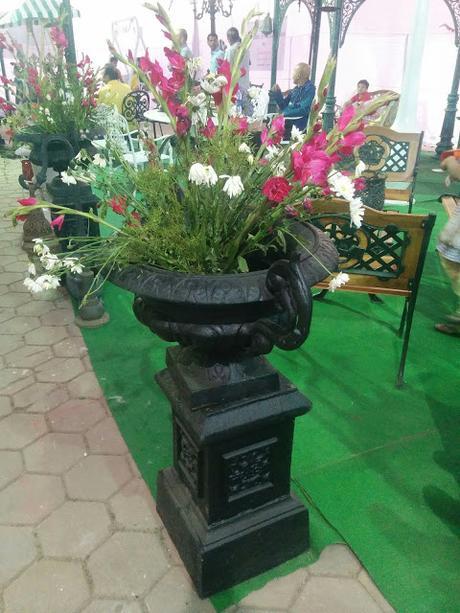 We might have seen such grand, humongous vases in palatial bungalows and monuments. But when incorporated in home decor, these vases can add huge face value to the entire house.
Place these near the entry to your house potted with some flowering plants or tucked in the corner with some artificial plants. Looks great in the balcony too flanked by chairs.
Somehow these vases always give me that proud and confident vibes, a winner like feeling - and that is what matters the most! A home decor prop imbibing great thoughts and feelings in you on a daily basis!
Hope you liked these ideas for your patio with some huge vintage props that are not actually made for them! 
P.S. - Please bear with the pictures. Foggy evening, indoor lights and people flanking the decor pieces didn't help too much to grab some good clicks!