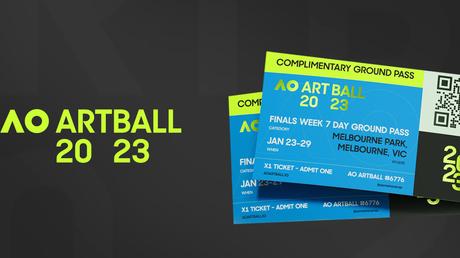 Grand Slam NFT project, Australian Open 'ArtBall' offers new heat in the midst of 'crypto winter,' remaining on-strategy to commit investment and disclose goals, which is expected to considerably rejuvenate holder optimism.
Hey ArtBall Members AO23 is just around the corner and we've got some awesome updates coming soon… Ah, what the heck, here's the first serve: The ArtBall Ground Pass pic.twitter.com/VzOj88KNSC

— AOmetaverse (@AOmetaverse) November 23, 2022
In a demonstration of the most comprehensive rewards program on the blockchain, AO ArtBall provides its holders with an unprecedented number of tickets to major tennis and live athletic events, as well as AO23 Ground Passes, exclusive behind-the-scenes streaming, and an improved fan experience.
AO ArtBall, designed by Tennis Australia and Web3 company Run it Wild, announces a record number of AO23 tickets for NFT holders. Moreover, holders will have access to live sporting and entertainment events that span both the virtual and real worlds, as well as Australian and international events. This new frontier of token-gated experiences breaks new ground by granting token holders access to activities on a large scale to which they might not otherwise have access.
As part of the ArtBall Ground Pass to live events, every ArtBall holder will be able to claim a pair of complimentary seven-day Ground Passes to finals week of AO23. This will be the greatest release of tickets to an AO membership program in the event's history, given the collection size of 6,776. Holders of numerous ArtBalls will be eligible for several pairs of Ground Passes proportional to the number of ArtBalls they possess. For instance, a person who owns three ArtBalls is entitled to six tickets, allowing them to treat their loved ones to an exciting finals week (January 23-29) at AO23.
"We believe we're one of the most extensive rewards program on the blockchain, the experiences on offer to ArtBall holders are truly memorable, unique and accessible," De Cata added. Here's a glimpse of what's to come for AO ArtBall in 2023.
AO ArtBall exists at the confluence of sport and innovation, enabling new ways to keep spectators engaged in the game – both on and off the court. ArtBalls already include a narrative on the court, altering the manner in which AO's devoted fan base is invested beyond the 14-day competition. If the winning shot from any of the 400 AO matches lands on that plot, the ArtBall is updated in near real-time to highlight the match information and affix a holographic sticker indicating it is a Match Point ArtBall.
"Last year we set a new precedent at the intersection of tech, art, tennis and live data. This year we're breaking new ground in offering all holders a deeper fan experience. We've shifted gears to build out a sustainable membership platform for the future that adds in token-gated experiences as a given, founded on proof of ownership and holder demand," said Adam De Cata, Run it Wild Founder and NFT Tech CEO.
Since being the world's first Web3 project to combine live match data and earn an Entertainment Cannes Lions prize for Sport, AO ArtBall has raised the bar once again. "We believe we're one of the most extensive rewards program on the blockchain, the experiences on offer to ArtBall holders are truly memorable, unique and accessible," De Cata added. Here's a glimpse of what's to come for AO ArtBall in 2023.
ArtBall Ground Pass
ArtBall holders will also get access to select United Cup matches in Sydney, Brisbane, and Perth, in addition to the pair of AO23 Ground Passes. United Cup is the first event for mixed teams with equal points and salary, taking place from December 29 to January 8.
"AO ArtBall continues to over deliver. Ground Passes to AO23 would be an unforgettable experience for my friends and family. I never expected to be rewarded with so many benefits. Thanks for ArtBall, I already own a rare signed t-shirt autographed by tennis legends, a number of POAPs[6] and wearables in addition to recently attending the Moto GP for the first time with my family," said Discord member Justice Albatraoz, holder of four ArtBalls.
ArtBall SuperSight
Artball SuperSight is a curated experience that is limited to AO Art Ball members. To enhance the fan experience, SuperSight will take AO23 members behind the scenes. Supersight also offers an exclusive array of feeds and viewing capabilities for users situated anywhere on the planet, allowing them to remotely interact with the AO. This consists of Player-cams, the 3D Stats Explorer, and AI-generated match highlights.
All improved Match Point encounters
Using Chainlink VRF (Verifiable Random Function) technology, every AO22 and AO23 ArtBall will be assigned a new court position at random. This one-of-a-kind perk ensures that existing holders in less desirable areas, such as behind the net, have a second chance to earn Match Points from their new plot. The '23 Match Point experience will feature match point visualization in 3D and digitalized match footage.
Expansion of international rewards
In 2022, devoted holders competed in rapid-fire trivia to win tickets to other Grand Slams, such as Wimbledon and Roland Garros. ArtBall members had access to foreign experiences outside tennis, including club tickets, stadium tours, and signed souvenirs from Arsenal and the New York Mets, as a result of Tennis Australia's extensive partner network. In order to keep international ArtBall holders in the game, the '23 collection will expand international benefits for ArtBall holders through collaborations with prominent Web3 initiatives and brands.
Leave this field empty if you're human: