There were antiques at the St. Paul corner of Selby and Fairview before the Blue Door Pub brought throngs of people to revel in their fine selection of tap beers and famous Juicy Blucys, all 10 varieties! Now it's nice to be able to browse the antique stores while waiting for a table at the cozy Blue Door... no reservations taken.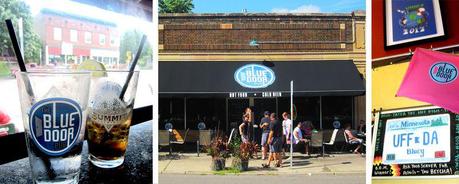 Are you scratching your head and wondering... 'Juicy Blucy'???  Juicy Lucys are a Minneapolis-St. Paul hamburger phenomenon that come in different varieties on both sides of the river. Matt's Bar and the 5-8 Club, both on Cedar Avenue in south Minneapolis, both claim to  have invented the Juicy Lucy, which is basically a burger with molten cheese in the middle.
The Blue Door Pub calls their Juicy Lucys 'Blucys' and has 10 different varieties. Try them all and when they have punched them all off on your card you get a free winner t-shirt! In addition to their regular Blucy variations, they also feature Burgers of the Moment... which currently happens to be the UFF-DA Blucy in honor of all the Scandinavians around here, uff-dah!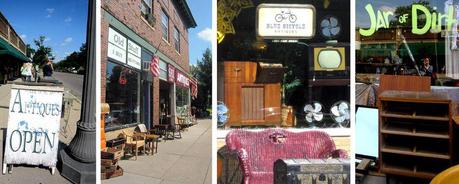 The Mall of Antiques next to the Blue Door Pub is the area's largest antique mall, with over 55 dealers... and there are more on the corner across the street!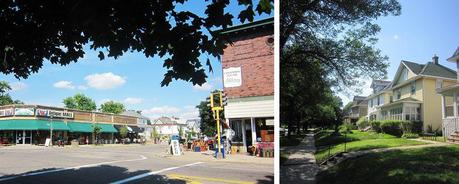 The Merriam Park neighborhood is on the west side of St. Paul, roughly midway between downtown Minneapolis and downtown St. Paul. It was named after its developer, whose vision was for a suburb for business and professional families. When it was developed in the 1880s he specified that houses must cost at least $1500, which signified a grand house at that time. In the 1920s many of the original homes were replaced with smaller farmhouse style homes.
The corner of Fairview and Selby is in the heart of the oldest part of the Merriam Park neighborhood. Current average home price is $361, 603. See homes for sale in Merriam Park if you are interested in exploring this historic neighborhood near the University of St. Thomas and Macalaster College.
Sharlene Hensrud, RE/MAX Results - Email - Minneapolis-St. Paul Realtor