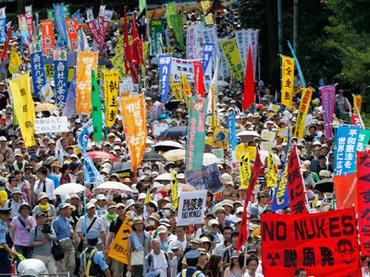 from IndyBay
Emergency Actions December 11:
Stop The Secrecy Laws In Japan!
No More Nuclear Start-ups And Fukushima Cover-ups!
Stop The Secrecy Laws In Japan!
All Out Wednesday December 11, 2013 3:00 PM
Japanese Consulate 50 Fremont St./Mission St.
San Francisco
West Coast And Hawaii Day Of Action At Japanese Consulates in Portland, Seattle, San Francisco, Los Angeles, Honolulu
Sponsored by No Nukes Action Committee
http://nonukesaction.wordpress.com/
Bring your banners and posters "Stop The Abe Repressive Secrecy Laws And Attacks On Human And Democratic Rights In Japan"
No Restart Of Nuclear Power Plants In Japan
Evacuate The Children and People Of Fukushima Now!
The Japanese government and it's LDP prime minister Abe is seeking to push through a "Secrecy Law" that could be used to silence
not only people reporting on what is going on at Fukushima but even those who are trying to find out what is happening in Fukushima.
This is an open flagrant effort to silence anti-nuclear activists and human rights activists who are fighting to defend the children and people of Fukushima.
National newspapers in Japan and even the New York Times have opposed these repressive secrecy laws since they would also prevent the media from investigating and reporting not only on Fukushima but many other issues of critical importance to the public in Japan and around the world.
This is not just a Japanese issue but of great importance for the world. Already anti-nuclear activists such as Osaka Professor Shimoji have been jailed for leafleting against the burning of nuclear rubble.
A leader of the Liberal Democratic Party even accused protesters against the bill of being "terrorists". This fascistic type of law and
repressive attacks is a dangerous escalation of threats to free speech and human and democratic rights.
http://mainichi.jp/english/english/newsselect/news/20131130p2g00m0dm023000c.html
http://www.nytimes.com/2013/10/30/opinion/international/japans-illiberal-secrecy-law.html?ref=opinion
Fukushima, Nuclear Power and Repression With Osaka Professor Masaki Shimoji
http://www.youtube.com/watch?v=YKRvT3Ku_H0&feature=youtu.be
LDP bigwig apologizes for 'terrorism' comment over protests against secrets bill
http://mainichi.jp/english/english/newsselect/news/20131202p2a00m0na026000c.html
Please get your organization to endorse this rally and speak out against the secrecy laws and to stop the start-ups of the nuclear plants in Japan and around
the world.
For more information contact
call 510-495-5952 or nonukesactioncommittee(at)gmail.com
http://nonukesaction.wordpress.com/
The Japanese people need the support of the US people to help stop these reactionary laws and defend the people of Fukushima. Please Join This Action