Hey beautifuls, how are you all doing? You know, I get a lot of questions regarding Anti-aging. So today I will be talking about a a perfect Korean Anti-aging solution which I have discovered recently. I have been trying out a lot of Kbeauty products for the last few years and have found out some gems. This is the first time I am trying a Korean Anti-aging solution from the brand Accoje which is available on Wonderskin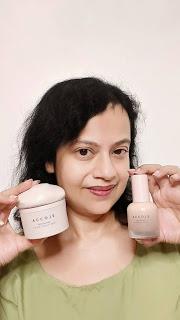 About Accoje:
Accoje in Jeju means "fine" or "beautiful" . Accoje aims at resolving skin related concern with Naturalism by boosting and revitalizing it to its optimum level. This Premium Eco Skin care range give vey noticeable difference in the skin's overall condition.
Accoje Skincare products have undergone 7-Free System by the exclusion of 6 types of Parabens, 

Imidazolidinyl Urea, Benzophenone, Raw minerals, Artificial fragrance, Animal fat and Tar color.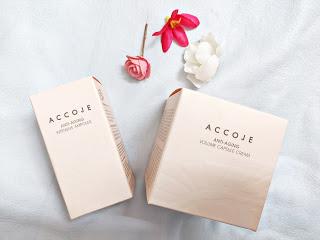 About Accoje Anti Aging Skincare
Accoje has its own Antiaging skincare line that aims at reducing wrinkles and fine lines and to firm, youthful and pinkish glowing skin. The Accoje Anti Aging Skin care products are enriched with the goodness of Volcanic Bed rock water, Odium Fragile, Undaria Pinnatifida, Eklonia Cava, Sargassam Fulvellum and Sargassum Fusiforme.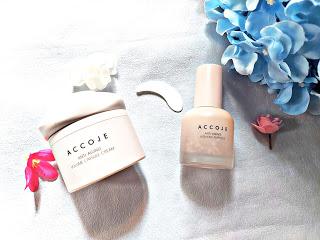 Accoje Anti Aging Products that I am Using
So I have been using 2 products from Accoje Anti Aging Skincare line:
Accoje Anti Aging Intensive Ampoule



The Accoje Anti Aging Intensive Ampoule is designed to reduce complex aging process with its high concentration of active ingredients.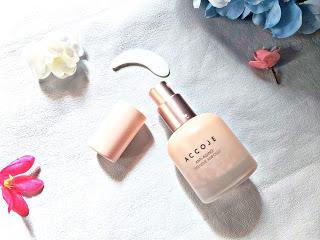 Price: Rs. 2100 for 30 ml
Packaging: The product comes in a pink outer cardboard packaging. The product is securely bottled in a beautiful pink glass bottle with a pump dispenser and a pink plastic cap.
Texture: The most noticeable feature of the ampoule is the presence of the pink silky light volume capsules that are very much visible from outside. These capsules are submerged in a transparent gel.
Ingredients:
The ingredients of the Accoje Anti Aging Intensive Ampoule are very exotic and have been directly curated by nature, like the Jeju Seaweed Complex which has 5 Seaweed ingredients, volcanic rock aquifer water and 2 types of peptide.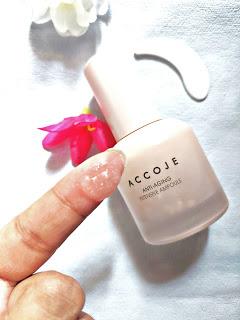 My experience:  I have been using the Accoje Anti Aging Intensive Ampoule for almost 3 weeks now. I dispense a small amount of the product on my palm and work it on my skin by tapping movement. The feel is very lightweight and non-greasy. The pink light volume capsules, that forms the essence of the product, melts and hydrates the skin. The skin is left looking glowing and vibrant. The skin feels very moisturized and plump after I use it. 
Accoje Anti Aging Volume Capsule Cream:
The Accoje AntiAging Volume Capsule Cream is formulated with silky textured nano particles that that makes the skin look firmer and smoother by filling the gaps on the skin's surface.
Price: Rs. 2500 for 50 ml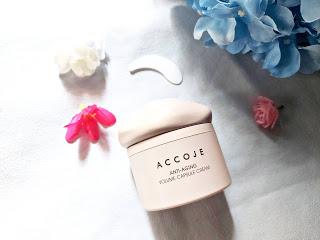 Packaging: The cream comes in a pink cardboard outer packaging. The gel textured cream is secured inside a pink glass jar. A spatula is provided to scoop out the right amount of the luxurious cream.
Texture: The translucent cream has pink silky capsules that blends in to the skin when applied.
Ingredients: It is the same as that of the Accoje Anti Aging Volume Capsule Cream.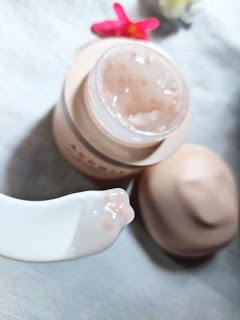 My Experience: I use this cream after using the ampoule twice a day. I take out a small amount of cream with the spatula and apply it on my face. With swift swiping motion of the finger I apply the cream on my face. It immediately moisturizes the skin, leaving it very silky smooth. The pink capsules inside the cream melts into the skin, making it soft and glowing.
My Overall Experience with Accoje Anti Aging Intensive Ampoule and Volume Capsule Cream:
I have been using both the ampoule and the cream as a part of my daily skincare routine, twice a day, for the last 3 weeks after cleansing. I am really surprised to see the amazing results that both the products have given. My dry skin, nowadays never feels dry and looks much firmer and smoother. The feel of the skin has become very soft and plump. Not only that my skin also imparts a wonderful pinkish and youthful glow.
Verdict: The inclusion of Accoje Anti Aging Intensive Ampoule and Volume Capsule Cream in my daily skincare routine has noticeably improved my skin's texture and also the overall appearance of my skin with much more vitality, radiance and firmness.
You can also get the luxurious range of Accoje Anti Aging Range from Wonderskin website here