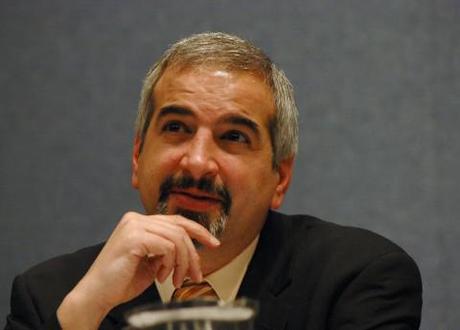 Anthony Shadid. Photo credit: Terissa Schor, http://www.flickr.com/photos/terissaschor/410814835/
Anthony Shadid, a two-time Pulitzer Prize-winning foreign correspondent, died on Thursday after suffering an apparent asthma attack in Syria while reporting on the uprising there for The New York Times. He was 43.
Times reported Tyler Hicks told the paper that Shadid had an asthma attack triggered by an allergy to the horses the smugglers who ferried him into Syria used. Hicks's efforts to revive Shadid failed and he carried Shadid's body over the border to nearby Turkey.
Fluent in Arabic, Shadid spent much of his professional life covering the Middle East and built a reputation for himself as a fair and honest journalist who reported with earned authority about what he saw. And what he saw, most often, The New York Times said, were "ordinary people who had been forced to pay an extraordinary price for living in the region — or belonging to the religion, ethnic group or social class — that they did." Shadid gave a voice to those frequently overlooked in reporting on fraught and war-torn regions like the Middle East, and he did with no concern for his own safety: In 2002, as a correspondent for The Boston Globe, he was shot in the shoulder while reporting in Ramallah in the West Bank. While covering the Libyan revolution for The New York Times in 2011, he and three other Times journalists were kidnapped by Col. Muammar Gaddafi's forces and held for six days before being released.
Shadid began his career in the Middle East with The Associated Press, reporting from Cairo, before being picked up by The Boston Globe in 2001; he was then with The Washington Post from 2003 until 2009, when The New York Times made him Baghdad bureau chief. He won two Pulitzers while at The Post, in 2004 and 2010, for his reporting on Iraq, and authored three books: Legacy of the Prophet: Despots, Democrats and the New Politics of Islam (2001); Night Draws Near: Iraq's People in the Shadow of America's War (2005); and the forthcoming House of Stone: A Memoir of Home, Family, and a Lost Middle East, to be published next month by Houghton Mifflin Harcourt. He is survived by his second wife, journalist Nada Bakri; their son, Malik; a daughter, Laila, from his first marriage; his parents; a sister; and a brother.
On Friday, "Anthony Shadid" was a trending topic worldwide on Twitter as the media remembered one of its own, and those who had read and admired his work mourned his loss.
Sophisticated understanding. "He had such a profound and sophisticated understanding of the region," Martin Baron, the editor of The Boston Globe, told The New York Times. "More than anything, his effort to connect foreign coverage with real people on the ground, and to understand their lives, is what made his work so special. It wasn't just a matter of diplomacy: it was a matter of people, and how their lives were so dramatically affected by world events."
"Most gifted foreign correspondent in a generation". Shadid was, quite simply, America's "most gifted foreign correspondent in a generation", declared fellow reporter Rajiv Chandrasekaran at Foreign Policy magazine. "Eloquent and prescient. Graceful and gripping. … His coverage of the Middle East — from Iraq, Lebanon, Libya and beyond — was, simply, the best. He set the standard. If you cared about the region, if you really wanted to understand what was going on, you read Anthony."
He found humanity. "He understood how essential it was to bring to life those forgotten stories of the victims of war and oppression," said David Hoffman. "He made it his mission, and he succeeded with a startling clarity and depth, drawing from his relentless reporting and bottomless empathy to build unforgettable portraits of humanity." But, Hoffman, who worked with Shadid at The Post, added, "He was never the archetype of a war correspondent — he could not be hardened or swashbuckling or unfeeling. He was at heart a genuinely modest person who hated the bombs as much as those who were caught under them and told him of their fears."
He had humility. Wrote Tom Ricks, who also worked with Shadid for The Post, "Unlike many reporters, Anthony also had humility. In 2004 I asked him a question about Iraqi politics. Anthony spoke Arabic fluently, and had knocked around Iraq before the invasion as well as after it. … He looked at me and said, 'Actually, the more I know about Iraq, the less I understand it.' Wise words. Wise man. A big loss for us all."
Not everyone thought that Shadid always hit the mark: The Iconclast, writing at the New English Review, complained on February 9, just a week before Shadid's death, that he didn't understand Island and lacked an "analytic framework" for interpreting what he saw.
He was committed. Steve Coll, a former editor at The Washington Post, writing at The New Yorker, remembered meeting Shadid at an interview for the job he would soon get. "I asked a standard job-interview question about his goals in the years ahead, and he provided one of the most striking, emphatic answers I can recall from countless discussions of that type: He intended to move to the Middle East, to chronicle in every dimension possible the upheavals in Arab societies that would inevitably follow the September 11th attacks, and to do nothing else, professionally. If we, the Post, would facilitate this ambition, he would be grateful, but that was the only job he was interested in or would be for years to come, he said. It is rare for anyone—never mind a writer—to possess such clarity. And Shadid carried out his plan exactly as he said he would, just not for the full measure of years that we would have wished."
More on the Middle East

Libya: One year on, the turmoil continues
Arab League toughens stance on Syria
World leaders line up to condemn Syria
Israel and Iran headed for war