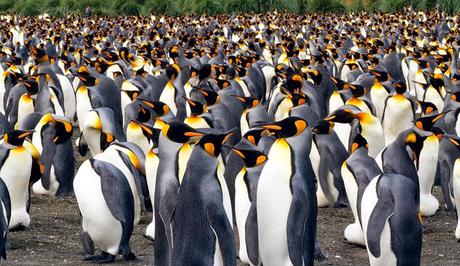 King Penguin Colony
In January 2015, our friend Owen Floody went on a cruise to Antarctica, which also included stops at the Falklands and South Georgia Island.  Owen recently retired from a career of teaching and research at Bucknell University in Pennsylvania. He has always been an avid photographer and in his retirement has taken several trips that allow him to pursue his passion. Here is part 2 of a short reflection on his Antarctic trip and a few of his excellent photographs.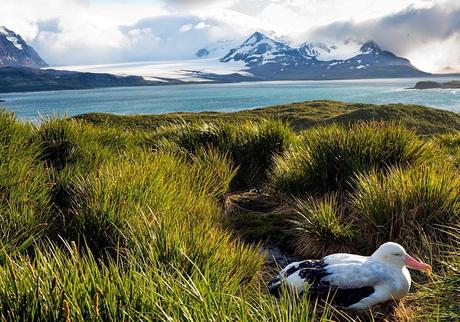 Wandering Albatross on Nest
After devoting part of our trip's fourth day to a brief tour of Stanley, the capital of the Falkland Islands, we plunged back into the heavy seas for the long cruise to South Georgia Island.We arrived there midway through the seventh day and then spent nearly four days enjoying a great number and variety of activities including landings, zodiac cruises and ship cruises.In part, this wealth of activities reflected the much better weather that marked most of our time at South Georgia.In addition, it reflected the constant efforts of the expedition crew to compensate for time and activities previously lost to the weather.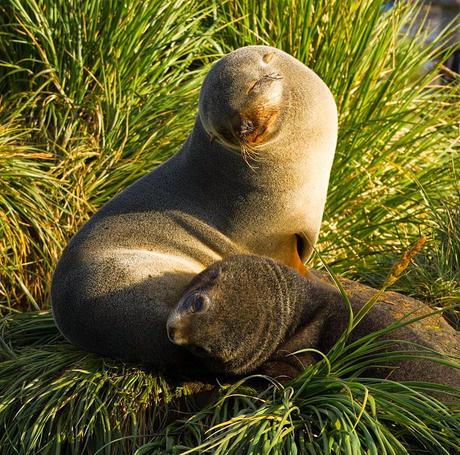 Fur Seals: mother and pup
To a large extent, it was my desire to see South Georgia that motivated this trip and I am happy to say that South Georgia did not disappoint.Among the things that it combines are impressive mountains and glaciers and a special place in the history of Antarctic exploration, revolving around the fact that it was at the Stromness Harbour whaling station that Ernest Shackleton and two of his crew appeared in May, 1916, after sailing a stormy 810 miles from Elephant Island and then hiking for 36 hours over glaciers and 6,000 foot mountains from the other side of South Georgia, all as just a first step in the eventual rescue of the majority of his crew, still marooned on Elephant Island.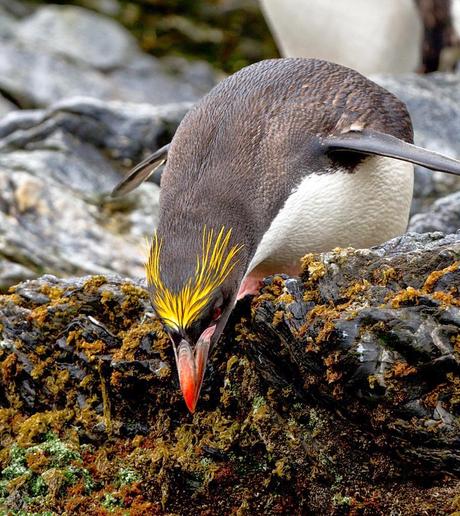 Macaroni penguin
As interesting as were the perspectives it provided on the histories of whaling and Antarctic exploration, it was the wildlife on South Georgia that stole the show, not just here but for the cruise as a whole.Our initial activities, on and near Prion Island, brought us up-close-and-personal to nesting Wandering albatrosses and sometimes-belligerent mother fur seals.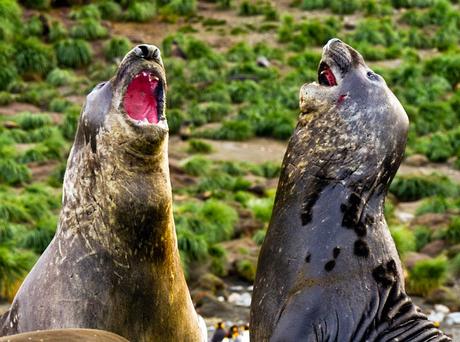 Elephant seals
Later landings or zodiac cruises at Gold Harbour and Cooper Bay exposed us to lovely Macaroni penguins and the spectacle of immature (but still enormous) male elephant seals facing off on the beach.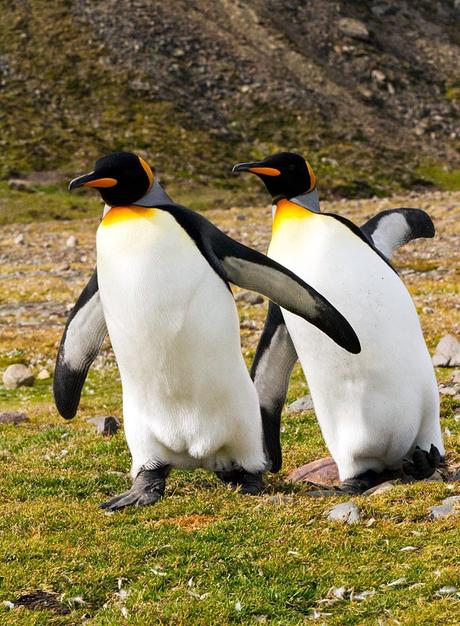 King penguins
Still, the stars of the show unquestionably were the King penguins that we encountered at Saint Andrews Bay and Gold Harbour.These were notable for their bright colors and impressive numbers: For example, the colony at Saint Andrews alone is reported to contain more than 300,000 pairs (see very small fraction in the photo above).But like other penguins, I found the kings most endearing for their sometimes comical patterns of movement and their elegance, perhaps especially when interacting or preening. 
Details:
The ship was the m/v Plancius (capacity = 112), which is owned and operated by Oceanwide Expeditions (http://www.oceanwide-expeditions.com/).  This is a Dutch outfit with an office in Houston.  We booked our cabins directly, though it is possible to book through other travel agencies or tour operators, as is standard for such cruises.
We flew on Aerolineas Argentinas between JFK and Ushuaia, with stops of 3 (on the way down) or 1 (return) day(s) in Buenos Aires.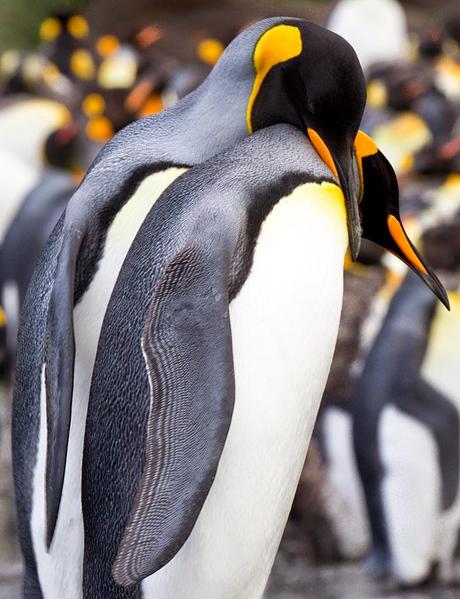 King penguins
Next week, Part 3: South Georgia to the Weddell Sea.