Amie wrote: "Although I am not in the design field professionally, I do love the beauty and functionality of a well-designed space and get so much inspiration from your blog posts.  Your idea of devoting some posts to design solutions for specific spaces/issues is wonderful!  I would love to see you address an issue I have been struggling with.  My home is an older ranch style where the front door opens directly into the living room; I need ideas on how to create an entryway 'without walls'."
Ok, this is one a lot of us have. I have spent waaaay more time than I should wishing my foyer was bigger. But it's never going to be, and we all are far healthier, I think, if we work with what we have rather than trying to make something into what it is not, or worse, obsessing about what we can't have. 
So, for all of you who have front doors that open into living rooms, here is how I would work with it:
1. Make the front door a kick-ass one.
Like it or not, it is going to be a focal point of the room, so it may as well stand out, in a good way. This isn't really a font door, but what if it were? It would be awesome: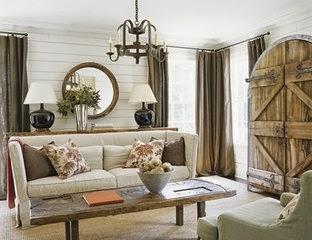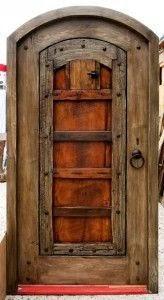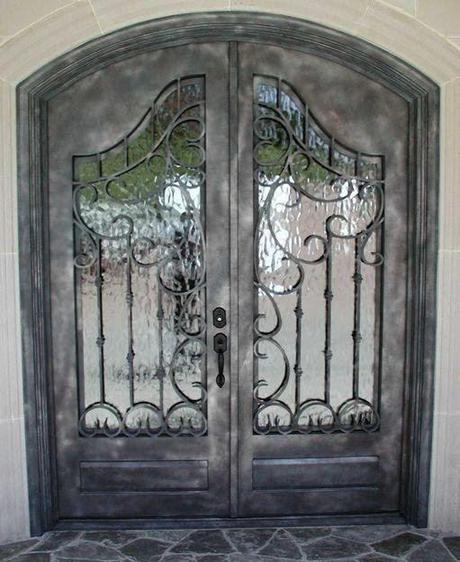 2. Define the entry space and separate it from the living space
You can build an actual division like this: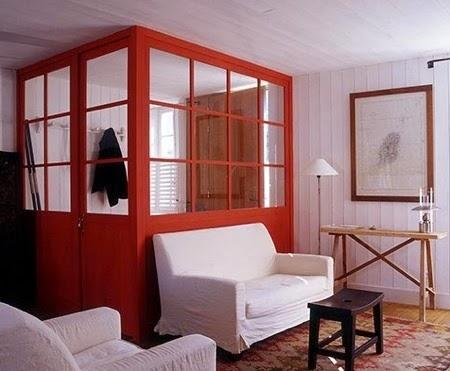 Or use a room divider (I like this better):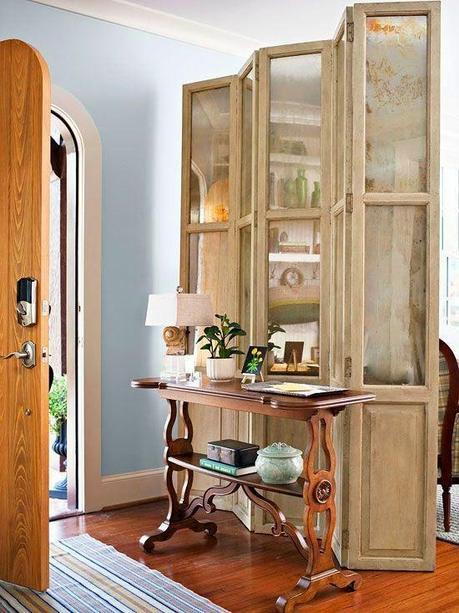 Or use curtains to define a "foyer" or entry space: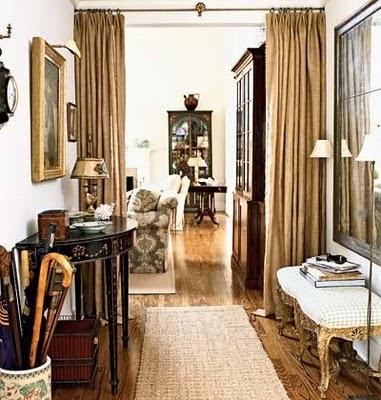 Or even use furniture to define it. Here, a table and a chair, facing in rather than toward the door, does the trick: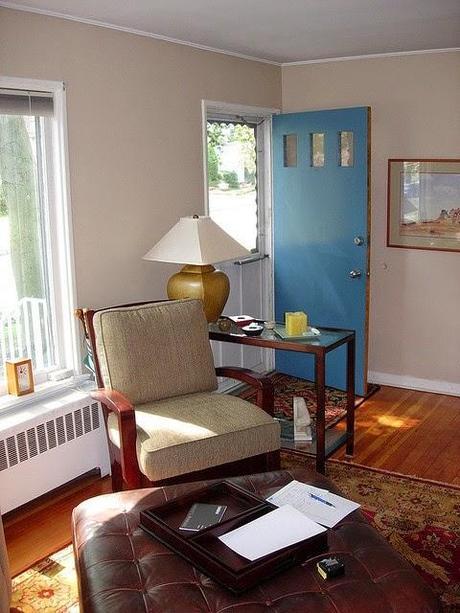 I also love this idea of building a half wall for separation and a mini mudroom: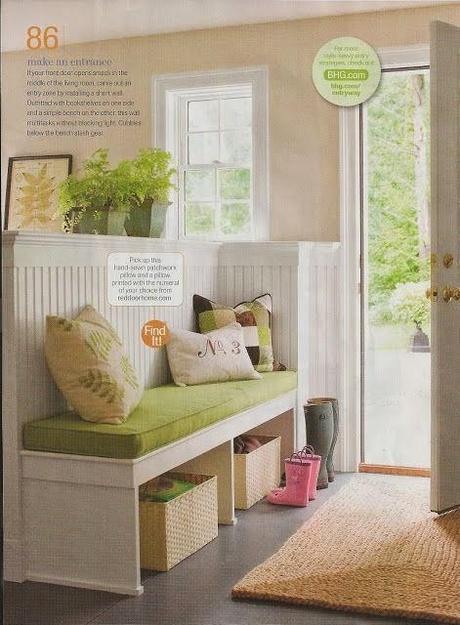 3. Ignore it.
If the room is more like these, with the door opening into the stairs, leaving a natural walkway and ignoring that there is no separation between rooms is the way to go.
Billy Joel's wife lived in this one, so even people with big bucks face this "problem." In this case, the room is wide enough to just ignore that the door opens into the living room - it's decorated as if there is a wall separating the spaces, and it works great: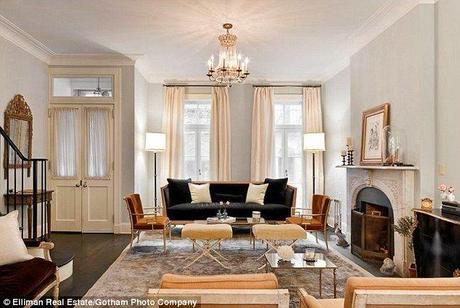 The same here - the console and sofa define the space, and would probably be in the same place even if there were a wall separating the entry form the living room: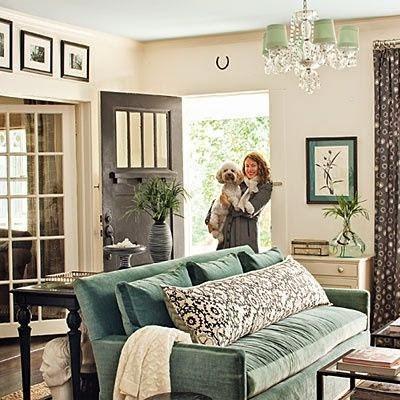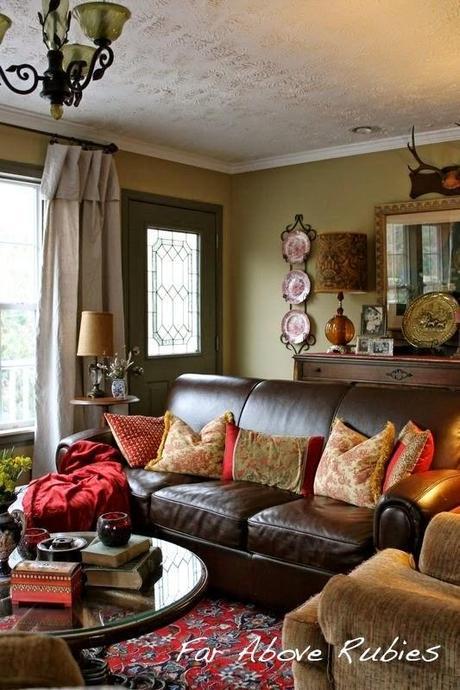 3. Consider Clutter
Using a console with baskets for keys, shoes, etc., is important.  Especially because the entry area will be seen from virtually every point of the room, it's important that there be no clutter to take away from the intended focal points in the room.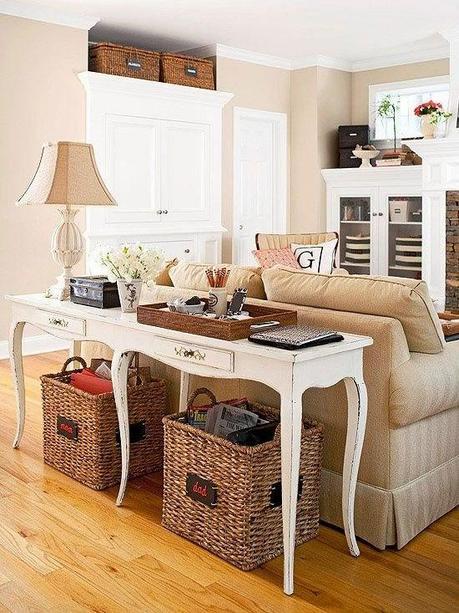 Images
I hope this helps! I love doing this series, so keep the questions coming!!


See What's New in Today's Daily Deals:

Follow My Most Popular Pinterest Boards: