On December 14th, 2011, fusion music lovers everywhere have an appointment at the Auditorium of Barcelona for the presentation of the album Traveller as part of the Anoushka Shankar Traveller Tour.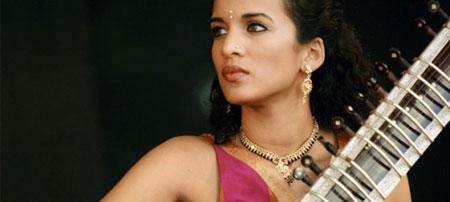 Anoushka Shankar, as you may have already guessed by her surname, is the daughter of Sitar legend, Ravi Shankar. The legacy of traditional Indian classical music is in her blood and turns them into unique creations that take us to the heart of India and other remote locations. Anoushka's father, Pandit Ravi Shankar, the legendary Indian classical music artist spread his style all over the world. Ravi Shankar, as many will know, collaborated with The Beatles and in 1969 took part at Woodstock, one of the most important rock concerts in history.
One of the many things that Ravi Shankar has done during his long career, is teach his daughter Anoushka the sitar, an instrument that is very difficult to master and requires great discipline. At just 9 years of age Anoushka started to practice with a miniature sitar made for her and by the age of 13 gave her first live performance. When she was 16 and Anoushka signed her first recording contract.
Anoushka recorded her first album in 1998 and has since released four more, including a live recording. After her last studio album, Breathing Under Water, the label has been silent for the last four years or so. The silence was broken with the release of her new album called Traveller.
Traveller combines everything Anoushka Shankar learned during her 4 year sabbatical. This break has helped her to experience and fuse her music with her passion for Spanish flamenco, which has resulted in a delightful fusion she calls raga flamenco. What took place a thousand years ago between Spanish and Indian music is the passion and motivation for 12 fascinating tracks on the Traveller album. Anoushka had already toyed with her Spanish musical roots before in her album Rise that was released with the collaboration of Pedro Ricardo Miño, a pianist from the city of Seville.
Anoushka Shankar's tour will see her play several European cities in the coming weeks before she is off to India. The tour will continue with performances in the new year and then she's off to the USA to finish up by the spring of 2012.
On December 14th, 2011, you have a chance to enjoy Anoushka's beautiful Sitar music as part of the Anoushka Shankar Traveller Tour at the Barcelona Auditorium.
Tickets cost € 34 and can be purchased through this website: http://www.auditori.cat