ANOTEST: PRODUCT HIGHLIGHT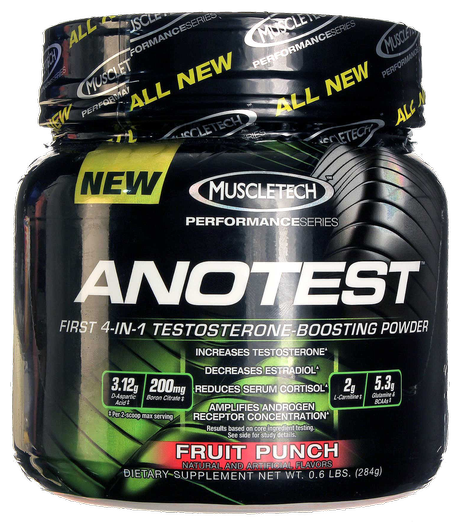 MuscleTech Anotest is the pioneer powdered testosterone booster available in the market that is specifically designed to give consumers the benefits of four different products in one formula. It is the only nutritional supplement that is intended to simultaneously enhance Testosterone level, reduce Estradoil, diminish Serum Cortisol and intensify Androgen Receptor concentration. Anotest is basically the most wide-ranging testosterone-boosting formula that one may find in retail.
THE 4-in-1 ACTIVE INGREDIENTS AND THEIR KNOWN BENEFITS
D-Aspartic Acid. First, comparatively against its competitors, Anotest contains the exact 3.12-gram dose of D-aspartic acid.  This ingredient is shown to increase overall testosterone by over 40% while staying within the normal healthy range, thus eliminating the need for post-cycle therapy.
Boron. Second, Anotest is also shown to be the only testosterone powder that delivers a scientifically proven dose of boron. This specific ingredient is claimed to increase free testosterone and decrease estradiol within the standard level.
L-Carnitine. Third, Anotest contains an exact 2000mg dose of L-carnitine, which is shown to increase the concentration of androgen receptors by binding to free testosterone. Researchers concluded that L-Carnitine improves the uptake of testosterone into the muscle cell. L-carnitine is moreover shown to be efficient in improving recovery after training through the reduction of muscle tissue damage.
Glutamine and BCAAs. Fourth, Anotest gives a definite combined dose of 5300mg glutamine and BCAAs, which are shown to decrease serum cortisol. Serum Cortisol is a known catabolic hormone that inhibits lean muscle gains.
WHAT DISTINGUISHES THE PRODUCT FROM COMPETITION?
Full Disclosure of Ingredients. Unlike its closest competitors that are available in the market, MuscleTech Anotest contains better-quality key ingredients in clinically determined doses. These specific amounts of ingredients are fully disclosed in the product's container so that the consumer is precisely apprised of what he or she is paying for.Tastes Good and Mixes Well. MuscleTech has spent seriously in making a product that both works effectively and tastes great. AnoTest is the recipient of the "Gold Medal Superior Taste" award from the American Masters of Taste, a culinary association apprehensive precisely with taste. AnoTest also mixes well without lumps or clumps.
EASY DIRECTIONS FOR USE
Drinking Anotest is really easy. You just have to mix 1 scoop of the mixture with 4 oz. (120mL) of cold water in the morning. For more efficient effects, you may opt to mix 2 scoops with 8 oz. (240mL) of cold water. However, you cannot exceed 2 scoops in a 24-hour period.
LIMITATIONS FOR USE
Although the product is practically available for everyone who wishes to grab all the benefits of testosterone boosters, the nutritional supplement is not intended for use by persons under 18 and pregnant or lactating women. There is a need to consult a medical doctor if a consumer experiences unusual symptoms or if he or she has been treated for or analyzed with, or have a family background of any remedial condition or if he or she is using any prescription or over-the-counter drug(s), including blood thinners. Also, one needs to consult a medical doctor before starting any diet or exercise program.
NEGATIVE FEEDBACK AND SIDE EFFECTS 
Up to this date, Muscletech Anotest offers a very wide array of benefits but none of any side effects. The only known disadvantage of this product is that MuscleTech have fallen short of including the complete combination of zinc, magnesium aspartate, and vitamin B6 or ZMA in its key ingredients. Although Anotest contains zinc and vitamin B6, magnesium is not included.
REGULAR PRICE AND CURRENT DISCOUNT
You can avail 284 Grams or 40 serves of MuscleTech AnoTest for the standard price of $89.95. Currently, the product can be availed in an incredibly low price of $64.95, giving you a huge discount of 28%.
FINAL JUDGMENT
AnoTest is really an oral dietary supplement intended to safely increase levels of both total and free testosterone so as to increase muscle mass, performance, strength and size. It contains a variety of ingredients that work in harmony to help achieve the aspired body development. It is one product that a consumer must truly buy to attain desired results. Anotest is the best product among its competitors.