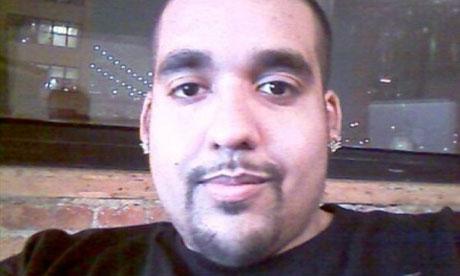 Hector Xavier Monsegur AKA "Sabu"
The FBI has revealed that Sabu, a leader of high-profile hacker-activist group LulzSec, an offshoot of Anonymous, has been secretly collaborating with the bureau for months.
According to FoxNews.com, who broke the story, law enforcement agents today arrested three prominent hackers linked to the defunckt LulzSec and charged two more with conspiracy "largely on evidence gathered by the organization's brazen leader – who sources say has been secretly working for the government for months." LulzSec has claimed responsibility for hacks on the CIA, Britain's Serious Organized Crime Agency, Japan's Sony Corp and Mexican government websites.
According to FoxNews.com, Hector Xavier Monsegur, an unemployed 28-year-old Puerto Rican father of two living in New York's Lower East Side, who went by the internet alias "Sabu," was busted last August and has been secretly co-operating with the FBI ever since. The Guardian reported that Monsegur was charged with 12 criminal counts of conspiracy to engage in computer hacking and other crimes in court papers in Manhattan federal court. He has pleaded guilty to carrying out online attacks against PayPal and Mastercard.
An FBI official was quoted by Fox News as saying: "This is devastating to the organisation … we're chopping off the head of LulzSec."
Ultimate grass. "LulzSec Leader Betrays All of Anonymous," was how Gizmodo, was how interpreted the news. The website referred to Sabu as "the de facto King of Anonymous — easily the most notorious and influential hacker alive today." "It's unclear how many will be dragged down with Sabu's nine months of federal collaborating, but it's safe to assume whatever vestiges of LulzSec remained are toast – we'll know for sure when all of the indictments are unsealed," said Gizmodo. "The revelation that he's sold out the movement he professed to love so much will deal as much a psychological as logistical blow to Anon," insisted Gizmodo, which reminded that "After all, the guy tweeted this, only yesterday: 'The federal government is run by a bunch of fucking cowards. Don't give in to these people. Fight back. Stay strong.'"
Sabu, using his well-followed Twitter handle @Anonymousabu, had become the most prominent member of the loose-knit (and supposedly leaderless) Anonymous hacking collective.
Crushing blow for Anonymous. "This is a stunning development for Anonymous," adjudged Gawker, which said Sabu had become "increasingly respected among Anonymous, acting as the group's de facto spokesman. After LulzSec disbanded over the summer, Sabu was often the first to announce new Anonymous hacks, and he constantly cheerleaded on fellow Anons while spewing out hatred for the U.S. government." "Sabu was a linchpin of Anonymous, and there are going to be a lot of worried hackers out there today," concluded Gawker.
Paranoia within Anonymous turned up to 11. The Guardian said the "explosive revelation that LulzSec's leader was cooperating with the FBI, even while he was claiming to hate the government, could lead to the arrest of other hackers within the broader Anonymous group. It will also heighten distrust among the more powerful members of the collective – where paranoia about security always runs high anyway."