We here at Eric and Sookie Lovers would like to send our congratulations to Anna Paquin, and her husband Stephen Moyer, on the news of their expanding family!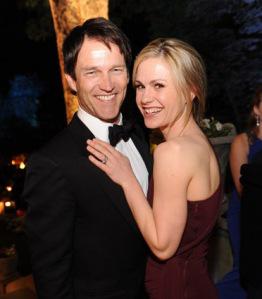 As reported by Entertainment Weekly and various sources:
True Blood costars Anna Paquin and Stephen Moyer are expecting, their reps confirmed to EW today. The pregnancy is Paquin's first; Moyer, 42, has two children from previous relationships. Paquin, 29, is due this fall.

 
With season 5 currently being filmed, the future fan of our favorite Telepath will technically making its True Blood debut late summer as an added sparkle in the eye of the Mommy-to-be

We can not wait to meet this little bundle of joy in the fall as we all gear up to what we hope is the filming of True Blood Season 6!
Congratulations Anna and Stephen!