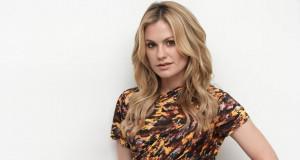 Anna Paquin, who plays Sookie Stackhouse on HBO's True Blood, has experienced a career that many young actresses in Hollywood would kill to have.  Paquin was already successful, having won an Oscar at the age of 11, and True Blood has only brightened her star.  The star spoke recently with Stylist Magazine about working with her real life husband Stephen Moyer (Bill Compton), her fans and Kate Middleton's dress. 
Paquin starts off the interview by saying that this is a really great time in her life.  She has recently celebrated her one year anniversary with Moyer, True Blood has been renewed for a fifth season and she has four movies coming out.  Paquin says that working with her husband is not difficult because they have a life outside the show.  Although their characters have been romantically involved, she says that it would be boring if the characters all lived happily ever after so she enjoys the opportunity to work with Alexander Skarsgard.  Paquin does discuss the ever popular shower scene from the Charlaine Harris books and plays coy saying:
"Well, in the books, there are very detailed encounters in a shower. Our boss has confirmed that there is indeed a scene in a shower with Sookie and Eric, the specifics are yet to be divulged. It could be anything!"
Next up Paquin discusses the True Blood fans but she says since she started acting so young she is kind of used to the fan attention.  While she is out with her friends they will ask her if she wants to move to avoid the stares and she brushes it off because she is used to it.  She says that she doesn't understand fans that take pictures of her without asking because she has only said no twice in her life.  One of those times she was crying and on the phone but a fan still asked her for a picture. 
Talk moves to Paquin's awards and achievements and she says that growing up in New Zealand helped her to stay grounded with all her success.  Be careful with false flattery when speaking to Paquin though – she can tell if you aren't being sincere.  She takes it in stride but she is not a star that gets off on all the attention.  She says that the Golden Globe she won had more meaning for her than the Oscar for her role in 'The Piano', because she works really hard for the role on True Blood and she feels she is more involved in the part.  In 'The Piano' she showed up and was told what to do but on True Blood she is doing the work.  One product of the success of the show is cover shoots for some of the biggest magazines.  Last year Paquin, Moyer and Skarsgard appeared on the cover of Rolling Stone Magazine naked and covered in blood.  When asked if she enjoys that part of her job Paquin replies:
"I love that kind of stuff. They're pure fantasy; dressing up, beautiful clothes, amazing locations. I think clothing tells a story all by itself. And it's another tool we have as actors to express our character. I've always loved that aspect of it. Like, how short your nails are or how practical your outfit is. All these sorts of things play a big factor in giving people an immediate in as to who that person is. Not that it's all about aesthetics, but as far as visual storytelling, a lot of it is. And manipulating people's minds will immediately make them feel a certain way and that's interesting to me."
Career-wise Paquin is moving on to 'Straight A's' with Ryan Phillippe and she says the indie flick does not make any sense until you read the script.  She sings Phillippe's praises saying that he is a fantastic actor and she doesn't think he is given enough credit. 
The talk moves to fashion and Paquin says that her favorite designer is Alexander McQueen and his successor Sarah Burton.  She never got the chance to meet McQueen but she has met Burton and was given a behind the scenes tour of the showroom where she saw some of the items that were in the process of being prepared.  So what did Paquin, who now owns a home in London where Moyer is from, think of Kate Middleton's wedding dress?
"Are you kidding? It was gorgeous. Just gorgeous. I mean, it's a whole new take on 'royal'."
The couple spends a lot of time in the UK and Paquin says that she loves the restaurants there.  According to her, the first thing they do when they get there is grab a really good curry.  To read the entire interview with Anna Paquin click here.
We would like to thank Short List Media Ltd. for sending us this submission. Truebloodfansource.com is always looking for news to post so if you have any tips, suggestions or articles you would like to see on our site, click here to contact us.
Source:  Stylist.co.uk - Interview: True Blood's Anna Paquin
Photo Credit: Stylist.co.uk