True Blood's Anna Paquin and actor Martin Henderson talk about their surreal Hollywood-Kiwi lives in a telephone interview for Canvas Magazine.
Below is part of that interview.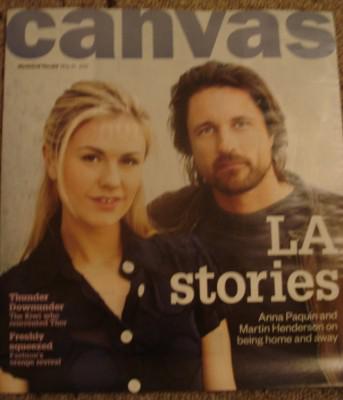 "The accents aren't giving them away. On the phone from Los Angeles, their prolonged vowels, convoluted Yankee syntax and warm and positive vibes sound like pure Californian sunshine must feel. But if Anna Paquin and Martin Henderson don't sound very much like us these days"… they still are.
The two New Zealand actors, talked by speaker phone in a conference room on the True Blood lot in West Hollywood. I tease them by suggesting that, when things go wrong, they're New Zealanders-on-call. "We're circling the wagons," Paquin says, then laughs. Technology connects, but the physical distance with "home" remains of course. Both Paquin, 28, and Henderson, 36, have long since, as their accents disclose, made their homes where they have had the best chance of pursuing what actors like to call "the work".
"If you make some specific product, you go to the town where they make it the most if you want to get a lot of jobs," Paquin says. "[LA] is the factory town for movies and television. I kind of gradually, then suddenly, ended up in America. I ended up spending so little time at home that eventually it made more sense to have my base out here."
LA has seen the sense in the move too. Paquin has arguably become the most successful New Zealand actor in Hollywood right now – Russell Crowe (and his ambiguous New Zealandness), aside. Since winning the Oscar for best supporting actress in 1994 for her pre-teen turn in The Piano, Paquin has worked constantly, and with some extremely talented people. She's done a blockbuster franchise – the three X-Men films – appeared in indie hits like 2000′s Almost Famous and 2005′s terrific The Squid And The Whale, and has worked for directors Steven Spielberg and Spike Lee.
However, being cast as Sookie Stackhouse in HBO's hit series True Blood, the vampire drama from Alan Ball (American Beauty, Six Feet Under), has lifted Paquin to another level of celebrity altogether. She's appeared (naked and covered in blood, no less) on the cover Rolling Stone, has done the late-night talkshows, had a couple of appearances in Maxim magazine's "Hot 100″ list and has become tabloid fodder after marrying her True Blood co-star, Englishman Stephen Moyer. And she's had a fistful of Emmy and Golden Globe nominations too.
To read this entire interview: click here