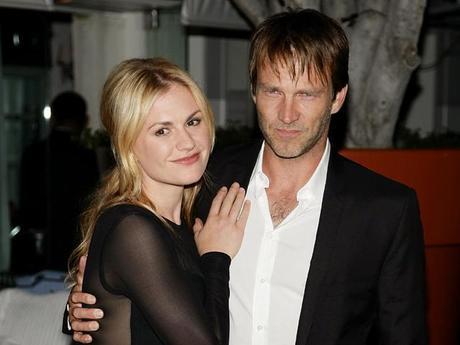 True Blood's leading lady Anna Paquin (Sookie Stackhouse) loves working on the show. But with the series as big as it has become, the star has found herself being asked to chat and sign autographs in some strange places according to Showbiz Spy:
"I find it weird when people are offended when I won't take pictures with them in a bathroom. …Being followed in to the bathroom is a little odd. And it is even odder when someone gets upset when you are like 'But we are in a bathroom, this is a private place!"
Issues of timing and manners aside, Paquin recently said at the TCA summer tour that she's up for any challenge that series creator Alan Ball throws her way. Even if it means fighting with real life husband Stephen Moyer who plays her ex Bill Compton on the show:
"Just speaking for me, our love in real life is fine, so I'm totally happy for our characters to be as sad and distraught and messed up and hating each other [as they have been]…We want the show to be as dynamic and interesting as possible."
 Ball agreed with Paquin's sentiment according to Access Hollywood, saying that Paquin and Moyer's real life marriage and happiness wouldn't be interesting for their TV counterparts:
"I know that they think they kept [their relationship] a secret for a long time, and they did, but maybe not as long as they thought… Characters being happy and things working out for them is really not that interesting. But I never said, 'I'm gonna split Bill and Sookie up.' They split up in the [Charlaine Harris] books and that's probably why we did it."
It was also revealed during True Blood's TCA panel that work has already begun on the show's 5th season in the writer's room.
We can't wait to see what the rest of this season brings. But remember Truebies, if you see Anna Paquin don't follow her into the bathroom!
Sources: Showbiz Spy- "Anna Paquin: Fans Speak to Me While I'm in the Bathroom"
AccessHollywood.com- "Anna Paquin On Filming Those 'True Blood' Fights With Husband Stephen Moyer"
Photo Credit: Access Hollywood.com