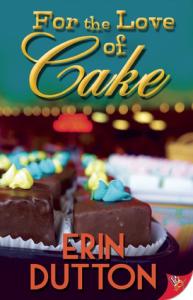 Erin Dutton's latest book, For the Love of Cake, is set in a reality show competition that pits pastry chefs against one another for the ultimate prize: sweet victory. I confess, I would have read it for the title alone: my love for cake is just that powerful. I read an advance copy of the novel, which was published in February, through Netgalley.
For the Love of Cake features Shannon Hayes, a talented second-career pastry chef who is trying to earn a big break playing the reality show game. She's also had a longstanding crush on one of the competition's judges, Maya Vaughn. Maya was the winner of the show's inaugural season, and has been brought back this year to revive interest in the show. She's also a well-known bisexual playgirl who has recently gotten tabloid attention for her presumed abortion.
Shannon, an adoptive mother and expectant grandmother, isn't quite sure what to make of Maya in person, other than confirming that she is, in fact, incredibly attractive. As Maya and Shannon get to know each other, it's clear the attraction is mutual, although there are very clear rules about judges fraternizing with contestants that prevent them from doing much more than moonstruck looking and exchanging flirtatious comments for the bulk of the novel. Will they ever have a chance at a real relationship? Will Shannon win the competition? What about the abortion hullabaloo and the prying paparazzi? And what about the cake?
The difficulties I had getting in to this book had more to do with the subplot, which follows up on characters from Dutton's earlier food-based romance, A Place to Rest. Not having read the previous book, I found myself irritated each time I was pulled away from Shannon and Maya's developing romance to check in with Sawyer and Jori and see how they were dealing with their relationship stresses. I would have preferred a separate book with their after happily ever after report, and more focus on the progression of Shannon and Maya's relationship and perhaps some of their own aftermath. The structure of the reality show competition also made it so that the physical intimacy between the leads was long delayed (not necessarily a bad thing!)–however, having no emotional investment in Sawyer and Jori, I didn't care whether or not they were having a good time.
I think I've read at least one other book by Dutton (it may have been Fully Involved?), but my reaction to it is lost to the mists of time. I enjoyed the reality show aspects and romantic tension of For the Love of Cake, but not the secondary characters, so would advise readers to pick up A Place to Rest before slicing in to For the Love of Cake, for the sake of continuity if nothing else.
Anna M can most often be found on Twitter: @helgagrace.