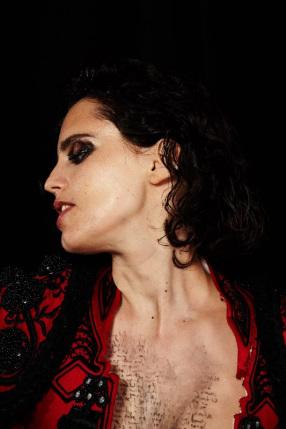 Photo credit: Maisie Cousins
Ahead of the release of third album 'Hunter' (out on 31 August via Domino – pre-order here), Anna Calvi has released the video for new single 'Don't Beat the Girl Out of My Boy'. Directed by recent Kendrick Lamar collaborator William Kennedy with choreography by Aaron Sillis, it's a fine companion to a song which finds Anna rallying against the way young boys in particular are brought up being told they shouldn't cry or show emotions.
The song starts off calmly with Anna delivering some subtle 'da-da-doos' and then the guitars come in as she becomes ever more assertive demanding you don't beat the girl out of her boy. As the song progresses into Interpol-meets-St Vincent territory, Anna has the chance to show off her vast vocal range before heading back to a menacing whisper. Mental health, gender and identity are all important issues and, as the press release quite rightly states, this is a 'battle cry' for people to celebrate their individuality.
Anna Calvi plays the following tour dates:
Tue 12 June 2018 Berlin, Germany, Berghain [SOLD OUT]
Fri 15 June 2018 Paris, France, La Gaité Lyrique [SOLD OUT]
Tue 19 June 2018 London, UK, Heaven [SOLD OUT]
Thu 27 Sep 2018 Belfast, Northern Ireland, The Belfast Empire
Fri 28 Sep 2018 Dublin 8, Ireland, The Tivoli Theatre
Sun 30 Sep 2018 Glasgow, Scotland, St Luke's
Mon 01 Oct 2018 Manchester, England, O2 Ritz
Wed 03 Oct 2018 Newcastle, UK, The Boiler Shop
Thu 04 Oct 2018 Birmingham, UK, Town Hall
Fri 05 Oct 2018 Brighton, UK, All Saints Church
Sat 06 Oct 2018 Bristol, UK, SWX Bristol
Mon 08 Oct 2018 Lille, France, Le Splendid
Tue 09 Oct 2018 La Rochelle, France, La Sirene
Wed 10 Oct 2018 Nantes, France, Stereolux
Sat 13 Oct 2018 Valencia, Spain, La Rambleta
Sun 14 Oct 2018 Barcelona, Spain, Cruïlla de Tardor @ Razzmatazz 2
Tue 16 Oct 2018 Madrid, Spain, Chango
Wed 17 Oct 2018 Santiago, Spain, Sala Capitol
Fri 19 Oct 2018 Porto, Portugal, Hard Club
Sat 20 Oct 2018 Lisbon, Portugal, Capitolio
Mon 22 Oct 2018 Lyon, France, Le Radiant
Tue 23 Oct 2018 Strasbourg, France, La Laiterie
Wed 24 Oct 2018 Utrecht, Netherlands Tivoli Vredenburg, De Helling
Thu 25 Oct 2018 Brussels, Belgium, Botanique
Sat 27 Oct 2018 Odense, Denmark, Posten
Mon 29 Oct 2018 Oslo, Norway Parkteatret
Tue 30 Oct 2018 Stockholm, Sweden, Nalen
Thu 01 Nov 2018 Helsinki, Finland, Tavastia Club
Sat 03 Nov 2018 Lund, Sweden, Mejeriet
Sun 04 Nov 2018 Copenhagen, Denmark, Vega
Mon 05 Nov 2018 Aarhus, Denmark, Voxhall
Wed 07 Nov 2018 Warsaw, Poland, Niebo
Thu 08 Nov 2018 Prague, Czech Republic, Lucerna
Fri 09 Nov 2018 Leipzig, Germany, Conne Island
Sat 10 Nov 2018 Weissenhäuser Strand, Germany, Rolling Stone Weekender
Mon 12 Nov 2018 Bratislava, Slovakia, Nova Cvernovka
Tue 13 Nov 2018 Budapest, Hungary, A38 Ship
Thu 15 Nov 2018 Vienna, Austria, Simm City
Fri 16 Nov 2018 Rust, Germany, Rolling Stone Park
Sat 17 Nov 2018 Fribourg, Switzerland, Le Nouveau Monde
Sun 18 Nov 2018 Zurich, Switzerland, Plaza Club Zurich
Tue 20 Nov 2018 Ljubljana, Slovenia, Kino Siska
Wed 16 Jan 2019 Munich, Germany, Freiheiz
Fri 18 Jan 2019 Berlin, Germany, Astra Kulturhaus
Sat 19 Jan 2019 Hamburg, Germany, Kampnagel
Tue 22 Jan 2019 Cologne, Germany, Gloria Theatre
Wed 23 Jan 2019 Amsterdam, Netherlands, Melkweg
Fri 25 Jan 2019 Nancy, France, L'Autre Canal
Sat 26 Jan 2019 Nimes, France, Paloma
Sun 27 Jan 2019 Toulouse, France, Le Bikini
Tue 29 Jan 2019 Bordeaux, France, Le Rocher de Palmer
Thu 31 Jan 2019 Reims, France, La Cartonnerie
Thu 07 Feb 2019 London, UK, The Roundhouse