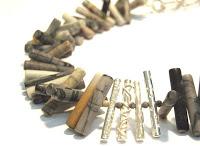 Fife based jeweller Angela Learoyd designs and creates beautiful statement pieces of jewellery, sourcing semi precious stones from around the world and creating focal points in each piece with handcrafted sterling silver beads.
'I work in silver and use a variety of techniques to create surface texture and embellishment. Manipulating silver by doming, folding, hammering, die-forming and rolling allows me to produce three-dimensional pieces, especially hollow beads. My jewelry often incorporates gemstones. I particularly like stones with matt finishes and interesting markings and inclusions.'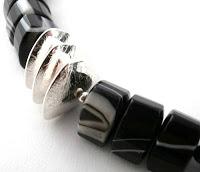 We have been working with Angela for 7 years now and her award winning designs have been a great favorite with our customers. For her 1000th piece, Angela set to work creating a one-off, St Andrews inspired necklace with matching earrings. To accompany the set, the full design process has been logged in a booklet including photographs of the ancient town, pin pointing textures and patterns of inspiration, and her sketches show the transformation into a spectacular piece of wearable art.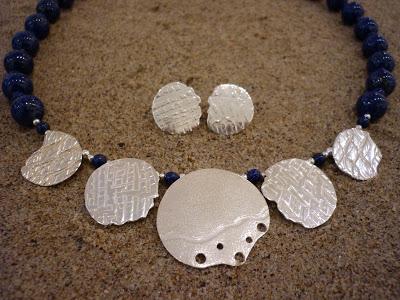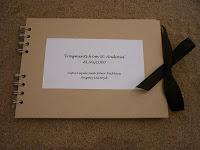 The necklace has been strung with Lapis Lazuli, representing the color of the St Andrews flag. Lapis Lazuli was also used in ancient times to create amulets and ornaments, which I find so fitting for our art gallery. The sterling silver pendants show textures found along the rocky shoreline and the stone ruins of the historic St Andrews Cathedral.
To purchase this necklace and earrings set online, just click on the link below to be taken directly to our main website.
The 1000th piece. 
www.arteryuk.com