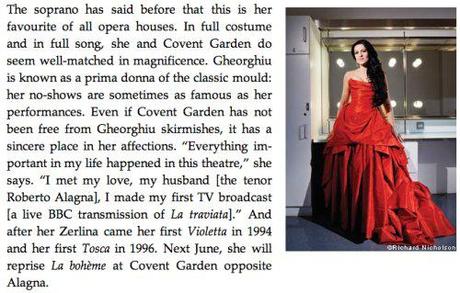 In this long and very comprehensive article about many opera houses in the world. Gathered under the title

Something completely magical

, Andrew Clark (the writer), Natalie Whittle (the interviewer) and David Leventi (the photographer) explore the world of opera, seen from different points of view.
The last part of the article is a series of interviews in which a soprano, a mezzo, a tenor, a baritone, a technical director and an artistic director say why they love a particular opera house. Angela speaks of ROH. 

Everything important in my life happened in this theatre

, she says.

I met my love, my husband [the tenor Roberto Alagna], I made my first TV broadcast [a live BBC transmission of La Traviata]

. .