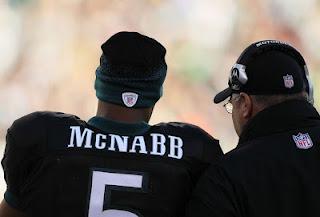 Photo: Getty Images - Al Bello
- Troy Ballard


Andy, you're just such a class act.
During an interview with NFL Network, Reid was grilled about everything from his total failure last season in Philadelphia to his favorite type of food. However, like clockwork, the topic that Reid has been asked about countless times over the past decade reared its head yet again -- Donovan McNabb.
The question essentially asked if it would be a good move for any team in the NFL to sign McNabb, despite the fact that he has been out of the game, with his age as a concern and that his last performance in Minnesota was abysmal and poor.
Reid took the chance to show McNabb some love, and also make a push for him to be signed, dropping this in return to the question -- "I still think he can play. I think the world of him, and we had some great years together here. I'm always wishing him the best and a fan of his. I got a chance to see him at Brian Dawkins' retirement, he looks good. He looks physically good. He looks like he could go out and play tomorrow. I would highly recommend it."


Andy, Andy, Andy.
The love affair between Reid and McNabb is quite well documented, and on a national show, of course he would sing high praises for his old quarterback. The two were like Batman and Robin, with one being incredibly overweight, and the other in ship-shape.
The success that Reid and McNabb had while he was with the Philadelphia Eagles is astoundingly impressive, and the numbers don't lie. During his tenure in Philly, D-Mac arguably did enough to earn a Hall of Fame nomination. He was the man's-man. The cat's pajamas. Da bomb.
But, as we all know, after being traded to the Washington Redskins and then the Minnesota Vikings -- McNabb went from being a borderline Pro-Bowler to totally McTanking. He struggled not only on the field, but also with coaches and new teammates.
On several occasions, he let his emotions get the best of him, and it ended up getting him shipped out of Washington (likely for the better), and straight-up released from Minnesota (also for the better). And after McNabb was released by Vikings, there wasn't even a whisper of interest from other teams in the NFL.
This non-interest happened to be in a season where multiple starting quarterbacks went down, and there the back-ups on the roster were nothing more than average. And still, McNabb didn't even get a single call to workout.
Realistically, Reid did the right thing showing Donovan his support and giving him his blessing to be signed, but in the end, it won't amount to much. McNabb had his chance with both the Redskins and Vikings, and in both situations, he struggled mightily.
Ironically, McNabb has almost TO-ed himself without realizing it.
I don't doubt for one second that the talent isn't still there, because I am sure it is. McNabb is an athlete, and if he is in shape, he can make plays. But his attitude, his past, and his rough relationship with several NFL organizations has destroyed his future.
Worst case scenario -- we kind of like seeing McNabb on ESPN in the studio.