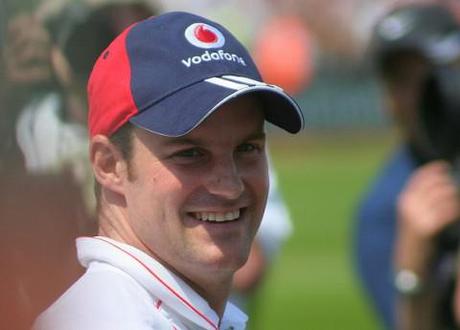 Andrew Strauss. Photo credit: HNM_1977 http://flic.kr/p/4UHSWU
The background
England test cricket captain Andrew Strauss has retired from all forms of cricket after 14 years as a professional with Middlesex and England. 35-year-old Strauss announced his retirement at a lunchtime 29 August press conference at Lord's. He was loudly applauded by journalists as he left the room – no surprise given he skippered England to become the world's number one Test team and led his charges to two Ashes victories over Australia, including a win Down Under. Strauss has been replaced as Test captain by Alastair Cook, the one-day captain and a long-time heir apparent.
In recent weeks, Strauss has been under enormous strain after it emerged that England player Kevin Pietersen sent some South African players disparaging text messages about Strauss. Pietersen has not been selected for England since the story broke. At the press conference, Strauss insisted his decision to quit is unrelated to the ugly Pietersen texting scandal.
Strauss played 100 Test matches, 50 as captain. He won 124 one-day international caps, made 21 Test centuries and six in the 50-over game.
Strauss: "I'd run my race"
"In truth I haven't batted well enough for a long period of time now," Strauss said. "For a captain to perform in his role properly it's important you're not a passenger in the side but also that people aren't speculating as to whether you should be in the side or not." "I'd run my race," added Strauss. "It's been a gradual feeling over the past six or 12 months. In the past few weeks it's become more and more apparent that this is the right time."
Genuinely popular
"Few England captains in any sport leave to the sound of clapping rather than sharpening knives," reminded Patrick Kidd of The Times (£). "That Andrew Strauss ended his final press conference as England Test captain – his final appearance as a professional sportsman, in fact – to a spontaneous outburst of applause says much for his accomplishments in the past three years and for the genuine affection in which he is held."
Un-egotistical over-achiever
Simon Hughes of The Telegraph hailed a "modest, un-egotistical man who achieved above his expectations for England." Hughes described Strauss as a "gutsy, consistent and determined batsman," who should be proud of "his immense contribution to England – Strauss is one of the best men England have ever had."
The perfect modern man?
"At a time when masculinity is under scrutiny like never before, Strauss offered a seriously persuasive model of what 21st century man should look like: dignified, decent, proud, humble, equable, honest, fair, selfless, intelligent, inquisitive and deceptively charismatic," praised Rob Smyth at The Guardian The Spin blog. "He was the big brother who always said the right thing, always did the right thing, and always looked after you. With him goes one of the great eras of English cricket."
Pietersen's texting was no more than final straw
"Pietersen alone will not have driven Strauss away but will have contributed heavily," argued Mike Selvey at The Guardian Sport blog. "That Pietersen has lost respect for Strauss is obvious, and in that he is probably alone in the England team, with the feeling reciprocated. Also not in doubt, however, is the draining effect that a single high-maintenance, mega-talented individual has had, from doubts about his own batting, over a considerable period, and the inevitable fallout from his own sacking as captain, to the current disaffection as a result of his bewilderingly ever-changing agenda. The text messaging is no more than a final straw, if, as it is proving, the catalyst for change."
Depressingly unbecoming end for poor Strauss
Rob Smyth at The Guardian The Spin blog said Strauss' retirement "hits you like a bullet in the back… this ending is depressingly unbecoming. A sad ending? Fine, that's the game. But not such a grubby one." "It is unfair to say this is entirely Kevin Pietersen's fault – the England captaincy gets everyone in the end," acknowledged Smyth, "but if he cannot see 'Straussy's' blood on his hands, he has an even bigger lack of self-awareness than we feared. The fact half of Strauss's farewell press conference was spent discussing someone else was unavoidable but pretty disgusting."
Strauss makes a world class catch: