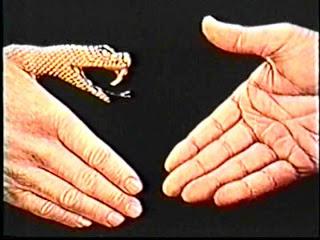 I think
Andrew O'Hehir has it exactly right
:
In America after 9/11, we made a deal with the devil, or with Dick Cheney, which is much the same thing. We agreed to give up most of our enumerated rights and civil liberties (except for the sacrosanct Second Amendment, of course) in exchange for a lot of hyper-patriotic tough talk, the promise of "security" and the freedom to go on sitting on our asses and consuming whatever the hell we wanted to. Don't look the other way and tell me that you signed a petition or voted for John Kerry or whatever. The fact is that whatever dignified private opinions you and I may hold, we did not do enough to stop it, and our constitutional rights are now deemed to be partial or provisional rather than absolute, do not necessarily apply to everyone, and can be revoked by the government at any time. 
The supposed tradeoff for that sacrifice was that we would be protected, at least for a while, from the political violence and terrorism and low-level warfare that is nearly an everyday occurrence in many parts of the world. According to the Afghan government, for example, a NATO air attack on April 6 killed 17 civilians in Kunar province, 12 of them children. We've heard almost nothing about that on this side of the world, partly because the United States military has not yet admitted that it even happened. But it's not entirely fair to suggest that Americans think one kid killed by a bomb in Boston is worth more than 12 kids killed in Afghanistan. It's more that we live in a profoundly asymmetrical world, and the dead child in Boston is surprising in a way any number of dead children in Afghanistan, horrifyingly enough, are not. He lived in a protected zone, after all, a place that was supposed to be sealed off from history, isolated from the blood and turmoil of the world. But of course that was a lie.
The graphic of a deal with the devil is a still shot from Charles Braverman's documentary of the Beatles, "Condensed Cream of the Beatles."