Peruvian Restaurant – Andina, 1 Redchurch Street, Shoreditch, London
We were in London for the Chowzter awards so wanted to check out some food that's different from what's available in Glasgow.  Wandering along the multi-cultural and amazing selection of places to eat in Shoreditch, we stumbled across Andina.  Located a short walk from Shoreditch Railway Station, so you can visit easily from any part of the city.
This Peruvian restaurant is bright, relaxed and friendly.  We settled down to check out their menu and decided upon the £9 set lunch deal as well as some extra sides.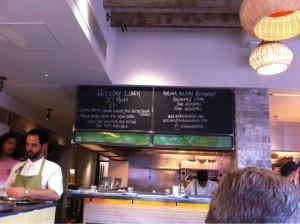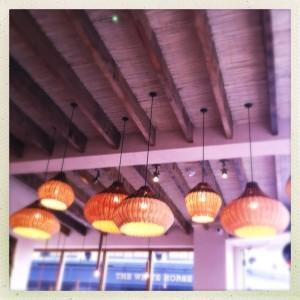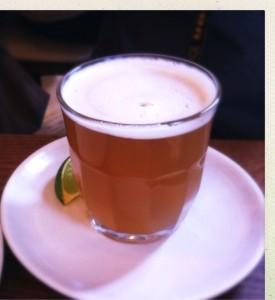 Hot Emoliente
© Food Drink Glasgow Blog
£3.50 for this traditional drink, made with barley, linseed, alfalfa and quince. Warm and a bit citrusy, it tasted like something you would drink to sooth your cold and a throat. Lovely.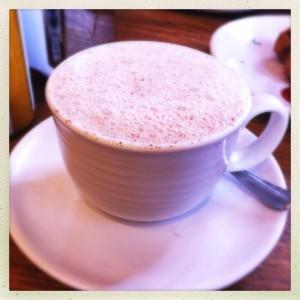 Fuerza Hot Drink
© Food and Drink Glasgow Blog
£4, hot drink made with amaranth, quinoa, apple, cinnamon, milk and maca. Creamy and thick a bit like a runny porridge – delicious.
We ordered some nibbles of…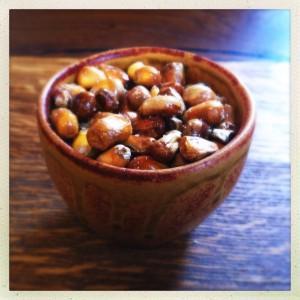 Cancha – crunchy corn
© Food and Drink Glasgow Blog
Cancha £2, crunchy corn. Would make a great bar snack. Like popcorn.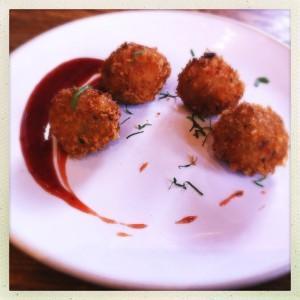 Quinoa Croquetas
© Food and Drink Glasgow Blog
Quinoa Croquetas £3.50. Another good tapas/beer snack. Light and fluffy with a not too strong cheesy taste. (Recipe from the owner here)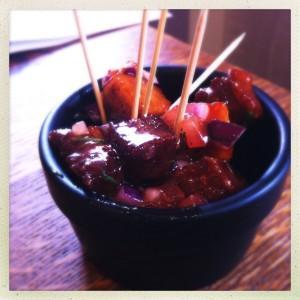 Mini Chiccharrones
© Food and Drink Glasgow Blog
Mini Chicharrones £3. Bit sized chunks of pork belly. Moist, tasty and very moreish. With melt in the mouth fat.
We ordered their lunch special of two courses for £9.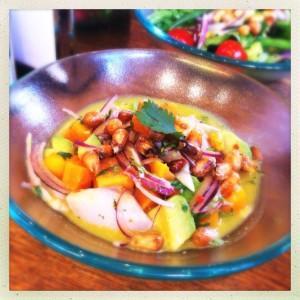 Ceviche Andina
© Food and Drink Glasgow Blog
Ceviche Andina – seabass ceviche, goldenberry, avocado and sweet potato. How many of my favorite things can you get on one plate? Tangy, face crunching ceviche :).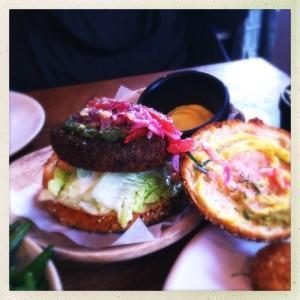 Quinoa Burger
© Food and Drink Glasgow Blog
Quinoa Burger – crisp outside, fluffy inside with a spicy mayo and sweet sauce. Very moreish.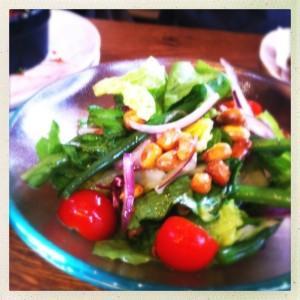 Mixed Salad
© Food and Drink Glasgow Blog
Mixed salad fresh ingredients topped with corn.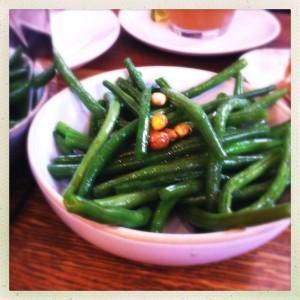 Sacha Inchi Green Beans
© Food and Drink Glasgow Blog
Sacha Inchi Green Bean – crispy, warm and tender.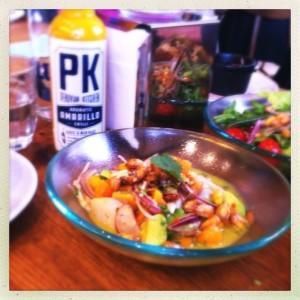 The total bill came to £43, inc service charge and a large bottle of water. Delicious food and great service, we really enjoyed our lunch.