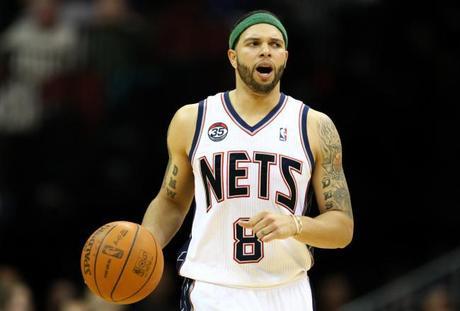 Photo: Getty Images - Chris Chambers
- Adam Parker
Anyone who had their money on the Portland Trail Blazers, Phoenix Suns or Houston Rockets as the favorites to land this off-season's top free agent in Deron Williams should hope they can get their money back.
As it stands, the Deron Williams sweepstakes is already down to a two-horse race. Sources close to the situation told ESPN.com on Saturday night that, while this summer's No. 1 free agent remains
"up in the air"
about which team he'll ultimately choose, Williams already has made the decision to narrow his list of potential suitors to two franchises.
The two contenders?
Williams' current team -- the Brooklyn Nets and his 'hometown' team -- the Dallas Mavericks.
As mentioned above, the Trail Blazers, Suns and Rockets had been hoping to make their best sales pitch to try and lure Williams to their respective teams once free agency began. The Los Angeles Lakers were even thought to be a dark horse destination for Williams via a sign-and-trade deal involving power forward Pau Gasol.
The reasoning for the Lakers only being a dark horse before being eliminated from contention altogether along with Portland, Phoenix and Houston? It's simple, really. The Nets would only consider sending D-Will to 'Kobe Land' if the Lakers were willing to part ways with All-Star center Andrew Bynum. Something that, despite Bynum's clear lack of maturity, the Lakers remain unwilling to do.
That's all a moot point now.
Sources say Williams has already instructed his representatives to advise any team that calls starting at 12:01 A.M. on July 1 that he intends to either re-sign with the Nets or return to his hometown as a member of the Mavericks after a glittering high school career in the Dallas area.
Translation: If you're calling representing any other franchise than the Nets or the Mavs', don't bother wasting your time or ours -- you're not in the running. That may seem very blunt, but it's probably the best news the teams no longer in contention for Williams' services could hope for.
Yes, they've lost out on adding one of the best point guards in the league in the prime of his career to their rosters, but at least they know now so they can now spend their time and effort making a push for free agents that they theoretically have a chance to land instead of hounding tirelessly after D-Will only to be hung out to dry once he makes his 'decision'.
But enough about the 'losers.' Let's talk about the winners.
The Nets have openly expressed their confidence in their ability to retain Williams, pointing to the team's forthcoming move to Brooklyn and the new Barclays Center next season, increased off-court marketing opportunities for Williams with a team bound for New York and the fact that Russian billionaire owner Mikhail Prokhorov can offer a contract one year longer and roughly $20 million more lucrative than Dallas could.
Basically, in terms of money, it would be an easy decision if that was all the only factor (it isn't) Williams would consider when making this decision. The nearly $75 million that the Mavs' could offer Williams under the new CBA doesn't even come close to the approximately $100 million that Prokhorov and the Nets could offer. Not to mention the global marketing opportunities that could be at Williams' fingertips if Prokhorov uses his immense influence to pull a few strings.
The Brooklyn Nets it is, right?
Not so fast.
As for the team, D-Will, soon to be 28, has stated that he wants to win and he wants to win now. The Nets still have some work to do in that department. Even though they're likely to re-sign veteran swingman Gerald Wallace and the return of young big man Brook Lopez to the starting lineup from lingering foot problems is likely, they'll still pale in comparison to what Dallas' roster can offer -- unless of course the Nets can land Dwight Howard -- a goal that Prokhorov and co. still hope to accomplish in the not so distant future.
But until that day comes, or, better yet
if
 it ever comes, Mark Cuban and the Mavericks are clearly the better situation from a basketball and 'winning' standpoint. After all, if I recall correctly, don't the Mavs' have a perennial All-Star already under contract? Some guy named Dirk Nowitzki who carried his team to an NBA title as recently as 2011?
After all, even if only in the States, Cuban's popularity and influence far surpasses that of Prokhorov's. He wants to win as bad as his players and the Mavericks' fans, and is willing to do anything and everything possible (within the bylines of the new CBA, of course) to make that happen.
Even if you don't like the guy, you have to respect his love and support for the game and more importantly his team. The guy is the most hands-on owner in all of North American professional sports. Whatever it takes to return his team to the top of the mountain, Cuban is willing to do it; and it's that determination and drive to bring a consistent winner to Dallas that I believe will ultimately land D-Will in Big D.
Then you have the whole 'family factor', with most of Williams' immediate family living in a Dallas suburb called The Colony.
So there you have it. The lure of wanting to win now coupled with getting to play in front of his family at every home game should make this a no-brainer unless Prokhorov somehow pulls a rabbit out of his hat and brokers a deal that lands DH12 in Brooklyn this summer, which I guess isn't entirely out of the realm of possibility.
Nevertheless, our money's on Dallas.
Mark [Cuban], meet Deron. Deron, this is Mark -- a crazed basketball fan with a virtually limitless cash flow and a propensity for winning. Oh, did we mention he's your new boss? Well, not only that, he just became your new best friend. I'm sure you two will get along splendidly.
Be sure to follow Beard And Stache on Twitter 
@BeardAndStache
, 
and also Adam 
@Adam_Parker43
, Like our Facebook page 
HERE
!