And on the 21st Day the first Drops of Coffee Liqueur went through a Sieve
Posted by sila on March 22, 2011 · Leave a Comment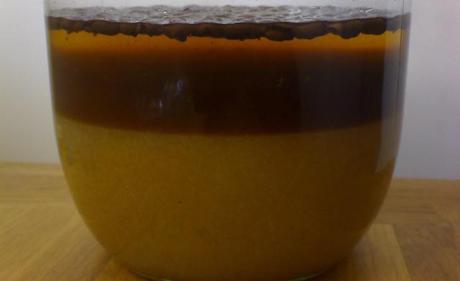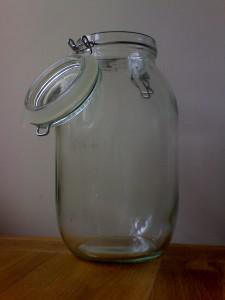 Three Liters of Emptiness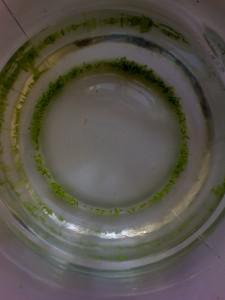 Spirit and Lime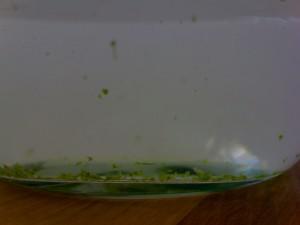 Lots of Spirit with some Lime zest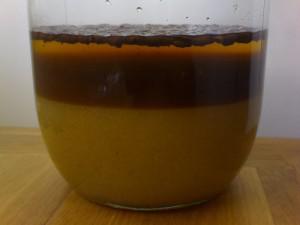 Unstirred, unshaken, yet
Towards the end of February I found a 3 liter glass jar and started  immediately a composition for my current and third coffee liqueur. Liqueurs - those highly spiritual drinks – have a simple but varied history in many parts of the world. Just like tea, coffee and many other culture goods, they served initially as medicine, before being inducted in the realm of culinary pleasures.
Today our main concern with liqueurs is not health. However, as Aristippos of Cyrene  (435 BCE- 356 BCE), Jean Anthélme Brillat-Savarin (1755 – 1826) and Epicurus (341 BCE - 270 BCE) clearly stated, pleasure is often conducive to health – a positive side-effect. Another help towards health is certainly the use of high-quality ingredients. Thus I do plan to enjoy different coffee recipes of mine - as well as whiskey, rum, gin and good red wines – well beyond turning 121 years of age. A valuable key for obtaining health through joy is a conscious use which does not turn into abuse and does not lead to intoxication.
Many companies have great success with the production of liqueur, for which they have developed their own recipes and for which the use various types of alcohol. Quite a few have coffee as their principal flavour note.
As I was once more reading through the vast amount of recipes found in books and the web, I found many suggesting the use of coffee granules, meaning instant coffee. I have been drinking instant coffee again and again and experimenting with different ways of using it. I have also used these granules for some of my recipes, for example by sprinkling an half an avocado with them, adding olive oil and pumpkin seed oil to create an Avocado Aristippos. One might argue about the taste of a hot instant coffee in comparison to a coffee made directly out of the ground coffee seeds. Most will agree that using coffee seeds gives a much better taste, but I do believe, it is a matter of taste. With this I certainly do not imply that the quality is the same, but different palates are different. There is however one great and important difference between instant coffee and coffee made from the ground seeds. During the process of either production form – spray drying or freeze drying – towards obtaining instant coffee, the coffee maintains much of its flavour, but looses its aroma, and one greatness of drinking concentrated spirits, is their rich aroma. Simply put, if you wish to obtain a fuller taste, a rich aroma and retain the complexity of coffee, do not use instant coffee when makin anything – especially when making liqueur.
The very first drops have been strained
For my Coffee Liqueur No. 3 the ingredients include:
1,5 liter Vodka
21 g roasted coffee seeds
80 ml ristretto
40 g roasted coffee seeds (ground)
zest of two limes
one vanilla pod
500 g brown sugar
A couple of days ago I strained a small amount of this mixture. I am sure you will agree, twenty-one days is more than premature to expect a universe of flavour with enough poetry, but the prospect is more than good.

.