Love & travel lie at the heart of FoP! I'm sure you know that by now

And so when we came across this story by Anna, we knew we had to tell it to the world!  So we asked her if we could and she kindly obliged!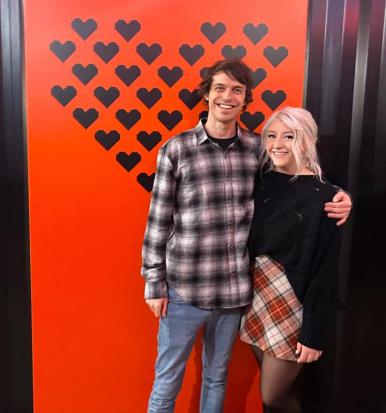 Anna :

I used to be terrified to travel.

When I was young I remember telling my parents I would much prefer to miss out on seeing the world so I wouldn't have to fly. I liked security. Predictability. I made the decision to fly for the first time at age 21 to visit my brother in Colorado and that changed everything.

Fast forward to my current stage life.

In October, I had gotten a direct message from an absolutely adorable man from a different Facebook group about cats () after commenting on his photo mentioning how cute I thought he was. His name was Adam, 28 years old from London. I was super giddy because as an American girl from a small town, now living in Chicago suburbs, a cute british boy reaching out is an absolute dream. We both thought nothing of it more than a sweet couple of exchanged messages, but quickly found our interests we shared were uncanny. We both had the same taste in music, love for the arts, desires to see, do and be more. He was well traveled, having spent time living in Thailand, Cambodia, Vietnam, etc. I loved hearing about those experiences. We talked on the phone for hours at a time. From sharing stories from one another's very different lives, giggling at each other's accents/slang, sharing playlists we made each other to show hundreds of our favorite songs.

Come December, Adam took the plunge and flew out to Chicago to visit me for his very first time to this city I absolutely adore. I couldn't believe the simplicity of it all. He blended in perfectly without complaint as we did all of the traditional Chicago things for the week he was here. He saw my childhood home, the town I grew up in, met some of my closest family and friends.

When I dropped him off at the airport, I knew I needed to see him again. That same week I applied for my passport and booked my flight to London to leave the country for the very first time.

A couple of months in between, we spent our time constantly staying in touch with videos and phone calls as I counted down day by day. 70 days, to 40 days, to oh my gosh! One month! Two weeks! And then tomorrow. The trip of my life time. Leaving America for the first time, to see a city I've always dreamt of and see in the movies, and meet up with a man whom I adored.

I was beyond myself when I boarded the plane. It's finally happening.

And my week of a living fairytale began the moment I landed. I found him in the airport holding a bouquet of flowers. For me! I could not believe this! This kind of thing never happens to me.

What an experience it was. Using the tube, seeing central London, East London, meeting his friends, his family, going to pubs, he surprised me with a booking to have breakfast at a cat cafe. We saw endless amounts of street art, went to comedy shows, shared headphones, and got to know him more, finding myself even more intrigued by him and all he has to say every day. We rode the train to Brighton, stayed in a perfect, eclectic Airbnb (with a cat patio, may I add). We had the best meal of our lives at a fancy seafood restaurant. We went to the bars after, went dancing. It's been a dream that I haven't woken up from.

And all of this time, I can't help but think how proud I am of myself for stepping out of my comfort zone 4 years ago. I would never be where I am. Ready for all of the adventure the world is willing to give me, a relationship with a man I couldn't have even imagined for myself. And an endless amount of opportunities that lie ahead of me!
So, what do you have to say about Anna? Would you have taken this plunge?
We are about 1474 of us! Let's stay in touch? 
JOIN US on Facebook | Instagram| Twitter
You can subscribe to our newsletters (No spams, promise!)