Dear Mom and Dad,
Thank you for your unending, unimpeded and undeterred support in us throughout our lives.  Leaving the places, people and relationships we have known for so long is far from an easy task.  In fact, it is incredibly difficult.  But, what we have is the rock, the immovable boulder of support that we know has and will always be behind us.  Everyone needs an anchor, a net to catch them.  For us, the support you have shown us, even when we left you and flew half a world away, is our anchor, our net.  It allows us to take chances and know that if we fall on our asses, you will be there to support us.  They say, "Behind every great man there's a great woman."  Well, we say, "Behind every traveler there are supportive parents."
Thank you for understanding…even when you don't.  We know that regardless of what you may say to us, you don't always understand or agree with what we do.  We know that there are times when you say, "I understand," while you are also thinking, "What the fuck?"  But, hey, you don't say that.  Instead, you tell us that you will support us and understand us.  Even if it is a facade and not true understanding, the appearance of understanding is something irreplaceable and soothing.  It helps us to make decisions and push ourselves without fear of total alienation and isolation.  We know sometimes our decisions are hard to understand, and that is what makes your understanding, or appearance of such, and support so powerful.  So, again, thank you.
Thank you for keeping an open home with open arms for us to come back to if ever we fail.  After coming back home to visit recently, this has really come home for us.  Knowing that regardless of how long we have been gone, how far away we have traveled, or how we have changed for better or for worse, that we have always had and always will have an open home with open arms and open hearts to come back to is something priceless and beautiful.  A home to come back to is, like your support and understanding, something that helps us to pursue our goals and dreams across the world and, perhaps, further.  Without that home base we would never be able to do such a thing with such ease of heart and mind.  A home is more than just a physical place, it is an emotional and intellectual idea of that place where you know you will always be safe.  Thank you for giving us that.
Thank you for creating us and the people we are, even if it was not by design.  People are creatures of precedent and context, and through your tutelage, your love, and your actions throughout our lives, we have been molded into the people we are today.  Are we what you imagined?  Probably not.  Are we what you created?  Definitely, yes.  And, we LOVE that.  We are amazingly comfortable with ourselves, with who we have become, with where we are.  We love living abroad, pushing ourselves and others, and learning new things.  Where did we get that?  Where did we get all the great things and all the bad things?  You.  You made us us.  You have created the people that have made the decisions that have led us to where we are now.  Whether you agree or disagree with everything we have become, the truth is undeniable: it was you.  We hope you agree more than you disagree because we are immensely grateful for everything you have given us, both material and otherwise.  Thank you so, so much for that.
Finally, thank you for being you, our parents.  Thank you for being a true constant in a life of uncertainty.  One of the great draws of living and traveling abroad is the great uncertainty and unpredictability that such a life entails.  But, that is also something that can be terrifying.  Having you as constants, as people who we know will always be there through thick and thin, always love us through victory and utter failure is something so amazing and so beautiful that it is hard to put into words.  We just have to, no, NEED to say thank you for everything we have mentioned above and, undoubtedly, many things we have failed to mention, too.  You are amazing people who deserve nothing but praise and gratitude.  So, again, THANK YOU.
Love,
Zach and Shay and all other travelers out there who feel the same.
Dedicated to: Joseph and Katherine Zine and Tracie Delagarza-Rodriguez and Gus Rodriguez, as well as all of the other truly amazing family members that are a part of and have been by our side throughout our lives.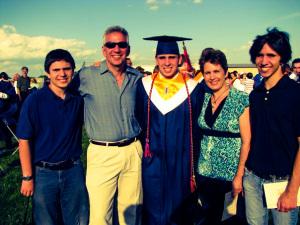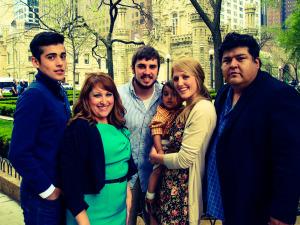 _____________________________________________________________
When we say this is an "open letter," we truly mean it.  If you have anything at all you'd like  to add to this thank you letter to family or friends back home that have been supportive and an important part of who you are today, please add a comment below and we will gladly add it to the post.