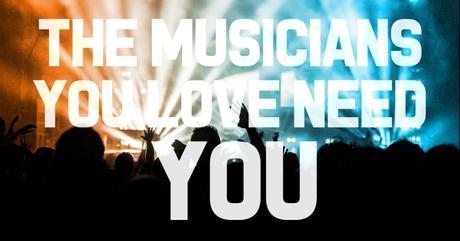 Dear fellow music fans,
I wanted to write you this letter to remind you why you should be supporting the artists you love.
Music means something different to all of us, but I think most of us can agree that we would find it very difficult to live without it. It's the soundtrack to so many of our milestone moments. It's something we listen to while we work, while we walk the dog, while we do mundane tasks like cooking and cleaning. It's something we share with friends, it enhances the movies and TV shows we spend hours of our lives watching. A life without music would be much duller… and I think that's something most of us can agree on.
The musicians you love need you. Buy their music. Go to their shows. Share their posts. Engage. Promote. They need you more than you know.

— Ross | Electric Kiwi (@ElectricKiwi) July 11, 2015
If we want to continue hearing the music we love, we need to support it. Because without us, the artists we love will no longer be able to create. And then we'll be left with what the major labels deem to be what we want to hear. Sometimes it is, but don't you want to have the freedom to listen to artists that aren't necessarily mainstream? Well, they are the ones who need you the most. Often, they're the ones who are writing the songs that really mean something – the ones that REALLY speak to you. Yet they're the ones that are likely struggling given the way the music industry is changing. Streaming is (at the moment) making it more difficult to make money from recorded music, and it's these independent artists who are suffering. Touring can be expensive – and while many of the artists would LOVE to tour, they simply can't afford to. Your support is needed, and it's appreciated far more than you know. If you love an artist and want them to continue creating, they have to be able to earn a living. Otherwise, they won't be able to continue pouring their heart and soul into the music you're consuming.
So, how can you help?
Well, for a start – BUY their music. Find out which method gives them the highest % of the profit. I will often send a message to an artist and ask them how they would prefer me to purchase their music. Some prefer Bandcamp as it gives them a higher % than iTunes. Some prefer iTunes as the chart visibility means more sales. Some prefer you buy their physical CDs directly from their website as they don't need to pay a % to anybody.
Go to their shows. If a band you love is playing nearby, go and see them. Touring is often where the money is these days, and if a tour goes well, then another one (maybe even a larger one) is bound to follow. While you're there, buy some merch and/or leave a tip. Sign up to their mailing list and encourage a friend to do the same.
Promote them. If you love an artist, then it's likely you'll know someone else who will too. Spread the word and share them with anyone you think would enjoy their music. As music fans, we have to be advocates for the music we love. Many independent artists don't have a large budget for marketing or PR, so we have to help to bridge that gap. Why not share a music video you love with a friend today?
Engage and let them know they are appreciated. If you can't afford to support financially, let the artists know that you love what they do. Sometimes words of encouragement and support can mean a lot more than money. Of course, this shouldn't be a reason NOT to buy something – but it's a nice gesture and it really can go a long way. I'm asking you to support artists because they make a big difference to all of us. I believe it's a creative eco system – we buy from these artists, they buy from other artists and creators, and as a result, we can all benefit. Whether that's in being able to make a living or to create more music or content that others will enjoy – either way, we all need to help each other to grow and succeed.
If this letter speaks to you, please act now. Support the musicians you love, and share this message with others. I can't stress how important I think it is to support those we love before it's too late.
-Ross