From Republican Party's Missouri Senator Josh Hawley and his Facebook page today. He posted it at about 1:30 pm. He's concerned about---China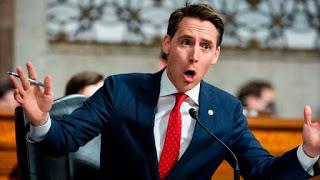 What a year for #china - Beijing inflicted #COVID19 on the world and continues to violate its treaty obligations & destroy the liberties of its people, including this latest crackdown in #HongKong
 With this article from The New York Times
Joshua Wong and Agnes Chow Are Sentenced to Prison Over Hong Kong Protest

To which, I respond...
China. 
More on China from this guy. 
Unbelievable. 
Have you heard, do you know there is the worst, most deadly, killing international pandemic in the last more than 100 years going on just now, presently, this year, Senator? Do you know we all still need PPE out here? And testing? And that millions, literally millions of Americans are going hungry presently due to this pandemic? And that literally millions of Americans are going into winter facing eviction from their homes because of the pandemic? Would you DO SOMETHING about these situations, Senator Hawley, instead of harping about China, for pity's sake? Please?
CDC director: Winter could be 'most difficult time in the public health history of this nation'
Because we'll beg. I'll beg. Honest I will. Please.
Help.
The USA.