It is a known fact that soup can help some sick people feel better, and I agree – who doesn't love a big broth-y bowl of chicken noodle soup? I love it, but, I have started to get sick of it.  There's really only so much you can do to chicken noodle soup to change it around. So, it's time for a change! For centuries, in Asia they have been using all types of food, herbs and spices to do things such as healing a cold, increasing blood circulation and even attentiveness (and that's only a few).
I love Asian soups, especially Thai because there could be only 3 simple ingredients and still be warming and satisfying.  The more simple, the better!  I have a delicious, simple Thai noodle soup that will definitely make you feel less foggy.
Thai Tofu Noodle Soup
Ingredients
8 oz. box Rice noodles (linguini width)
6 cups no salt added vegetable or chicken stock
1 teaspoon freshly grated ginger
1 teaspoon grated lemongrass*
1/2 package firm tofu, drained and cut into cubes
1 head broccoli, chopped
1-2 cups Chinese cabbage*
1-2 carrots, sliced
3 tablespoons fish sauce
1 tablespoons low-sodium soy sauce
1/3 cup skim milk*
handful of cilantro, chopped
1 lime, cut into wedges
Directions
Prepare rice noodles using directions on package. Drain, rinse with cold water and set aside.
In a soup pot, heat 1 tablespoon light olive oil. Season tofu with salt and pepper and cook in pan until brown on all sides. Remove from pot.
Add carrots, broccoli, lemongrass and ginger.
Add stock, fish sauce, soy sauce and bring to a boil then reduce heat to medium and add the Chinese cabbage.
Add milk, slowly stirring.
TO SERVE: Put noodles in serving bowl, add tofu then soup. Sprinkle with cilantro and serve with lime wedge.
*OPTIONAL: *Lemongrass – comes in stalks. I used a tube of pre-grated fresh lemongrass.
*Chinese cabbage – There are many types, but I used bok choy. You can substitute any leafy green (spinach, escarole…) since greens can get expensive.
*Skim milk – I used skim milk because of my boyfriend's allergy. You can use a 1/2 small can coconut milk.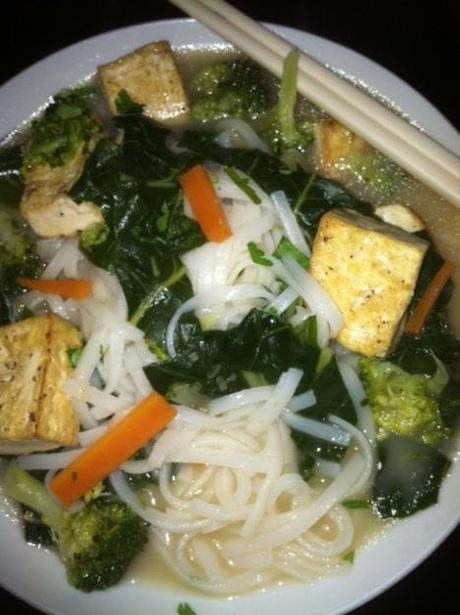 This soup is absolutely delicious!  Just a warning – it gets sloppy!  The rice noodles were so hard to pick up with (stupid plastic) chopsticks.  OH! And don't be afraid of fish sauce!  It smells disgusting just the way it is but when it's added to things… that is what gives it that distinctive Asian flavor.
peace&love