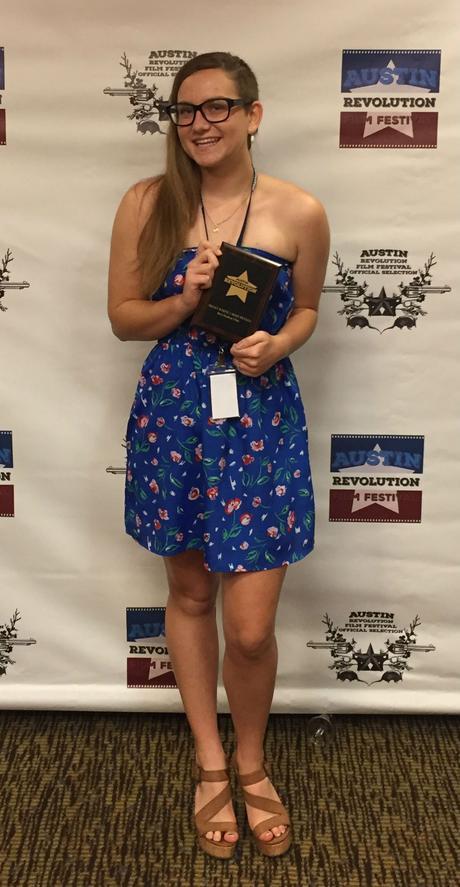 Jordan Barger
Jordan Barger is a junior in high school from Houston, Texas. She also happens to be an award-winning filmmaker who has her own production company, JOM Productions. Barger's short film, "Milky White // Rosy Petals," has been shown at three film festivals around the U.S.; she won Best Student Film at the Austin Revolution Film Festival; and she was nominated for the Best Youth Filmmaker at the Long Beach Indie International Film Festival.
In light of recent political controversies surrounding President Donald Trump, Barger has begun to approach filmmaking from a perspective of political activism. I asked her about how film can be an activist tool, and how she sees political activism evolving among our generation.
This interview has been condensed and edited for clarity.
Julie Graves: How did you first become interested in film?
Jordan Barger: I've always been interested in film. I knew since I was seven that I would work in the business, and even created a film company when I was nine under which I still make my [films]. Every time I had a friend over, we would make something. Most of it was improv, but I learned a lot from doing that. Eventually I began making original music videos for the songs my best friend wrote. I only began making short films in high school. I learn something new every time I make something and become better with each piece. It is just something I am passionate about.
In your new documentary about the Women's March, "Snowflakes Create Avalanches," you used your art to send a political message. What inspired you to incorporate a feminist message into your work?
Well, for one, I am a feminist, and that is something that is really important to me. I incorporated [my identity into my art] because I was going to the Women's March, and realized that I could make a change. When I arrived at the March in Austin, I was astounded and inspired by how many people were there and how passionate everyone was. We were jam packed into the capital; it was incredible. It reminded me that everyone can make a difference and if you can, you should. Just going to these marches is an amazing thing, but I could do more. And since I could do more, and have the ability to do more, I felt it was my duty to [share my political message] and make a film that other people could see.
Why do you think it is important that historical moments like the Women's March are recorded?
I think it is important for future generations to watch. For example, you have all the clips from the Civil Rights Movement, and those can be super powerful and can help young people now and future generations understand what was going on [at the time]. If you look back in history, people protesting for human rights are usually the ones who are right and who ultimately get their way—especially in America. So, judging from history, I think people who aren't sure about whether or not they should participate in these kinds of things should keep in mind that their actions matter and will go down in history whether their name is mentioned or not. So just make sure you are on the side you want to be remembered for.
Can you tell us a little bit more about the series that includes the Women's March documentary?
The series is called "I Didn't Think She Was Beautiful."  I started it because I had to do a research project for school. I researched women in the film industry—specifically, the sexism female directors face. A friend of mine researched the erasure of people of color in the media. The most important things we realized while doing this research was how a big part of the problem is the demographic of the people in charge of the media. Most executives are white, straight, cis males, which makes it harder for women directors and people of color's projects to get greenlighted. There's also a lot less room for error. If a woman directs a film or a person of color stars in a film and the film flops, executives will see that and won't rehire the woman director or have people of color star anymore. On the other hand, if a male director makes a flop, he'll get another chance—as has been shown time and time again.
We combined our projects and created this documentary series. [In] the first episode, we interviewed teen girls, asking them how they feel about the media and what they feel needs to be added and what they should change about it.
Can you list some of the major themes of their responses? Any that surprised you?
It was super powerful. It is astounding to see how much media can impact people. Most of the girls [we interviewed] just wanted to see more diversity. They want people and stories they can relate to. I was surprised by how many of the girls had something to say and didn't just shrug it off; they want change. We need to demand change from the media, and I think that's what we're preparing them to do.
The film industry is often critiqued for its lack of diversity—in terms of body types, race, sexuality, etc. Is portraying a more inclusive society something you try to do in your films? If so, how?
I feel like it is very important to include people of all types in my films because we are all different. If there is no diversity, then people who don't resemble the few types of actors and actresses represented are going to feel bad about themselves—which they shouldn't, because everyone is amazing the way they are. It's one of my life goals to make Hollywood diverse.
I have done this by purposefully including people in my films who aren't white or who are different than those you typically see in Hollywood films, as I especially did in my film "White Converse". I asked some good friends of mine who are both beautiful but not who you would typically see in a Hollywood movie to be in it. In many cases, actors of color are still cast in stereotypical [racialized] roles, so while there has been more diversity in film in the past year, we can still do better to cast actors of color in roles not necessarily designated for people of color. I think I did that in "White Converse," as the roles were not written specifically for people of color.
You often use social media like Instagram, Twitter, and YouTube to share your work. How do you think the rapid use of social media has impacted the landscape of political activism?
It has definitely impacted [political activism]. I feel much more aware ever since I started using those platforms. Teenagers nowadays are a lot more political than they used to be. Social media has allowed my generation to grow up seeing people around the world and [people] in our own country suffering, and we understand that people need help. It has created a whole new awareness of what is going on in our world.
Film is particularly a rapidly growing medium, too, thanks to YouTube and smartphones with easy-access cameras and movie editing apps. For example, I can log onto Twitter and watch a two-minute video about the Dakota Access Pipeline and learn so much that I wouldn't have known before—and that's all it took: logging onto social media. I think it has been and will continue to be interesting to see how much politics changes because of social media.
Do you have any words of advice for aspiring teenager filmmakers?
Just go out there and do it. You have your phone; you can make something. I made the Women's March film on my phone. And while it could have been better quality, I just had my phone, so I did it and I made it. Anyone can be a filmmaker. All you have to do is put time and effort, and make it your passion. You can go as far as you want.
To find more of Jordan Barger's incredible work, check out her website and YouTube channel, and find her on Instagram and Twitter.