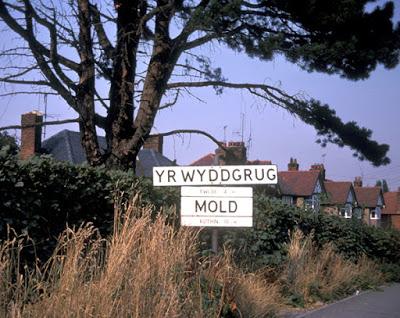 Wales. Welcome to Mold.
Perhaps the original intrepid tourist was Carolyn Arnold, my husband's aunt.  A single school teacher in Des Moines, she began traveling abroad when she was in her forties, beginning with a bicycling trip through Ireland in 1950.  She went on from there to spend a year as a Fulbright Exchange Teacher in Wales (1953-54), to more trips to Europe and beyond, and eventually became a tour leader, taking all her nieces and nephews (including my husband Art) on her travels.  When she retired from teaching, she wrote of her experiences in a memoir called
Up and Down and Around the World with Carrie
.  Today, as I read of her travels, I marvel at her spirit of adventure at a time when women did not have the independence they do today.
In TIT post 10/7/2013 Aunt Carolyn described her arrival in Wales, in the small town of Mold where she would be teaching in the grammar school for a year. The piece below describes her living situation during her year of teaching there.
On the second Saturday morning after my arrival in Wales, I went to Mold to find a place to live. I wanted to be part of the community where I would be teaching.  On the street I met Mr. Ledbetter, head of the English Department. He said, "Oh, I know just the place for you. Miss Wotton often takes people in." Just then, Miss Wotton came along and stopped to chat. Yes, she would take me. Her elderly father would be glad of the company. Miss Wotton and her father lived in the south half of a brick duplex, or as they say, "semi-detached." The house, as others, did not have a number and had been given a name when it was built. Our house name was "Y Llwyn."
Miss Wooten's  father, whom I learned to call Gran, was a tall erect man, very active for his 90 years. He even mowed the lawn. Later, I found that every evening about eight o'clock, he would take his hat and cane and walk along to his favorite pub, have a glass of Guinness, a game of darts, perhaps, and be home within the hour.
I found renting a room included a "sitting room" and high tea soon after I returned from school. It usually consisted of something hot, perhaps a lamb chop, plus sandwiches, dessert, and hot tea–all for $35 a month. I loved it there except for one thing. There is was no heat in the bedroom or bathroom. As winter came on, I was very uncomfortable in the bedroom, and as for the bathroom, imagine that without heat! I knew electricity was expensive, and I was not paying much. I asked Miss Wooten–I soon learned to call her Muriel–why there was no heat in the fireplace in the bedroom. She said that the fireplace had not been used since before the War, and she was afraid a fire would light the soot and other material in the chimney. They burned coal in the fireplace downstairs, in my sitting room, and in the kitchen. Her brother, John, who lived in Liverpool, arranged for an electric fire (heater) as they were very scarce at the time. I could use that for a half-hour before bedtime and a half-hour in the morning for an extra pound a month, about $2.80.
Muriel is a sociable person and I owe much to her in getting acquainted with people in town. The Welsh are still very clannish and do not appear to be friendly to strangers, but once one is accepted, there are no more friendly and helpful people than the Welsh. By the end of the year I had drunk gallons of tea at the homes of friends and of my pupils.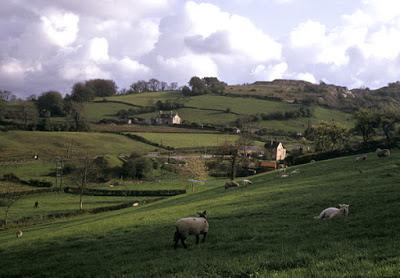 Landscape near Mold
Through Muriel I met many more people than I would have met otherwise. Her friends Griff and Chrissy Williams lived near a small village called Gwnymyedd about two miles up the hill from Mold on a farm called "Tros-y-Wern." Their home is a very old stone building, rectangular in shape with a chimney at each end, which is characteristic of many old farmhouses. The ceiling beams were refinished and glowed with polish. The windows are 18 inches deep, saying something of the thickness of the walls and age of the building. The kitchen has a large fireplace and is large enough for a dining room too. In the scullery is a stove, but both the kitchen fireplace and scullery stove are used for cooking. The floor is tiled, making it easy to clean, for the farm workers ate in the kitchen. There is a fireplace in every room in the house, including the sitting room, the parlor, and the upstairs. Chrissy and Griff became my friends too.
I learned the size of the average farm in Wales is 80 acres, much of it usually too hilly or rough to be arable, so sheep raising is a major part of farming. The Williams had lived at Tros-y-Wern for many years so I was surprised when Muriel told me they did not own the land. It was part of an estate of some lord and could not be sold. Shortly after I left Wales, I learned the lord had died, and Griff bought the land. He divided it into plots and built bungalows. They sold the lovely Tros-y-Wern and moved into one of the new bungalows.

All text and photos, copyright Caroline Arnold.  www.theintrepidtourist.blogspot.com