"Because it's our job I feel we have to [keep up with all of the new TV shows], but it does require a lot less sleep and a lot more concentration.  It is hard for us to keep track.  So, I do wonder how the regular audience member keeps track of it all." – Laura Prudom, Variety's TV News Editor
No one is going to weep for poor Laura Prudom.  This is a woman who basically gets paid to watch and write about TV.  As indicated by the ever-growing blogging communities on sites like WordPress and Tumblr, literally millions of us do that for free every day.  Heck, until I recently got some ads up around here I know I was doing it for free.  However, none of that makes what Prudom said any less true – we are constantly surrounded by so many good TV shows that it's a freakin' challenge to keep up.  Granted, these are most definitely first-world problems, but Prudom's not wrong.
Her observation came in a conversation about the big summer shows on the most recent episode of KCRW's TV-centric podcast The Spin-Off, and as someone who has felt slightly overwhelmed as of late by all of the new TV coming our way I found comfort in knowing that a paid professional feels the same way.  These aren't just little shows that only critics like, either.  Some of these carry serious star power, be it in front of the screen (Halle Berry in CBS' Extant) or behind the screen (Steven Spielberg producing Extant, Guillermo Del Toro and Lost's Carlton Cuse doing The Strain on FX, Lost's Damon Lindelof bringing The Leftovers to HBO, Michael freakin' Bay delivering unto the huddled masses The Last Ship on TNT).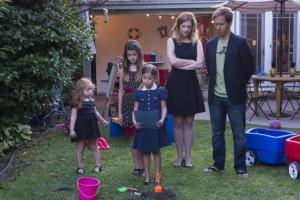 Judy Greer and Nat Faxon in FX's Married
Moreover, FX just premiered two buzzy new single-camera sitcoms last night, Married and You're the Worst, WGN & SyFy have been trotting out their respective bat-shit crazy shows Salem and Dominion for a while now, AMC's Halt and Catch Fire is around, mostly failing to catch fire with audiences, TV Land (of all places) has Jamie Lee Pressley and Jessica Walter in the genuinely funny new show Jennifer Falls (the networks' first single-camera sitcom), and NBC has Welcome to Sweden, starring Amy Poehler's brother and based on his real life experience of moving to Sweden with his new Swedish wife.
Those are just the new shows.  Returning favorites like True Blood and Wilfred are already well into what's being advertized as their final seasons, MTV's Teen Wolf continues being the best TV show my best friend is not-so-secretly pissed at me for not watching, SyFy's Defiance is back and gathering space in my DVR, Showtime's Masters of Sex just returned for its second season as a show really hitting its stride while Ray Donovan continues to be a thing Showtime puts out there…for some reason.
All of this summer activity has led some TV journalists currently attending the Television Critics Association Summer Press Tour to point out that the only reason there is such a thing as a Summer Press Tour is simply because that used to be TV's off-season.  There is no off-season anymore.  No.  We have long since passed the era where classic TV shows like Cheers and Seinfeld struggled in their first seasons but managed to grow their respective audiences over the summer through re-runs.  Instead, this is now a time when NBC and CBS are quite seriously arguing over exactly which was truly the summer's most-watched new show, NBC's Night Shift or CBS' Extant?  (The answer: CBS probably fudged the numbers to come out on top).
And that's just broadcast and cable TV.  Netflix has already dropped the full second seasons for Orange is the New Black and Hemlock Grove this summer, and just 3 days ago Hulu rolled out all 6 episodes of its Real Housewives… parody The Hotwives of Orlando, starring the wickedly talented Casey Wilson.
We're not  done yet, though.  The coming weeks will bring us WGN's period drama Manhattan about mid-20th century scientists attempting to build the world's first atomic bomb, an 8-part Sundance miniseries starring Maggie Gylenhaal (An Honourable Woman), and Outlander, which has been discussed elsewhere on the site. 
All told, this summer will end up giving us at least 33 new shows on broadcast and cable TV with plenty more already established shows also premiering new seasons.  That's mostly just scripted shows; I have no idea about things on the reality TV side of the equation.
That's fantastic, but it's not far behind the 40+ new shows the broadcast networks have on tap for the 2014/2015 TV season.  I am old enough to remember a time when summer TV was a barren wasteland of re-runs and Susan Powter infomercials.   Then along came The Dead Zone and Monk on USA in June and July, respectively, of 2002, setting off an explosion of original summer programming, each summer seemingly giving us yet another new show whose premiere is touted as the most-watched summer premiere of all time.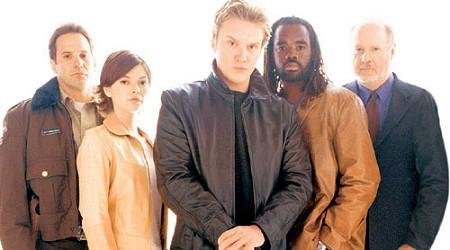 The Dead Zone – The best show I watched all the way through, and then almost completely forgot about
Now it's progressed to a point where a channel like WGN is pulling an AMC on us and trotting out a show so good (Manhattan, based on early reviews) we have to completely reconsider what we think of them (I thought they just showed Chicago Cubs and White Sox games).  The list of networks looking to roll out premium original programming just keeps getting bigger, with SpikeTV working on a King Tut mini-series starring Ben Kingsley.  What the what!
In an increasingly crowded marketplace, the networks have to do anything they can to really stick out, especially after Nielsen's recent report that the average U.S. cable subscriber receives an average of 189 channels in prepackaged bundles but only watches 17 of those channels.   Some networks opt to crank out their own original shows hoping that'll translate to buzz which in turn can be leveraged to charge higher subscriber fees to the cable companies.  Others simply undergo complete image makeovers and name changes, as has recently been the case with Bio, HLN, We TV, Military Channel, and Style.  Still, customers continue flocking away from cable.  In fact, Netflix actually has around 5 million more subscribers than Comcast, one of the top two cable providers in the U.S. (the other being Time Warner Cable). 
I am currently fortunate to have access to cable as well as Netflix and Hulu, and like many a pop culture obsessive I am embarrassed by the number of shows and films on my DVR and in my various streaming lists which I haven't made it around to yet.  I react to this influx of buzzy summer programming the same way I do in the fall or the spring: I rely on word-of-mouth and critical reviews.  So, it's because of The AV Club that I checked out the premiere of Married last night, and it's because of a fellow blogger that I might give The Strain a chance even though so many other reviewers have been fairly negative (although FX doesn't exactly make it easy on you if you want to catch up without having to pay to download prior episodes).
However, I still need to go back and finish the last season of Misfits and check out the most recent season of Moone Boy, both on Hulu.  While I'm there I really need to check out Rev before hopping over to Amazon Prime and picking up where I left off with Falling Skies (the start of the third season).  Plus, my Netflix queue is stuffed with supposedly amazing shows like Rectify, Young Doctor's Notebook, Louie, etc.
It's a good problem to have, but, damn, there is so much good TV to stay on top of these days.  How do you cope with it?  Or do you not see it as a problem, especially compared to the rather suspect quality of the new shows coming our way in September?  And are there any summer shows you are digging and think everyone else should give it a chance?  Let us know in the comments.