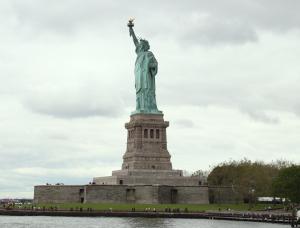 Out of all the New York City tours you could take while in the big apple, there is none more impressive than the food scene that the city is famous for.  Think of any major food trend going around right now from cupcake weddings to molecular gastronomy cooking and it is likely that New York City is either the birth place of the trend, or a major player in the world.  (Photo "Statue of Liberty" by MEJones)
With all of the possibilities you could have, and new restaurants exploding on the scene every day, the staples that have spurned the food trends many decades ago are still thriving and on the top of most tourist's hit lists.  While we haven't personally stopped at some of these restaurants, the following are a breakdown of the old style and new style of many popular cuisines that New York is famous for, and are definitely on our list when we make our way to New York City, hopefully later this year.
New York Pizza - Lombardi's is the First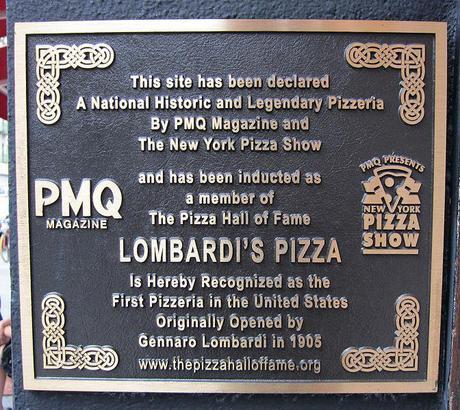 You cannot go wrong with New York Style pizza, and tomato sauce seems to run thick in the veins of all who live in the city.  It is rather scary how many pizza shops fill up New York, so choosing the best one to visit is all but impossible.  (Photo "Plaque at Lombardi's Pizza" by Leonard DeFrancisci)
In a city where the pizza shop name can make or break your business, and lawsuits fly to claim ownership to such iconic names as Ray's Pizza, the original pizza shop is still producing some quality pies.  That pizza shop is Lombardi's on 32 Spring Street and started selling pizza in 1905, what is considered to be the first pizza shop in the US. 
After a long history, and brief closure between 1984 and 1994, Lombardi's is still going strong making pizzas on a coal oven just the way the first pizzas were in 1905.  Don't expect to walk in for just a slice, however, as Lombardi's only serves full pies.  So go with friends and enjoy a little slice of history with the USAs first pizza.
The Iconic Delicatessen - Katz's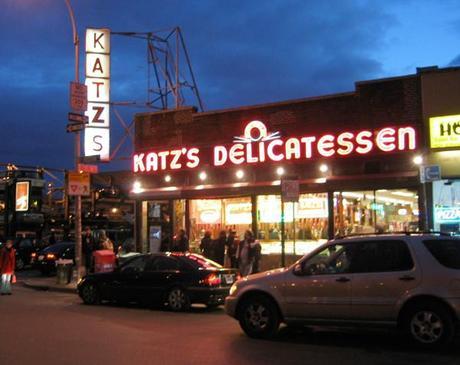 There is nothing better when on the go to walk into a deli and grab a quick sandwich.  In a city that is constantly on the move there are more deli's than you could count.  Like all other food styles, New York has a few delis that have much greater fame than the others, and Katz's Deli is often considered to be one of the best.  (Photo "Katz's Delicatessen" by gsd97jks)
Located at 205 E. Houston Street in Manhattan, Katz's Deli has been serving over 5,000 pounds of corned beef, 10,000 hot dogs, and several thousands pounds of other meats to hungry tourists and New Yorkers for over 120 years.   If the name sounds familiar, you are right.  Katz's Deli is the home to the famous scene in When Harry Met Sally that people go to act out, pretending of course, several times every single day.  The deli has also been featured in other popular movies such as Across the Universe and Enchanted.
Even the Cupcake Trend at Magnolia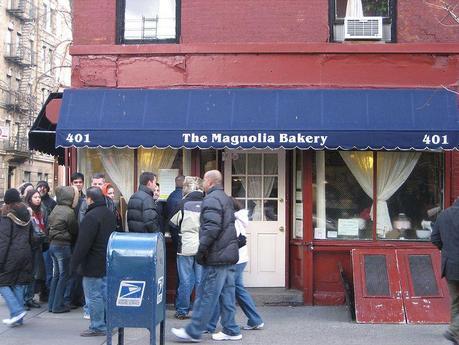 A more recent trend in the food scene is the little, but delectable, cupcake.  The origin of the cupcake and increasing popularity in recent years is debatable, however Magnolia Bakery at 401 Bleecker Street in the West Village of Manhattan is certainly one of the major players in the cupcake game.  (Photo "Magnolia Bakery" by Joe Goldberg)
After publishing a cookbook named after their bakery in 1999, the cupcake craze really took off and Magnolia Bakery has been at the center of the media attention since.  Featured in movies such as Sex in the City and The Devil Wears Prada, TV shows including Spin City, and other pop culture icons like Saturday Night Live skits; Magnolia Bakery has amassed quite the cult following.
Not heading out to the West Village?  Don't be upset! Magnolia Bakery has three more locations throughout New York including one in Grand Central Terminal that is sure to satisfy any sweet tooth on the go.
No matter where your sightseeing tours in New York take you, there will always be a famous restaurant nearby that defined an era or is at the leading edge of a current trend.  Knowing where to look for them is half the battle and once there all you have to do is enjoy the deliciousness that is to follow.