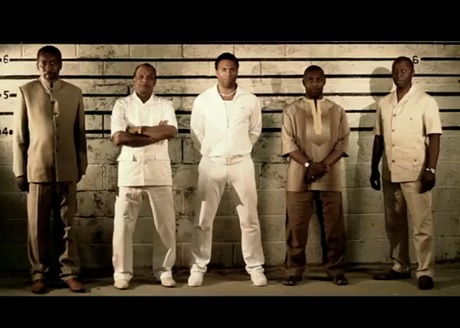 The cast of Julius Caesar at the RSC, from the trailer
The background
William Shakespeare's Julius Caesar is now on at the Royal Shakespeare Company's theater in Stratford upon Avon, produced by RSC artistic director Gregory Doran. It's part of the nationwide World Shakespeare Festival (which has seen, amongst other things, a production of Cymbeline in Japanese). The action has been moved from late republican Rome to modern Africa, and the cast is all black. It stars Paterson Joseph as Brutus, who plots to kill Julius Caesar (Jeffery Kissoon) with Cassius (Cyril Nri.) Mark Antony is played by Ray Fearon. The wives of Brutus and Caesar are played, respectively, by Adjoa Andoh and Ann Ogbomo. The set is designed by Michale Vale. The play concerns the politics of dictatorship and the ethics of assassination; critics are praising the energy and power of this production.
"How many ages hence shall this, our lofty scene, be acted in states unknown and accents yet unborn," says Cassius in the play.
The production adds a new edge to the debate about political murder
Michael Billington in The Guardian said that the cast showed what a "wealth of classical acting talent" there was in the country. The play gains "fresh urgency" from its setting, and does more than give "new edge to the ethical debate about political murder." It's also a play "filled with prophecies, portents, dreams." Doran's production gains strength from its "attention to character," as in Paterson's portrayal of Brutus as a "self-righteous blunderer." The battle scenes, though, are anti-climactic; and sometimes "vocal volume" replaced subtlety. Fearon's Mark Antony had "dangerous charisma", whilst Kissoon is "superb." Though no production could make "total sense of this slippery play," this one makes a good stab.
Julius Caesar is very much an "African" play
Serena Davies in The Telegraph interviewed Doran and Joseph. Doran said that Julius Caesar was the one "most performed in Africa" – and there have been many dictators who could stand for Caesar: Idi Amin, Bokassa, Mobutu, Mugabe. The play even inspired Nelson Mandela. They chose to have no interval, so as to keep a sense of urgency; the set is a "smudge" of a football stadium and the Colosseum, whilst they were pleasantly surprised by the similarity of African ceremonial dress to Roman – "togas!"
The production has vigour, energy, and is, like, really cool
Audience reactions, rounded up by the Royal Shakespeare Company on Youtube, commended the production's "vigour and energy." One lady said she'd seen lots of Julius Caesars, but she'd "never seen a better one." Another praised the exuberance of the characters, their "strong voices and strong wills," and the excellence and power of the actors. "It didn't feel like Shakespearean language," said one. A young girl said "It's like really cool how they made it up to date."
It starts slow – but boy does it pick up
Ian Hughes on The Stratford Observer said that Shakespeare's plays are "more reflective of contemporary Africa than they are of Europe." An illicit copy of the complete works of Shakespeare was passed amongst the prisoners on Robben Island – and Julius Caesar was the most annotated and read. This production "starts somewhat slowly", with no tension in the conspiracy. But then things change when Caesar is killed, and adrenaline floods the theater. Indeed, "when Fearon screams "Let slip the dogs of war" you almost expect a couple of Rottweilers to race across the stage."
Watch a trailer below