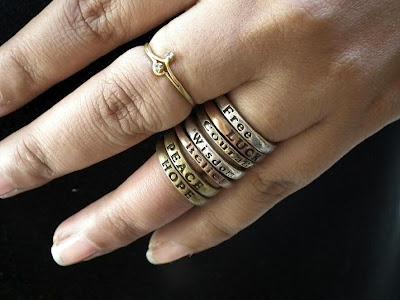 Stacked Rings Bought from Ebay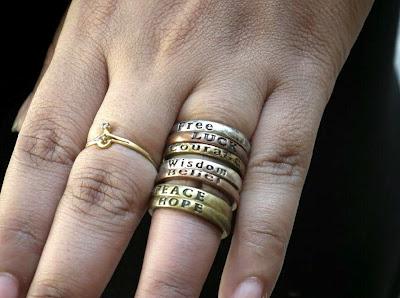 Stacked Rings Bought from Ebay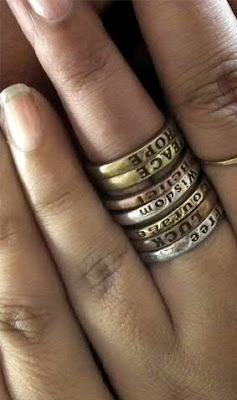 Stacked Rings Bought from Ebay 
Somewhere in Spain, someone has said that
"If the rings are lost, here are the fingers still".
In my case, if rings are lost, my fingers are naked. This is the beauty of stacked rings, they become like clothes of your finger and would cling to every creases nicely. 
Confession
- I have this aching love for rings but I don't wear them often. What a shopaholic got to do? To buy more and more until she gets exhausted which is a difficult thing to do for her/him. This description suits me because I do justice with it. However, this time with a twist. I have been wearing these rings quite often.
These rings come in 8 pieces and each ring has a word carved on it. Free -Luck-Courage-Wisdom-Belief-Peace-Hope-Love.Love is not in these pictures because I have either lost it or kept it in a bag that I don't know of. I might  find my "love" ring someday and I will let you know once I do.
Wearing these rings in 3 - copper-golden and silver makes my fingers, hands look very pretty. I am not a fond of my hands because one of the fingers is a little 
In This Post ---
Product
-Stacked Rings
Price
-  $3.29
You will love it because -
It's one of the most beautiful pieces ever.
Copper-Golden-Silver metals make it look stunning.
The carved words are very motivating. I wear them whatever I am looking forward on that day.
You will leave it because - 
 You are not bothered about rings.
You are allergic to such metals.
You are not ebay shopper.
Where can I buy online? 
Ebay, the seller I had bought from is not selling things to India any more. You can find one here though.
Rating
- Must-Get-One
Your thoughts? 
To Buy or Not To Buy
I hope you enjoyed.
=====================================================
Disclaimer:
For any queries, PR information, website review, store visit and events - please mail me at
[email protected]
. Read about Shopping, Style and Us and to know more, please read my
Disclosure Policy
.
Jiya (Shoppingaholic)