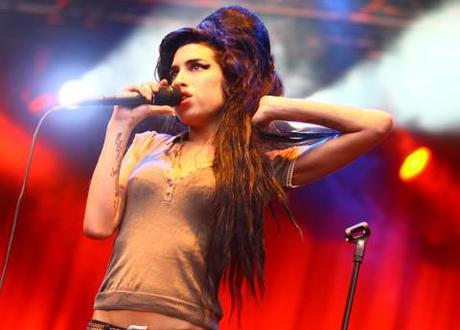 Amy Winehouse, Hovefestivalen 2007. Foto: Kim Erlandsen, NRK P3, http://www.flickr.com/photos/nrk-p3/2325404812/
Soulful singer Amy Winehouse, known both for her big voice and songwriting talent and for her widely publicized struggle with drugs and alcohol, was found dead in her London home on Saturday afternoon.
Winehouse, raised in North Finchley, north London and nurtured in the music scene of Camden Town, shot to fame in 2006 and 2007 with her jazz-inflected, retro album, Back to Black. The album won her a BRIT Award for best female solo artist in 2007 and five Grammy awards in 2008, including Best New Artist, among a host of other awards and nominations. The success of Back to Black led to a re-issue of her brilliant, but ignored at the time 2003 debut album, Frank, which also garnered several awards and nominations. But while Winehouse's career was a on a meteoric rise, her private life appeared to be in a shambles: She married inconstant boyfriend Blake Fielder-Civil in 2007, but the two were sometimes photographed together on nights out, bloodied and bruised from rowing and intoxicated. The two later divorced, but not before Fielder-Civil was quoted in a British tabloid as saying he'd introduced Winehouse to crack cocaine and heroine.
Problems with drugs and alcohol, as well as depression, self-harm and eating disorders plagued Winehouse, despite periods of apparent remission and health. The singer spent time in St. Lucia, apparently recovering, and moved into a villa in Camden Square, just north of notorious Camden Town, in early 2011. Fan eagerly awaited her long-promised third album, the follow-up to the blockbuster Back to Black, but she was always reportedly "working on it". She was booked for a comeback tour of Europe this summer, but cancelled after showing up drunk on stage in Belgrade, slurring "Hello, Athens!"
Winehouse's relationships with those close to her, including her father, Mitch, a taxi driver turned jazz singer who reportedly lived with her, were "fraught at best", claimed Sheila Marikar at ABC News. Marikar spoke with Ian Drew, music editor for Us Weekly, who claimed that Winehouse's family blamed her ex-husband, Fielder-Civil, for getting her addicted to drugs; but Marikar also noted that, according to an Us Weekly article from Sunday, Janis Winehouse, the singer's mother, who is divorced from her father, "also failed to get her the help she needed".
Police have refused to say whether her death was linked to drugs or alcohol, but are treating it as "unexplained"; a date will be fixed for a post-mortem. Other reports suggest that she was found alone in bed, or that she died after a "36-hour binge and row" with her off and on boyfriend, Reg Traviss.
Winehouse joins a growing club of influential artists and musicians, all of who eerily died at the age of 27: Nirvana frontman Kurt Cobain, The Doors' Jim Morrison, Jimi Hendrix, Janis Joplin, American blues legend Robert Johnson, artist Jean-Michel Basquiat are among them.
As fans, including celebrities, mourn the loss of a brilliant voice, the commentariat is trying to put together what Winehouse's death means.