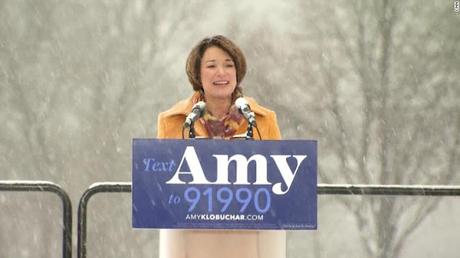 (Photo of Amy Klobuchar announcing her candidacy is from CNN.com.)
Standing in a 14 degree snowstorm in Minnesota, Senator Amy Klobuchar announced she is running for the Democratic nomination for president in 2020.
She joins 10 other candidates who are already in the race -- Senator Kamala Harris, Senator Elizabeth Warren, Senator Cory Booker, Senator Kristen Gillibrand, former HUD Secretary Julian Castro, Rep. Joe Delaney, Rep. Tulsi Gabbard, South Bend Mayor Pete Buttigieg, author Marianne Williamson, and businessman Andrew Yang.
Klobuchar is trying to stake herself out as the pragmatist in the race -- a more centrist candidate who is more interested in solutions than policy. Will that be enough to separate her from the pack? So far, she has not polled well, but that could improve now that she's an official candidate. And like the others, she has plenty of time to build support before any primaries or caucuses are held.