There is a new event on Amsterdam's cultural calendar. The winter here is always full of things to do - markets, ice-skating and all the fun and fatty food that surround the Christmas and (more importantly) the Sinterklaas season.
But as night begins to fall earlier and earlier with each passing day, we are already enjoying a city of glimmering lights. But the beauty of the lit-up bridges reflecting on the canals will fade in comparison to what the city has planned for us this year.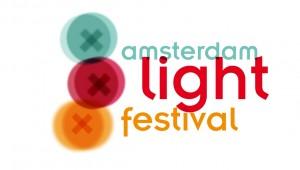 Between December 6 and January 20, Amsterdam will play host to a dazzling display of light sculptures from renowned contemporary artists from around the world. Our canals and the surrounding buildings will be their canvas. The heart of the Amsterdam Light Festival is the Boulevard of Light on the Amstel river, where the buildings will be lit up around the center point of the Skinny Bridge. It promises to be, quite simply, magical.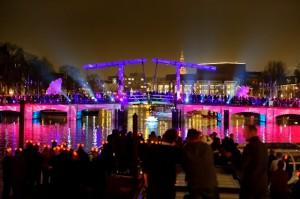 The Skinny Bridge bathed in light
Like so many sights in Amsterdam, this festival will be best enjoyed by boat. Our friends over at LOVERS have set up some fantastic boat cruises to take advantage of this much anticipated festival.
Experience the wonder in laid-back, gezellig style with the Winter Magic Candle Light Cruise. It begins with a relaxing a mood-building apple punch and mulled wine, followed by a two hours cruise up and down the best bits of the Boulevard of Light. The tour includes a walk through the always-lit Red Light District with a professional guide.
To really make the most of this unique event, try the Winter Magic Dinner Cruise, combining 2 hours of beautiful cruising with a sumptuous 4-course meat, fish or vegetarian meal. The beer, wine and soft drinks are included. The boat itself will be decorated in lights, to better get you in the feel of the festival.
The Winter Magic Evening Canal Cruise is a one hour option for those who want to enjoy the lights without the distractions of food and drink, except of course for the tummy-warming apple punch at the starting point!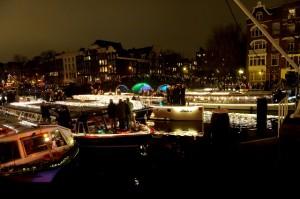 The lit up boats that make you part of the festival
If you're in the city this winter, this is an event you can't afford to miss. And if you're nearby, it's definitely worth a special trip. Amsterdam in the winter - it's magical to begin with, and the Amsterdam Light Festival makes it so much more so.
See the video below to give you a sense of the wonder that is to come:

Click here to view the video on YouTube.
© 2012, Amsterdam City Tours Blog. All rights reserved. On republishing any part of this post, you must provide a link back to this original post