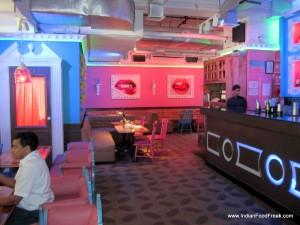 Boudoir Interiors
"Navaratri" literally means "nine nights." This festival is observed twice a year, once in the beginning of summer and again at the onset of winter. It is a festival of 9 days. Many people fast for all nine days and eat only vegetarian food without onion and garlic. So when Amsterdam Kitchen and Bar invited me to taste their Navratri menu, I was intrigued by the bizarreness of the setting. De Wallen is the largest and the best known red light district in Amsterdam and Amsterdam restaurant has recreated the is boudoirish setting with  predominant pinkish color and many photographs of bright ruby red lips – in short a 'tamasik' location for saatvik Navaratri food.
For the uninitiated, Navaratri food has to follow some rules: onion, garlic are strictly avoided; grains like rice, wheat flour, maida, sooji, besan are avoided; legumes and all dals are avoided; common salt, turmeric, asafoetida, garam masala, dhaniya powder are avoided. So that leaves very few options.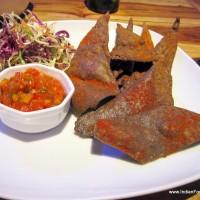 Buckwheat Nachos
I start the tasting with buckwheat (called kutu ka aata in Hindi) nachos with paprika dust and tomato salsa (Rs 450). These are good nachos combined with a spicy salsa. Spinach and potato roundels with crispy buckwheat florets (Rs 450) is nothing but an aloo palak tikki crowned by a papad like fried kutu. While the dish is edible, it is not much more. Grilled skewers with paprika and rock salt emulsion with yoghurt dip (Rs 450) come next. Here we have paneer cubes, lots of different kinds of bell peppers and zucchini skewered on wooden sticks and grilled. The paneer does not taste fresh, and the taste of the skewered vegetables lacks any depth or twist.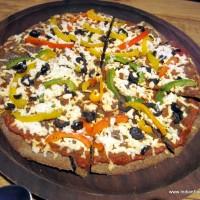 Buckwheat Pizza
I dig into the buckwheat pizza with grated paneer topping (Rs 450) with some trepidation, because its look reminds me of the cardboard pizzas I used to make for pretend tea parties as a child. The taste is somewhat better (maybe because I never tasted the cardboard pizzas), but since the base has no chewiness and paneer does not provide enough cheesiness, the pizza is very dry to taste. Grilled cottage cheese steak with tomato mint coriander sauce and seasonal vegetables (Rs 550) has grilled slices of paneer (here it is relatively fresher) placed on a tomato based sauce and accompanied with seasonal veggies. The taste and the texture of this dish both are quite bland and boring.
It is very difficult to create much variety in the navaratri menu, and Amsterdam Bar and Kitchen has been brave to attempt to create a European menu. Apart from the nachos, I find the rest of the dishes tasted quite unremarkable. Hopefully those keeping Navaratri fast, and hankering for variety will enjoy it more than I did.
Restaurant Ratings (out of 5):
Food: 2.5 | Ambience: 3.5 | Service: 3.5 | Overall: 3.0
Meal for two: Rs. 1000 | Alcohol: Yes | Credit Card: Yes | Home Delivery: No
Address: Amsterdam Bar & Kitchen, Ground Floor, DLF South Court Mall, Saket, New Delhi | Telephone: +91 9810111534|
Paneer Steak
Interior Photos
Boudoir Interiors
Navratri Menu
Buckwheat Pizza
Buckwheat Nachos
Veg Skewers