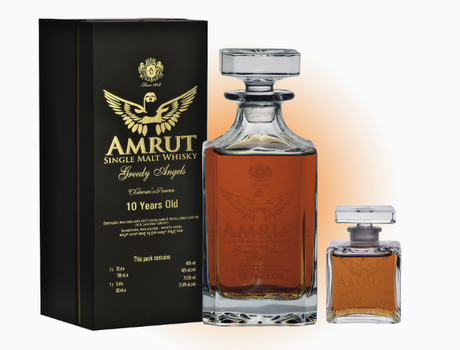 Amrut Indian Single Malt launches the collectible 'Greedy Angels' across the world
Amrut Distilleries, India, known for their popular range of Single Malt whiskies which include Amrut Fusion, Amrut Portonova & Amrut Peated have launched 320 bottles of 'Greedy Angels – Chairman's Reserve'10 years old. This whisky is the first 10 YO single malts to be produced from India and are priced at circa 500 Euros.
Bangalore, India.
Amrut Distilleries Ltd., Bangalore is a boutique distillery known for their award winning single malt whiskies. Amrut recently concluded 10 years of presence in the international markets and have launched the Amrut Greedy Angels Single Malt Whisky – 10 years old to commemorate this occasion. The distillery had launched their malts in 2004 in Glasgow, Scotland by N.R. Jagdale, the Managing Director through his son Rakshit & his friend Ashok and now the malts bear unmistakable shelf presence across 40 countries. The brand peaked in the limelight in 2010 when acclaimed whisky writer, Jim Murray rated the Amrut Fusion with 97/100 points voting it the '3rd finest whisky in the world' putting behind over 4000 whiskies from brands across the world. Amrut is also the only Indian whisky to feature in Ian Buxton's '101 whiskies to have before you die'.
Their latest and most expensive whisky so far, the 'Greedy Angels – Chairman's Reserve 10 years old' is the first 10 year old single malt to ever come out of India and is also India's most expensive whisky so far. Given the high temperatures and humidity in India the loss of whisky during maturation is close to 10-12% in comparison to Scotland's 1-2%. This makes aging of these malts a very tricky affair and the quantity left for bottling quite meagre compared to what was started off with. A total of 320 bottles of these exquisite bottles are available with 284 bottles sailing to Europe & 36 to the United States of America. The specially designed package consists of a 700/750 ml crystal decanter bottled at 46% ABV and a 50 ml miniature decanter bottled at full cask strength of 71% ABV.
Industry Observers note that almost all of the bottles have been pre-sold or reserved and most of the units will end up as collectibles in shelves of aficionados. "The profile can be compared to some of the very old & rare Scottish single malts", notes Ashok Chokalingam, GM – International Markets (Amrut), "you will spot a lot of tropical fruits, orangy citrus & a lingering finish".
"Consumers will have to wait for quite some time before the next batch is released", Ashok adds. "We are not sure when the next release of this ten years old malt from the Amrut stable will emanate as keeping the balance profile of the whisky is questionable given the conditions under which it matures".
About Amrut Single Malt
Amrut Single Malt was launched in 2004 as an experiment by Amrut Distilleries, a Bangalore based conglomerate that started operations in 1948. Amrut was the first ever-Indian single malt and was launched in Glasgow, right in the heart of Scotland. The whiskies were received well across the world owing to their quality and have grown aggressively. Amrutt now bottles around 18 expressions of single malts, which are sold in 40 countries and growing.
Source: Press Release